Nikita is a valued contributor to the Sampling America writing team, passionately sharing captivating narratives from adventures across the country and beyond.
Richmond which is the capital of Virginia is buzzing with museums and galleries. Staying true to its historic self, Richmond is preserving its old-fashioned sense of self while embracing the new age era as well.
There are a host of day trip destinations from Richmond VA within a two-hour radius of the city. Baltimore, Philadelphia, Washington DC beckon visitors and offer a lot to them.
Let us explore some of the best day trips from Richmond VA.
Washington D.C.

The nation's capital, Washington DC makes for a fantastic day trip from Richmond and its residents are indeed lucky that Washington is just a stone's throw away.
This culturally significant city is always a treat to visit and you can cover all the major sports here in just a day. What makes Washington DC attractive is that most of the city's museums are free of charge.
The White House should invariably be your first stop here at Washington DC. Pose here for a photo or two. You can even ask for a self-guided tour inside, but you must request a Member of Congress well in advance
After that, you can visit a few of the seventeen Smithsonian Museums (including the stunning Air and Space Museum), all of which offer their treasures free of charge.
End your day with a walk along the National Mall to visit one of the world's most recognized buildings, the U.S. Capitol.
Distance: 1 hour 48 minutes
Ideal for: Everyone
Charlottesville, Virginia
This is a University city in Virginia and is a great place to visit from Richmond. It is picturesquely nestled in the foothills of the Blue Ridge Mountains.
Charlottesville is just about 70 miles from Richmond, this city is a delight for both indoor and outdoorsy type of people.
A major attraction in the area is Monticello Artisan Trail, enticing visitors from near and far to come and visit a long list of crafters and agricultural artisans.
You can also visit Monticello, the mountain-top plantation that belonged to Thomas Jefferson.
For wine enthusiasts, you can join a tour from Charlottesville. While the children can have a great time at the Virginia Discovery Museum.
Distance: 1 hour 10 minutes
Ideal for: History buffs and wine lovers
Williamsburg, Virginia
One of the most historically significant towns in Virginia, Williamsburg is a must-do day trip from Richmond.
Conveniently located just an hour away, you can travel back in time when you visit this city. Walk around the recreated town and have fun while interacting with the costumed actors.
Start your day by visiting the world's largest "living museum" at Colonial Williamsburg. Here you will get the opportunity to see how the early colonists lived their lives before the Revolutionary War.
Brush up your historic knowledge at the Jamestown Settlement and Historic Jamestown. If all that history has tired you out, then enjoy the thrilling roller coasters at Busch Gardens or visit some art galleries.
Distance: 54 minutes
Ideal for: History buffs
Monticello Wine Trail, Virginia

For a relaxing day trip filled with glasses of wine and scenic views, head to Monticello Wine Trail. Spend a day relaxing here.
The area has over 30 vineyards and it lies against the backdrop of Blue Ridge Mountains. You can visit all the wineries to go for a tasting or a tour.
Watch out for many wine-related festivals on the calendar. The annual Taste of Monticello Festival is held in Charlottesville at the end of April each year and can be a great time to visit.
Of course, make sure to have a designated driver while visiting the vineyards.
Distance: 1 hour and 11 minutes
Ideal for: Wine connoisseurs
Annapolis, Maryland
The capital city of Maryland, Annapolis sits on the Atlantic Coast. It is widely regarded as the sailing capital of the US. It, of course, makes for an excellent day trip from Richmond VA.
A two and a half-hour drive from Richmond, explore the thriving sailing scene here. The Annapolis Harbor Cruise is a great place to experience the city and also experiment with yachting on the Schooner Windward.
Visitors can indulge in canoeing, paddle boating, and kayaking. Off the water, you can explore the galleries, in the vibrant Annapolis Art District or go shopping on Maryland Avenue.
Distance: 2 hours and 30 minutes
Ideal for: Sailing lovers
Baltimore, Virginia
The bustling city of Baltimore has something for everyone and makes for an excellent day trip from Richmond Virginia.
Most famed for being the home of Fort McHenry, this is one of the top places to visit in Baltimore. Explore museums, art galleries, and historic districts.
Baltimore Inner Harbour has lots of places and you can spend a lot of time here. History enthusiasts can browse historic areas of the city like Auchentoroly Terrace, while art lovers can explore the Baltimore Museum of Art and the Walters Art Museum.
Distance: 2 hours and 22 minutes
Ideal for: History lovers
Lake Anna, Virginia
Just 60 miles away from the city of Richmond, Virginia, Lake Anna is one of the largest freshwater lakes in Virginia. It covers over 13,000 acres surrounded by 250 miles of shoreline.
Soak up some seaside vibes at Lake Anna, which is a great place to visit for families. This is an ideal outdoor recreation area for day-trippers.
Lake Anna is blessed with sandy shores plus you can also try your hand at many water sports.
Distance: 75 minutes
Ideal for: Family day out
Luray Caverns, Virginia

One of the most popular tourist places in Virginia, Luray Caverns is one of Virginia's natural gems.
This cavern was discovered by Andrew Campbell one summer morning in 1878. This is the largest cavern system in Eastern US and there are dozens of chambers to explore.
Do not miss out on the Giant's Hall which is the most amazing of them all. The caverns can be visited any day of the week.
Also visit the Car and Carriage Caravan Museum, Luray Valley Museum and Toy Town Junction.
Distance: 2 hours and 15 minutes
Ideal for: Adventurous day out
George Washington and Jefferson National Forest, Virginia
This enormous outdoor recreation area spans from West Virginia all the way through Kentucky. George Washington and Jefferson National Forest is one of the largest protected forest areas in the Eastern United States.
The forests cover 1.8 million acres of land and there are around 50 campgrounds where families can camp overnight. There are a number of hiking trails through the national forest where you can hike and see beautiful scenic trails.
Visitors can do fishing, hiking, and bird-watching as well. There are several day-use areas that offer restrooms and picnic areas for people.
Distance: 2 hours and 44 minutes
Ideal for: Outdoor adventure
James River Rapids, Virginia
For an adrenaline-filled day out, James River Rapids can make for an excellent day trip from Richmond, Virginia.
Richmond residents are lucky that the James River Rapids lies right in the heart of their city. Water sports enthusiasts can have a lot of fun here.
However, the rapids are not for the faint-hearted and stretch of the James Rover features III and IV class rapids.
You can also try kayaking instead of rafting. Belle Isle is a popular gathering area for people who can ade and paddle directly off the rock.
Distance: 1 hour and 19 minutes
Ideal for: Water sports
Virginia Beach, Virginia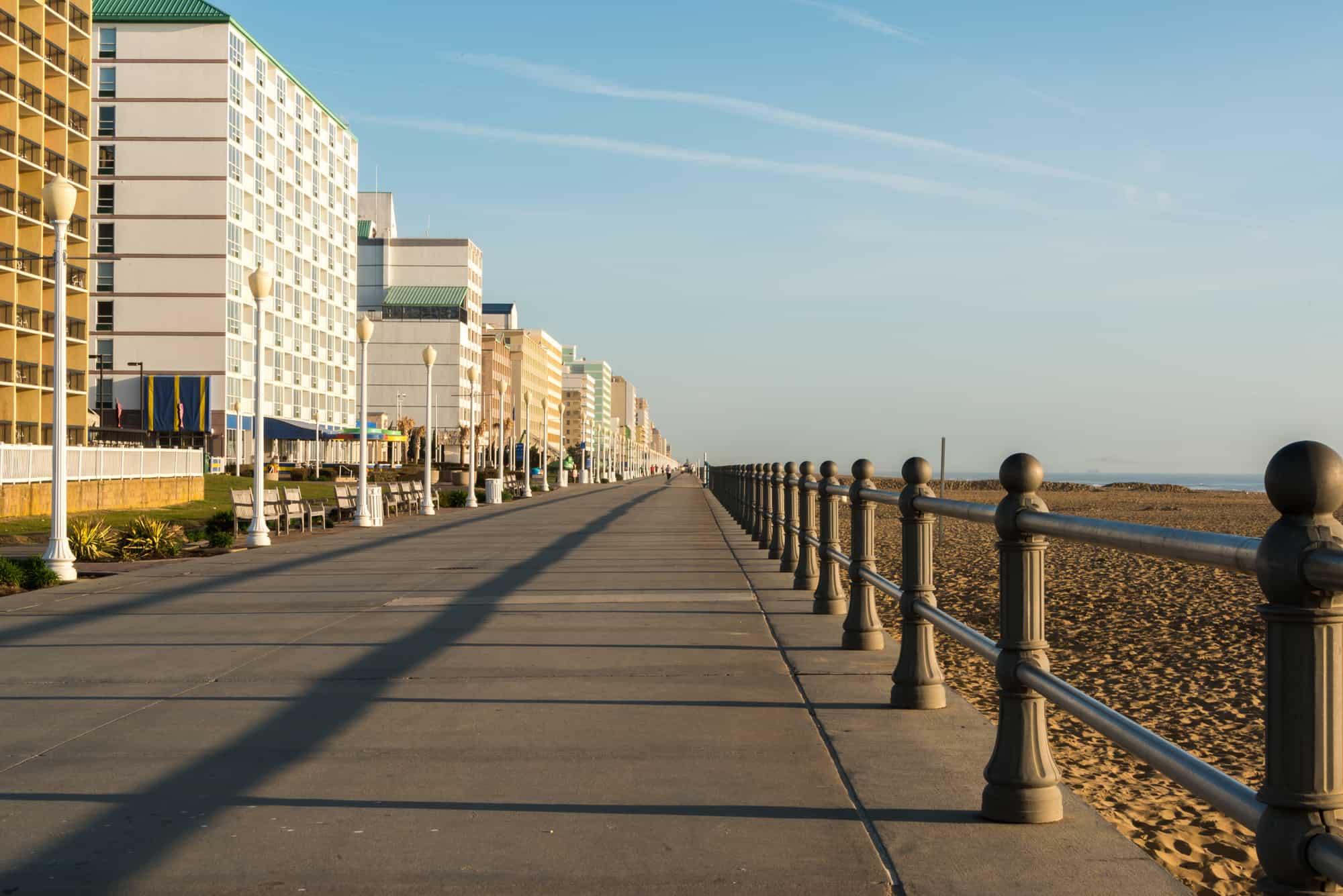 Virginia Beach is a popular all year round destination that makes for a great day trip from Richmond, Virginia.
This 3-mile long boardwalk features dozens of bars, restaurants and beach shacks. Visitors can spend their time walking or just relaxing along the beach.
Other than that there are many outdoor activities like kayaking, cycling, boat tours or hiking in First Landing State Park or Stumpy Lake Natural Area.
If that is not your thing, then you can explore the Military Aviation Museum, which is always a popular choice for families. To end the day you can shop and dine in the Town Center.
Distance: 1 hour and 42 minutes
Ideal for: Beach-side fun
Greensboro, North Carolina
Hop over the state lines and visit North Carolina and visit the wonderful city of Greensboro for the day. Well known for the International Civil Rights Museum, which should be number one on your list of places to visit – there is lots more to do as well.
The Greensboro Science Center is a great place to visit with your families. Do pay a visit to the Greensboro Children's Museum with your kids as well.
Art lovers can also have a great time here admiring the town's galleries
Distance: 3 hours
Ideal for: Family day out
Shenandoah National Park, Virginia
If you want to be amidst nature for a while, then Shenandoah National Park is a great place to visit. The park is located along the Blue Ridge Mountains and lies between Harrisonburg and Charlottesville.
Just don your hiking boots and enjoy the wonderful scenery that the Shenandoah National Park has to offer. There are over 500 miles of hiking trails.
You can also enjoy the scenery on a scenic drive along Skyline Drive. Visitors can also do trout fishing in the streams.
Distance: 1 hour and 47 minutes
Ideal for: Outdoor fun
Philadelphia, Pennsylvania
A great city to visit, Philadelphia is one of the most exciting cities to visit in the United States. A long list of activities awaits you in this city.
Do stop by the Liberty Bell for a photo op. The Independence Hall is also a must-see for visitors.
If you want to just relax, you can easily spend the day hopping from one hipster coffee shop to another. Art lovers can drop by at the Philadelphia Museum of Art and the Rodin Museum.
Stop by for a meal at the fabulous food stalls in the historic Reading Terminal Market. A single day is too short to explore this city if you have time to bring over a suitcase and spend the weekend here.
Distance: 3 hours and 42 minutes
Ideal for: Outdoor fun
Natural Bridge, Virginia
Located west of Richmond, close to the George Washington and Jefferson State Forest, Natural Bridge makes for a nice day trip from Richmond, Virginia.
The town itself is named after this natural arch or bridge which is located in the Natural Bridge State Park. A great natural wonder to see, this 215-foot high archway spans the Cedar Creek Gorge.
You can also spend your time hiking in the Cedar Creek Trail which leads through the forests to the Monacan Indian Village and the lovely Lace Falls.
Visitors can also visit the Virginia Safari Park.
Distance: 2 hours and 15 minutes
Ideal for: Outdoor fun
Frontier Culture Museum, Virginia
Frontier Culture Museum makes for a great family fun trip. Drive up to Staunton, where you can learn all about the life and times of Virginia's earliest settlers at the Frontier Culture Museum.
This is a unique "living" museum where children will learn about the trials and tribulations of Virginia's pioneers through a collection of eleven fun and educational exhibits.
Distance: 10 minutes
Ideal for: Family day out
Conclusion
Richmond is so near to many treasures in Virginia like the capital of Washington D.C. and the popular Virginia Beach. Needless to say, there can be many trips that can be done around Richmond to keep your weekends busy. Travel on!