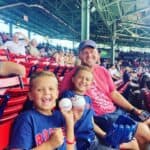 Jake Cain is an entrepreneur and writer from Cincinnati, Ohio. He spends his free time driving around the country in his late 90's conversion van, affectionately known as the "Monster Van" with his wife and 3 boys.
The diverse landscape of Minnesota makes it a great state to explore with numerous vacation spots. Minnesota has a cultural and natural beauty that makes it a visitors paradise.
You can also experience amazing outdoor concerts and summertime Renaissance Festivals, in Minnesota which will make your experience great. Let us explore some of the best Minnesota vacation spots.
Minneapolis, Minnesota
Minneapolis is the biggest city in the state and has a lot going on for it. The city has a lot of cultural importance and is big on art as Prince, Hüsker Dü and The Replacements all hail from the city.
Visit the Minneapolis Institute of Art, Minnehaha Park, Minneapolis Sculpture Garden, and the Basilica of St. Mary when here. If you are an outdoor enthusiast, then you can check out the 200 miles of bike trails, many of which wind through various parks and forests.
There are lots of parks in the city and nature can be explored during your time here. There are always lots of concerts, films, festivals and much more going on in the city at all the time of the year.
Minnehaha Falls Regional Park, Minnesota
If you love the outdoors then Minnehaha Falls Regional Park is one of the most beautiful sites in Minnesota. This 53-foot waterfall attracts over 850,000 visitors each year.
A popular thing to do at the park is to walk alongside Minnehaha Creek and follow it to the Mississippi River. Wading pools are also available for people who want to take a dip.
Itasca State Park, Minnesota
Itasca is the oldest state park in Minnesota and spans over 32,000 acres that cover 100 lakes. There are lots of opportunities to explore the area and go hiking like never before.
There are over 45 campsites that are immersed in pine forests. You can also explore the Itasca Indian Cemetery or the Wegmann's Cabin located in the state park.
You can also find nearby hotels if you want to still experience luxury and have all the amenities.
Bloomington, Minnesota
Shoppers, attention! If you want to spend a weekend doing just retail therapy then head over to Bloomington. It is Minnesota's premier shopping destination which is the Mall of Ameria.
Mall of America has more than 500 shops and dozens of restaurants. It also has theatres, hotels, and other amusements. The mall is a luxury entertainment destination with roller coasters, adventure courses, and many family-centric experiences.
Around the mall, you can find many more attractions such as ski areas, zoos, nature conservatories, and a variety of museums
Split Rock Lighthouse State Park, Minnesota
Located 20 miles northeast of Two Harbors on the North Shore of Lake Superior is Split Rock Lighthouse, State Park. It is an immensely popular area as it is home to one of the most picturesque lighthouses in the state.
Built-in 1910 the Split Rock Lighthouse Park is now a museum. You can tour the lighthouse, foghorn building, keeper's house, tower, and light. There are numerous hiking options available as well which offer great viewpoints of the shoreline.
In winter, the area becomes popular for fat tire biking.
Como Park Conservatory, St Paul, Minnesota
Como Park Conservatory is one of the most popular attractions in St. Paul. It makes for a great family getaway as it features a zoo, a conservatory and an amusement park, as well as a golf course and a pool.
There is plenty to do for everyone. Kids will love the zoo which has all sorts of animals from tigers, elephants, monkeys, polar bears, and giraffes to birds.
Boundary Waters Canoe Area Wilderness, Minnesota
If camping is your thing, then head to Boundary Waters Canoe Area Wilderness. Expansive lakes, forests, beautiful scenery – this campsite has everything you will wish for.
This preserved area of northeastern Minnesota includes over 1,000,000-acres of wilderness. Plus, there are over r 1200 miles of canoeing opportunities, and many hiking trails to explore as well.
Fishing is also extremely popular here. Plus, there are lots of wilderness and wild animals here including bears, bobcats, deer, wolves, and Canada lynx.
You can come here in winter as well and you can explore long-distance skiing and ice fishing.
North Shore Scenic Drive, Minnesota
Want to take a road trip to soothe your senses and mind? The North Shore Scenic Drive should be your best bet in Minnesota.
It follows the north shore of Lake Superior from Duluth to Thunder Bay, Ontario, Canada. When you follow this trail you will cross state parks including Split Rock Lighthouse, Tettegouche, and Grand Portage State Park.
You will also cross towering cliffs to crystal clear waters, mountains, and rolling greenery. You can also do activities like boating, fishing, and mountain biking.
Munsinger Clemens Gardens, Minnesota
Nature lovers and outdoor enthusiasts will love the Munsinger Clemens Garden in Minnesota. Situated on the banks of the Mississippi River, Munsinger and Clemens Gardens sit adjacent to one another.
The gardens feature approximately 80,000 annual plants all situated among trees, benches, swings, fountains, and ponds. The gardens span fourteen acres and seven acres respectively.
Enjoy the beautiful flora and fauna and also the lovely displays. There are fountains and ponds in the gardens as well which visitors can enjoy.
Voyageurs National Park, Minnesota
Voyageurs National Park is a lovely pristine park full of natural beauty. The park lies very close to Canada, and due to high winds, visitors can plan their visits according to their weather preferences.
Summers months are great here as you can enjoy kayaking opportunities, hiking paths, biking paths, boating access. Plus, there are many opportunities to see wildlife such as bears, moose, loons, and much more.
This place has an important historical significance as well. This area was important during the fur trade when the French-Canadian Voyageurs traveled these waters in huge birch bark canoes.
Duluth, Minnesota
Duluth is a major port in Minnesota and is the second-largest city on Lake Superior's shores. Duluth is also home to America's only all-freshwater aquarium, while the world's longest freshwater bay mouth bar can also be found in Duluth.
Another great attraction in this city is Lake Superior Maritime Visitor Center and Glensheen. You can also catch a show at the Duluth Playhouse or watch large ships come in and out at the canal.
There are special events happening at Duluth as well so visitors are encouraged to check online ahead of time.
Brainerd, Minnesota
Located in the center of the state, Brainerd offers many naturals experiences. Visitors can indulge in biking, fishing, golfing, shopping, zipline adventures, Minnesota craft breweries.
There is a large retail district in town.
Minnesota is one of the best states in the country to explore nature and be in the midst of nature.
20 Thrilling Florida Vacation Spots
Ready to plan your next vacation in sunny Florida? Here are the highlights of the 20 best vacation spots in the state! From the vibrant nightlife of Miami to the laid-back charm of Clearwater, there's something for everyone. Whether you're looking for family-friendly activities, high-end experiences, or unique adventures, this article has got you covered. So, pack your bags and get ready to soak up the sun and fun in the Sunshine State!
15 Virginia Vacation Spots Perfect For Exploring History
Explore the best vacation spots in Virginia with this must-read article! From the historical charm of Williamsburg to the breathtaking beauty of Shenandoah National Park, there's something for everyone. Don't miss out on the top attractions, outdoor adventures, and unique experiences that Virginia has to offer.
Top 15 Ohio Vacation Spots: Vibrant Cities & Aesthetic Parks
Ready to discover the best vacation spots in Ohio? Look no further than this article, which highlights the top destinations in the state, from the vibrant cities of Cleveland, Cincinnati, and Columbus to the scenic Hocking Hills State Park. Explore the great outdoors, enjoy cultural activities, and indulge in local cuisine and attractions. So, pack your bags and get ready to experience the diverse and exciting vacation spots that Ohio has to offer!
Picturesque Lake And Mountain Top Views: 16 Michigan Vacation Spots
Discover the best Michigan vacation spots with this ultimate guide! From the charming university town of Ann Arbor to the breathtaking Pictured Rocks National Lakeshore, there's something for everyone. Whether you're looking for outdoor adventures, cultural experiences, or romantic getaways, Michigan has it all.