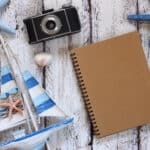 Elizabeth is an experienced traveler and writer with bylines in several popular travel publications. She currently co-owns a small digital travel publication and spends her free time writing, taking photos, and traveling.
According to recent reports, Indonesia is a top destination for digital nomads, followed by Mexico and Thailand. However, there are plenty of cities within the United States that offer the perfect working and living conditions for remote workers looking for a taste of adventure.
Wanna know where to go? Here are the current ten best cities in the US for digital nomads, as ranked on Nomadlist.
Las Vegas, Nevada
Average Cost/Month for Digital Nomads: $4,223
Las Vegas isn't just about bright lights and casinos — it's also a digital nomad paradise, currently ranking as the US's No. 1 spot on Nomadlist. With great high-speed internet, ample coworking spaces, and a vibrant tech scene, it offers the perfect work-life balance for digital nomads in various industries. When you're not working, explore the world-famous Strip, catch legendary shows, or indulge in delicious cuisine.
San Antonio, Texas
Average Cost/Month for Digital Nomads: $3,590
San Antonio blends history and modernity, making it an ideal destination for digital nomads looking for a cheaper place to live and work than other Texas cities like Dallas or Austin. Enjoy the city's unique blend of cultures, visit the iconic Alamo, and savor mouthwatering Tex-Mex cuisine. Plus, with affordable living costs and a supportive community, San Antonio provides an environment conducive to remote work.
Dallas, Texas
Average Cost/Month for Digital Nomads: $3,860
Dallas combines Southern charm and cosmopolitan vibes, making it an attractive option for digital nomads looking for a slice of big-city life. Experience the thriving arts scene, indulge in upscale shopping, and explore the city's diverse neighborhoods. With its strong economy and numerous networking opportunities, Dallas offers a promising environment for remote professionals.
Atlanta, Georgia
Average Cost/Month for Digital Nomads: $4,017
Boasting a thriving job market and a (somewhat) low cost of living, Atlanta is a top choice for digital nomads interested in some southern charm and tons of great food. While you're working in Atlanta, visit iconic attractions like the Martin Luther King Jr. National Historic Site, and enjoy the vibrant music and food scenes. Don't miss exploring the Beltline, a popular urban trail connecting several neighborhoods.
New York City, New York
Average Cost/Month for Digital Nomads: $6,829
The Big Apple needs no introduction, really, and while it's definitely more expensive than other options on this list, NYC allows digital nomads to thrive in the energetic atmosphere and endless opportunities for networking. Discover world-class museums and iconic landmarks like Times Square and Central Park, and indulge in the diverse culinary scene. With its bustling startup ecosystem, New York City is a hub for innovation and career growth.
Tampa, Florida
Average Cost/Month for Digital Nomads: $4,163
Tampa offers a laid-back lifestyle and a thriving community of remote workers. Enjoy the city's stunning beaches, explore the scenic Riverwalk, and immerse yourself in cultural attractions like the Tampa Museum of Art. With its warm weather and affordable cost of living, Tampa provides an excellent setting for work and leisure, making achieving work-life balance a breeze.
Denver, Colorado
Average Cost/Month for Digital Nomads: $4,285
For digital nomads seeking an outdoor adventure, Denver is a dream. Enjoy easy access to the Rocky Mountains, indulge in winter sports, and explore the vibrant craft beer scene. With its entrepreneurial spirit and numerous coworking spaces, Denver provides a supportive environment for remote professionals at a much cheaper price than other cities in the southwest.
Salt Lake City, Utah
Average Cost/Month for Digital Nomads: $3,483
Salt Lake City offers a unique combination of urban amenities and breathtaking natural beauty. Experience the city's thriving arts and music scene, visit historic Temple Square, and venture into the nearby mountains for hiking or skiing. With its strong sense of community and emerging tech industry, Salt Lake City is an enticing destination for digital nomads and the spot with the cheapest monthly cost of living on this list.
Nashville, Tennessee
Average Cost/Month for Digital Nomads: $4,055
Known as the Music City, Nashville is not only a hotspot for musicians but also a great place for digital nomads (especially those working in the arts). Immerse yourself in the vibrant live music scene, explore the city's trendy neighborhoods, and indulge in delicious Southern cuisine. With friendly locals and tons of people with a creative yet entrepreneurial spirit, Nashville fosters a supportive environment for remote workers.
Austin, Texas
Average Cost/Month for Digital Nomads: $4,137
Austin, the capital of Texas (a state clearly popular for digital nomads as Austin is the third Texan city to rank in the top ten), is a haven for digital nomads seeking a creative and vibrant atmosphere. Explore the city's iconic music venues, indulge in mouthwatering barbecue, and take advantage of its numerous coworking spaces. With its thriving startup ecosystem and a calendar full of festivals, Austin offers endless opportunities for networking and inspiration.
20 Thrilling Florida Vacation Spots
Ready to plan your next vacation in sunny Florida? Here are the highlights of the 20 best vacation spots in the state! From the vibrant nightlife of Miami to the laid-back charm of Clearwater, there's something for everyone. Whether you're looking for family-friendly activities, high-end experiences, or unique adventures, this article has got you covered. So, pack your bags and get ready to soak up the sun and fun in the Sunshine State!
15 Virginia Vacation Spots Perfect For Exploring History
Explore the best vacation spots in Virginia with this must-read article! From the historical charm of Williamsburg to the breathtaking beauty of Shenandoah National Park, there's something for everyone. Don't miss out on the top attractions, outdoor adventures, and unique experiences that Virginia has to offer.
Top 15 Ohio Vacation Spots: Vibrant Cities & Aesthetic Parks
Ready to discover the best vacation spots in Ohio? Look no further than this article, which highlights the top destinations in the state, from the vibrant cities of Cleveland, Cincinnati, and Columbus to the scenic Hocking Hills State Park. Explore the great outdoors, enjoy cultural activities, and indulge in local cuisine and attractions. So, pack your bags and get ready to experience the diverse and exciting vacation spots that Ohio has to offer!
Picturesque Lake And Mountain Top Views: 16 Michigan Vacation Spots
Discover the best Michigan vacation spots with this ultimate guide! From the charming university town of Ann Arbor to the breathtaking Pictured Rocks National Lakeshore, there's something for everyone. Whether you're looking for outdoor adventures, cultural experiences, or romantic getaways, Michigan has it all.