Daniel is a copywriter who has well and truly been bitten alive by the 'travel bug'. After ticking off several North American National Parks and exploring Europe by train, his sights are now set on South East Asia. Usually with at least one camera locked and loaded, you'll find Daniel wherever there are mountains, lakes or beaches.
Welcome to Budapest, a city that shines even brighter during the winter. From festive markets and warm thermal baths to sparkling Christmas trams and delectable Hungarian culinary delights, wrap up warm as we take a look at the 10 best experiences during the winter in Budapest!
Warm Up in the Baths
Picture cold but crisp air filling your lungs, with maybe a light dusting of snow falling from above, as you feel soothing warm waters slowly wash over your senses and relax every muscle in your body. Sounds good, right? Well, that's a reality for the residents of Budapest, and you can join them when visiting.
Known as the City of Spas, Budapest has 118 natural thermal springs that deliver therapeutic waters to its many, many spas. Whether you fancy joining the crowds and visiting the world-renowned Széchenyi Baths, or you want a more local experience at Dandár Thermal Bath, there is a spa for everyone!
Visit a Christmas Market
If you're just about anywhere in Europe during the winter season, you have to make time to visit a Christmas market. Although we do have them over in the U.S., they simply don't compare. Budapest's festive markets typically run from November to early January.
The Vörösmarty Square market is both one of the nation's most popular and oldest so expect plenty of traditional Hungarian foods including Goulash, Kürtőskalács (AKA chimney cake, a sweet dough cylinder-like treat coated in butter, cinnamon, and sugar), and mouthwatering sausages.
If that's not enough Christmas market for you, head over to St Stephen's Basilica where you'll find over 150 stalls packed with cakes, crafts, and traditional Christmas gifts!
Go Ice Skating
You won't find many more picturesque ice skating rings in Europe than Budapest's City Park Ice Rink. Sat in front of the Vajdahunyad Castle, the rink is a hugely popular destination as soon as fall gives way to winter.
It was actually first established in 1870, making it one of the oldest on the continent and during the summer months it transforms into a lake where tourists can pedal around in boats. During the winter you can enjoy a leisurely skate across the ice before warming up with a hot chocolate and chimney cake for the ultimate cozy, fun-filled day!
Hop Aboard the Christmas Tram
Thanks to its great public transport, Budapest is one of the easiest cities to get around. One of the best ways to take in the sites is on the trams, it's also extremely cheap with a single trip costing 450 HUF ($1.22).
During the holiday season, several of the trams are decorated with over 30,000 sparkling lights and are known as Fényvillamos. Some of the more famous routes include the No. 2, No. 14, and No.49. They run from 5 p.m. each evening across December and early January. Ticket prices are no different from normal fares, either!
Indulge in Hungarian Food
Budapest's Nagy Vásárcsarnok (AKA Great Market Hall) is the place to go if you want to fill your belly with a wide variety of delicious Hungarian food. Thanks to sourcing mostly from local foods and produce, you'll find more of an authentic tasting experience. It's almost impossible not to try a little bit of everything as you wander around taking in the scents and sights.
Watch the Nutcracker at the Budapest Opera House
A beautiful building in itself, there's no better place to watch a traditional Christmas performance of The Nutcracker than Budapest's Opera House. Although any dress code is welcome, it can add a bit more magic to the experience by donning a nice evening dress or dark suit!
Enjoy a Nighttime Sightseeing Cruise
Hopping aboard a river cruise is a must when visiting Budapest. The city has some of the finest and most beautiful architecture in the whole of Europe, and the best way to take it all in is via boat.
But it's when the sunsets and the city lights up that the cruise takes on a whole new level of charm and majesty. The buildings are lit up by warm, vibrant lights that make them all the more impressive and naturally create a holiday feel to them. If you fancy upgrading your experience, book on to one of the many dinner cruises where you can tuck into an exquisite meal while enjoying the sights.
Visit a Ruins Bar
Arguably Budapest's coolest destination for tourists, Szimpla Kert is a ruin bar in the Jewish Quarter of the city. Made up of a bunch of bars, seating areas (even a bathtub!), and places to grab some food. When visiting in the winter, you can expect fewer crowds and more reasonable prices, making it a must-visit on any itinerary.
Take in the Views from Buda Castle and Várkert Bazár
After taking in the sights on a river cruise, it's time to see them up close for yourself. Buda Castle and Várkert Bazár are two beautiful spots, both for the views of the city and the architecture. During the winter both places offer Christmas treats which include performances by authors, dancers, and poets.
Attend a Christmas Concert
Christmas concerts inside a candlelit church will get anyone in the holiday spirit, and thankfully Budapest has a few to choose from. Head over to the St Istvan Basilica for a truly awe-inspiring experience, thanks to its ornate sculptures and colorful stained glass windows.
If you'd prefer a more personal experience, try out the Matthias Church, one of the city's oldest and most revered churches, where the Hungarian kings were coronated. Concerts run throughout December and early January so you'll have plenty of opportunities to take in a concert or two.
The 16 Best National Parks to Visit in June For Summer Fun
Are you looking for the perfect summer adventure? Look no further than these top national parks to visit in June! From the stunning wildflower displays at Lassen Volcanic National Park to the world-class whitewater rafting at New River Gorge National Park, this article provides insider tips and recommendations for an unforgettable outdoor experience. Don't miss out on the chance to explore these breathtaking natural wonders during one of the best months of the year!
6 National Parks To Avoid This Summer (And The Alternatives)
Are you planning a summer trip to a national park but want to avoid the crowds? Look no further than this article, which provides insider tips on which popular national parks to avoid and offers recommendations for six alternative destinations that offer unique experiences and stunning natural beauty. From exploring rugged peaks and pristine lakes at North Cascades National Park to discovering the geological history of Capitol Reef National Park, this article has everything you need to plan an unforgettable outdoor adventure this summer.
Best 16 Utah Vacation Spots
Are you looking for an unforgettable vacation spot with breathtaking natural beauty? Look no further than Utah! With stunning national parks like Zion and Bryce Canyon, as well as unique attractions like the Homestead Crater and Dead Horse Point, Utah has something for everyone. This article provides insider tips and recommendations for the best places to visit in Utah, from hiking to skiing to soaking in natural hot springs. Don't miss out on the chance to explore this incredible outdoor playground!
5 Waterfalls in Zion National Park For A Fabulous Day Out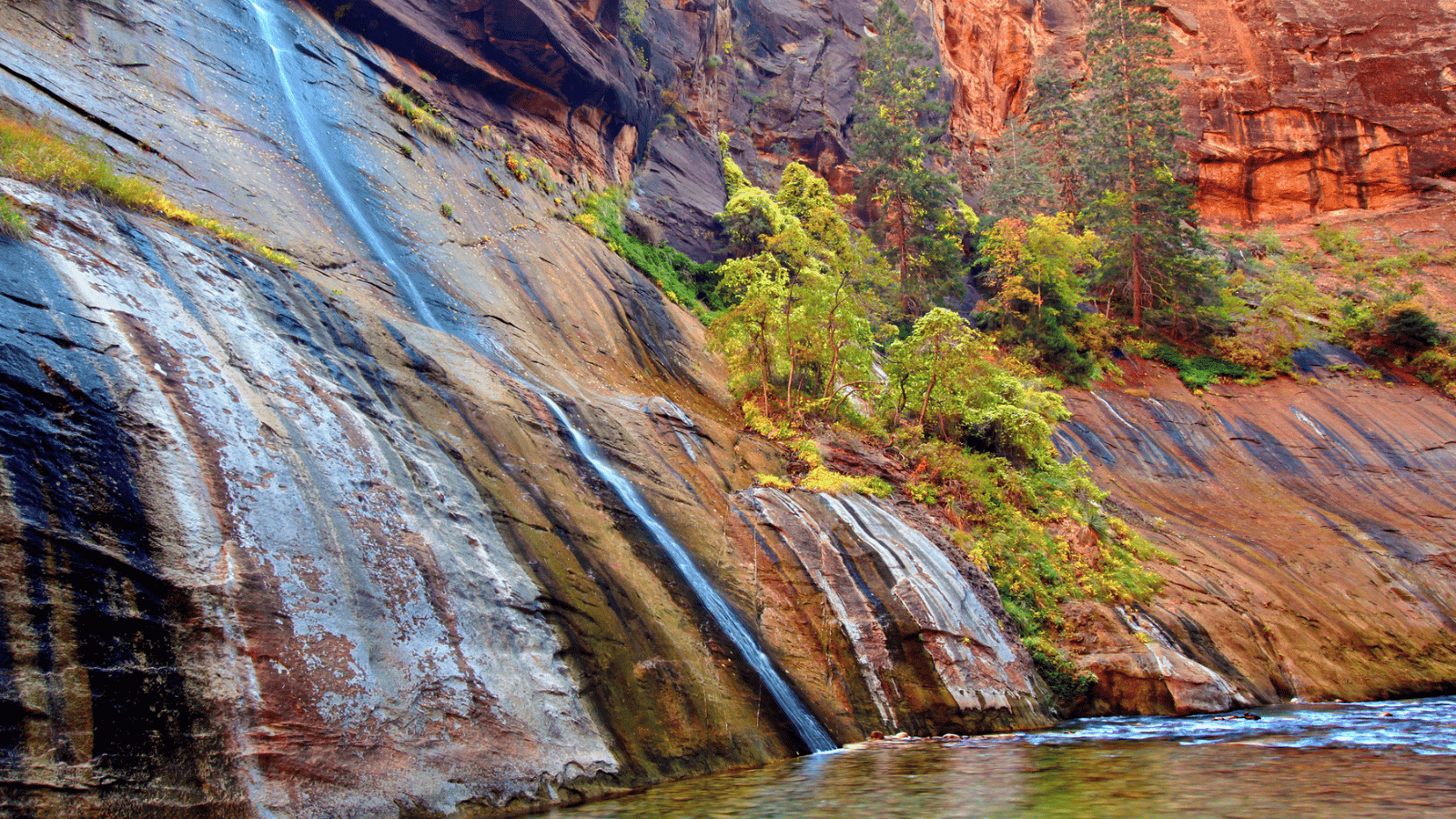 Are you a nature enthusiast looking for an outdoor adventure that will take your breath away? Look no further than Zion National Park in southwestern Utah! This article explores the park's stunning waterfalls, including the moderate hike to Archangel Falls and the more challenging Upper Emerald Pools. But that's not all – the article also highlights other natural attractions in the park, such as The Great White Throne and the Court of the Patriarchs. Don't miss out on the chance to explore this gorgeous landscape and experience the beauty of Utah's unique natural wonders!