Daniel is a copywriter who has well and truly been bitten alive by the 'travel bug'. After ticking off several North American National Parks and exploring Europe by train, his sights are now set on South East Asia. Usually with at least one camera locked and loaded, you'll find Daniel wherever there are mountains, lakes or beaches.
Step into a winter wonderland as we journey around the globe in search of the most enchanting Christmas markets.
From Vienna's grandeur beneath the Rathaus to Bath's cozy charm adorned with over 200 wooden chalets and even Vancouver's North American slice of European tradition, our guide is tailor-made for travel enthusiasts eager to explore this festive season.
Vienna, Austria
When it comes to Vienna's Christmas market, size truly matters. The Austrian capital proudly hosts one of the most enormous Christmas markets worldwide—a 'Christmas World' teeming with over 100 top-notch stalls, a place that would even delight Scrooge. And, if that alone isn't enough to ignite your holiday spirit, the market sits beneath the majestic shadow of Vienna's Rathaus, one of the city's most magnificent treasures.
Bath, England
One of England's most popular destinations for Christmas markets, Bath transforms into a festive haven as the city puts together over 200 wooden chalets and covers every nook and cranny with decorations. Even without the markets, Bath is a wonderful, cozy destination to find a bit of Christmas magic on your vacation!
Vancouver, Canada
Each year, Vancouver's Christmas market seems to be getting bigger and better. With classic German-style wooden huts, craft shops, and traditional fairground rides scattered across the city, it's a slice of Europe nestled in North America.
Brussels, Belgium
Brussels' vibrant Christmas market, known as Winter Wonders, ranks among the largest Christmas markets outside of Germany. Spanning from the Grand Place to Place Sainte Catherine and even further, it's home to all sorts of festive activities catering to both youngsters and grown-ups alike.
London, England
In the center of London, you'll find Hyde Park's Winter Wonderland, a huge annual Christmas event. Just about everything is packed into the area, with traditional wooden Christmas huts, ice skating, fun houses, an ice bar, and even a real ice slide. If you wander just outside of Hyde Park, you'll soon stumble across some of London's best Christmas-inspired shop fronts, including the famous Harrods.
Stockholm, Sweden
Christmas in Sweden is a real treat, and its markets are some of the best in the world. Stockholm's Old Town Christmas Market is the oldest in the nation and is a great destination if you can only go to one Swedish market. Surrounded by the city's vibrant colored buildings, the Christmas market is made up of little, dark red huts where you can enjoy mulled wine, eat traditional Swedish meatballs, and even meet Santa!
Krakow, Poland
If you're looking for a more affordable place to enjoy a European Christmas market, Krakow in Poland might just be perfect. Situated in Rynek Glowny, the city's main square, Krakow's Christmas market has it all. From stalls selling traditional delicacies like pierogi, and savoury dumplings to handmade candles to homemade gingerbread, you won't regret adding this city to your Christmas bucket list.
Cologne, Germany
Unlike many other places on this list, Cologne doesn't just have one area for its Christmas market; the whole city more or less turns into a winter wonderland. Cologne's Christkindlesmarkt is a little more upmarket than most but still attracts around four million visitors each year. The city's most iconic market is set in front of the city's famous cathedral, adding an air of elegance to an already beautiful scene.
Strasbourg, France
Running since the 16th century, Strasbourg's Christmas market is one of the oldest in the world. With over 300 stalls, a (usually) 300-foot Christmas tree, and thousands of Christmas lights dancing across the city's beautiful buildings, you'll feel like you've entered a fairytale.
Chicago, USA
If you're seeking a taste of European-inspired Christmas markets right here in the United States, you're in for a treat with Chicago's festive offerings. These German-style markets offer everything, from mouthwatering food stalls to charming gift shops. You have the choice of three enchanting markets in the Chicago area, each with its unique charm: Daley Plaza, Wrigleyville, and Aurora. To truly get into the holiday spirit, consider exploring all three markets!
Copenhagen, Denmark
The Danish capital truly shines during the holiday season, as Christmas markets spring up all over the city, and every store window is adorned with candles and festive decorations. The place to head to is Tivoli Gardens, the third oldest amusement park in the world. During the winter, you'll find over 50 market stalls pop up, selling Christmas goodies perfect for your loved ones.
Singapore
Southeast Asia might not be the first place that comes to mind when thinking about Christmas markets, yet Singapore has put in the work to create one of the most spectacular markets in the world. Christmas Wonderland is their answer to the West's Christmas markets. Set in the futuristic park, Gardens by the Bay, the event includes ice skating, delicious food, and fairground rides.
The 16 Best National Parks to Visit in June For Summer Fun
Are you looking for the perfect summer adventure? Look no further than these top national parks to visit in June! From the stunning wildflower displays at Lassen Volcanic National Park to the world-class whitewater rafting at New River Gorge National Park, this article provides insider tips and recommendations for an unforgettable outdoor experience. Don't miss out on the chance to explore these breathtaking natural wonders during one of the best months of the year!
6 National Parks To Avoid This Summer (And The Alternatives)
Are you planning a summer trip to a national park but want to avoid the crowds? Look no further than this article, which provides insider tips on which popular national parks to avoid and offers recommendations for six alternative destinations that offer unique experiences and stunning natural beauty. From exploring rugged peaks and pristine lakes at North Cascades National Park to discovering the geological history of Capitol Reef National Park, this article has everything you need to plan an unforgettable outdoor adventure this summer.
Best 16 Utah Vacation Spots
Are you looking for an unforgettable vacation spot with breathtaking natural beauty? Look no further than Utah! With stunning national parks like Zion and Bryce Canyon, as well as unique attractions like the Homestead Crater and Dead Horse Point, Utah has something for everyone. This article provides insider tips and recommendations for the best places to visit in Utah, from hiking to skiing to soaking in natural hot springs. Don't miss out on the chance to explore this incredible outdoor playground!
5 Waterfalls in Zion National Park For A Fabulous Day Out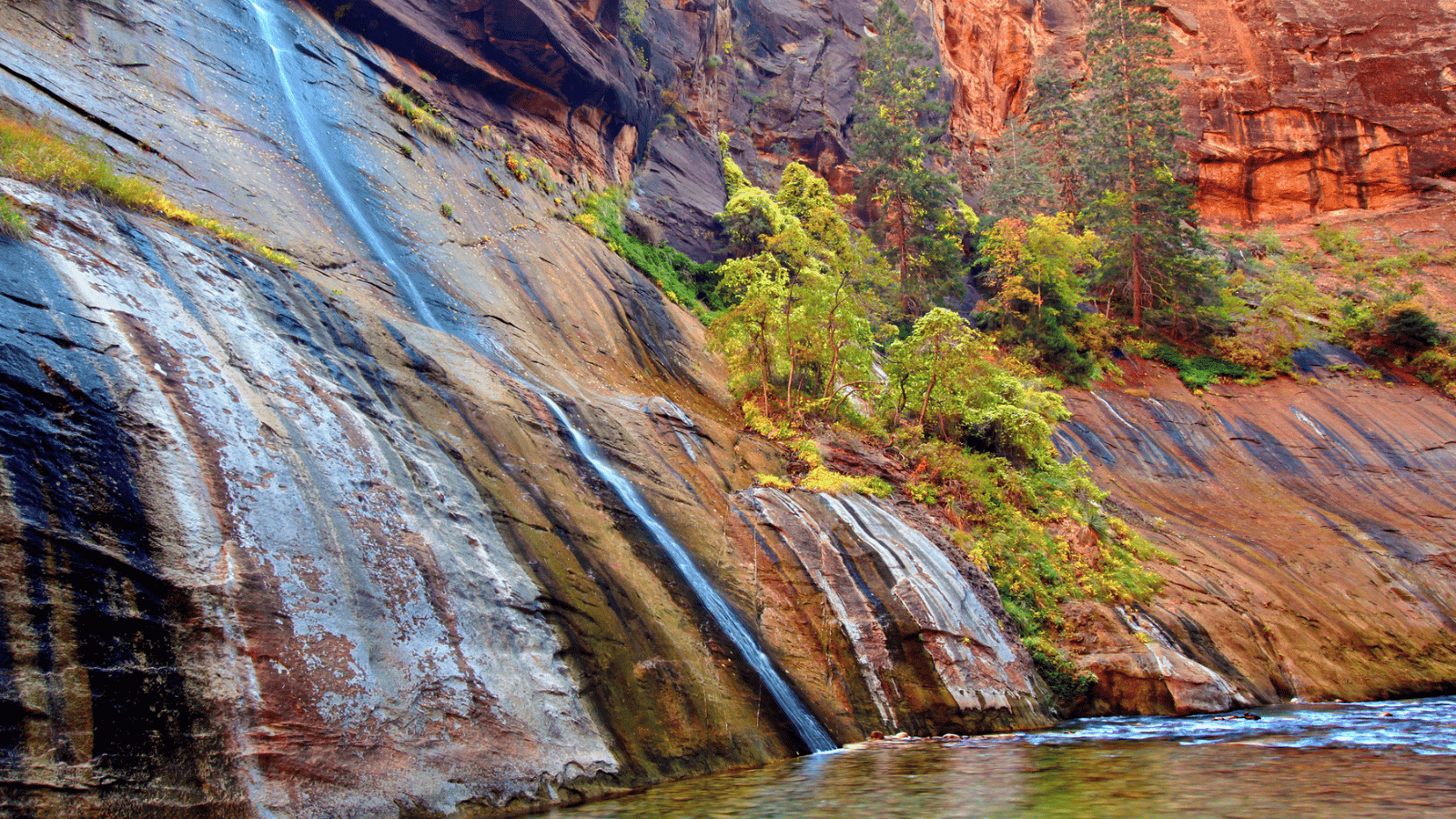 Are you a nature enthusiast looking for an outdoor adventure that will take your breath away? Look no further than Zion National Park in southwestern Utah! This article explores the park's stunning waterfalls, including the moderate hike to Archangel Falls and the more challenging Upper Emerald Pools. But that's not all – the article also highlights other natural attractions in the park, such as The Great White Throne and the Court of the Patriarchs. Don't miss out on the chance to explore this gorgeous landscape and experience the beauty of Utah's unique natural wonders!