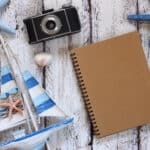 Elizabeth is an experienced traveler and writer with bylines in several popular travel publications. She currently co-owns a small digital travel publication and spends her free time writing, taking photos, and traveling.
While many recent grads are about to begin their first semester of college, it's okay to feel unsure about your future, especially given the political and economic landscape we all find ourselves in.
If you're not sure what to do with your life, a gap year could be just what you need! However, planning that gap year might feel more overwhelming than picking a college major. If that's how you feel, slide through these tips to make the most of your adventure.
Do Your Research
A gap year can take you to some of the most amazing places in the world. However, it's essential to do some research before you start planning your trip. From visa requirements and medical vaccinations to the best time to visit a particular location, there is so much to consider. Research everything thoroughly before booking your tickets.
Create a Budget (And Stick to It!)
One of the biggest challenges of taking a gap year for many young travelers is managing your finances. Create a budget that outlines your expected expenses, from travel and accommodation to food and activities. Stick to your budget and avoid overspending. And try to look for ways to save money, such as cooking your meals and using public transportation instead of taxis.
Keep Track of Your Expenses
As part of smart budgeting, it's helpful to keep track of your expenses. From small purchases to larger expenses, this helps to keep a record of everything you spend, which will allow you to monitor your spending and adjust your budget accordingly. You can use apps like Trail Wallet or Tripcoin to help you track your expenses.
Look for Volunteer Opportunities
Volunteer work is an excellent way to give back to a community while traveling through it. It's also a great way to meet new people and gain valuable experience that could help you when you decide to go back to school or look for a job. You can find opportunities through volunteer organizations or online platforms like Workaway or HelpX.
Meet New People
Traveling solo can be intimidating, but it can also be incredibly rewarding. Take the opportunity to meet new people and make new friends. Hostels, coffee shops, and coworking spaces are great places to socialize and connect with like-minded individuals. You never know who you might meet or what new opportunities might arise from those connections.
Join a Group Tour
Group tours are an excellent way to explore different destinations and connect with other travelers. They are particularly useful if you are traveling alone, as they provide an instant group of friends and a built-in support network.
Stay Safe and Healthy
When traveling, take appropriate safety precautions, such as keeping your valuables secure and avoiding dangerous areas. Also, take care of your health by staying hydrated, eating well, and getting enough sleep.
Keep in Touch with Friends and Family Back Home
Traveling can be a lonely experience, which is why it's essential to stay in touch with loved ones back home. Give them regular updates on your travels, and keep them posted on your safety and whereabouts. Social media, email, and apps like WhatsApp are all great ways to stay connected.
Learn a New Language
Learning a new language can be one of the most rewarding experiences of your gap year. Not only will it help you to communicate with locals, but it will also give you a deeper insight into their culture. Sign up for a language course, practice with language exchange partners, and immerse yourself in the local language on a daily basis.
Get Involved in the Local Community
Volunteering is great. However, there are other ways to immerse yourself in a local community, too. Even if you're traveling alone, it's worth it to attend local events, festivals, or cultural activities. By interacting with locals, you'll gain a better understanding of their way of life and create lasting memories.
Have Fun and Enjoy the Experience
Finally, remember to have fun and enjoy the experience of traveling. Your gap year is an opportunity to explore new cultures, meet new people, and create unforgettable memories while learning about yourself. Embrace the challenges, embrace the beauty of the world, and enjoy the journey.
11 Day Trips From Reno: Desert Stops For Everyone To Enjoy
Are you planning a day trip from Reno, Nevada, and looking for some exciting options? Look no further than this article, which highlights the best day trips from Reno. There's something for everyone, from skiing in Mount Rose to relaxing in Steamboat Hot Springs. So, pack your bags and get ready to explore the beautiful Sierra Nevada mountains and beyond!
Fly-Fishing, Skiing, Hiking, and Much More: 10 Montana Vacation Spots
Looking for an outdoor adventure in Big Sky Country? Look no further than this article, which highlights the top vacation spots in Montana. From Yellowstone National Park's famous geysers to Glacier National Park's breathtaking scenery, and Bozeman's skiing and whitewater rafting, there's something for everyone. So, pack your bags and get ready for an unforgettable trip to Montana's beautiful wilderness, abundant animal life, and incredible national parks.
Best 16 Utah Vacation Spots
If you're looking for a vacation spot that offers breathtaking natural scenery and exciting outdoor adventures, then Utah is the place to be! This article highlights the top places to visit in Utah, from the stunning Zion National Park to the unique Homestead Crater. Whether you're interested in hiking, skiing, or simply soaking in a hot spring, Utah has something for everyone. So, pack your bags and get ready to explore the diverse and awe-inspiring landscapes of Utah!
10 National Parks To Skip If You Have Young Children
If you're planning a national park trip with young children, this article is a must-read! Discover the top 10 national parks to skip if you have young children, from the rugged terrain of Denali National Park to the limited access to Isle Royale National Park. Learn about the challenges and potential dangers of visiting these parks with young children and plan your trip accordingly for a safe and enjoyable experience.