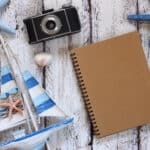 Elizabeth is an experienced traveler and writer with bylines in several popular travel publications. She currently co-owns a small digital travel publication and spends her free time writing, taking photos, and traveling.
Are you thinking of enjoying your golden years with some adventurous travels? Before you pack your bags, be aware of the potential health risks. From infectious diseases to physical injuries, you want to ensure you're fully informed on how to stay safe while exploring the world. 
Read on to discover a few of the most common medical issues those over 60 experience while traveling and what you can do to prevent them from ruining your next trip.
Deep Vein Thrombosis
Deep vein thrombosis (DVT) is a blood clot that forms in the deep veins of the leg. Senior jetsetters are particularly at risk due to decreased mobility and circulation. 
To prevent DVT on long flights, it's crucial to get up and move around every hour. Simple seated exercises like ankle rotations can also help improve circulation. Compression stockings can also reduce the risk of DVT.
Respiratory Infections
Beware of the sniffles! Respiratory infections are a top concern for seniors on the go. With weakened immune systems and exposure to unknown bacteria, colds and the flu can easily become serious respiratory illnesses.
Protect yourself with frequent handwashing, avoiding crowded public spaces, and getting vaccinated before your trip. Wear a mask if people around you are visibly sick.
Food-Borne Illnesses
Exotic dishes can pose more danger than you think. Contaminated food is the leading cause of health problems while traveling and can affect anyone, no matter how careful you are. 
Take extra precautions, such as washing your hands, avoiding street food, and eating cooked foods from reputable sources.
Slip and Fall Accidents
Have you ever taken a tumble on vacation? Slip and fall accidents are more common than you may realize and can be particularly dangerous for older travelers. Not only can they result in broken bones and bruises, but they can also put a damper on your trip.
Steer clear of slippery surfaces, wear sensible shoes with good grips, and avoid carrying heavy bags that could cause you to lose balance.
Dehydration
Dehydration is a common concern for travelers of any age, especially in warm climates or hot, humid destinations. 
To avoid it, bring a reusable water bottle and drink plenty of fluids throughout the day. Consider packing electrolyte-replacement tablets to replenish essential minerals lost through sweat. Don't forget to incorporate fruits and vegetables with high water content into your diet. 
Sunburn and Skin Damage
It's hard to resist the allure of soaking up the sun on the beach, but did you know that as you age, your skin becomes thinner and loses elasticity, making it more susceptible to sun exposure? 
But savvy seniors need not worry — you can still glow like gold without leaving your skin vulnerable to damage. Wear protective clothing (including hats or visors), use sunscreen with at least SPF 30, and limit your time in direct sunlight.
Jet Lag
Jet lag is the bane of every traveler's existence. And for those in their golden years, it can be an absolute nightmare. Not only can it ruin your travel plans, but it can also lead to headaches, fatigue, irritability, and even digestive problems.
To combat jet lag and make the most of your journey, start adjusting your sleep schedule a few days before your trip and stay hydrated during the flight. Once you arrive, get outside and soak up some sunshine to help reset your internal clock.
20 Thrilling Florida Vacation Spots
Ready to plan your next vacation in sunny Florida? Here are the highlights of the 20 best vacation spots in the state! From the vibrant nightlife of Miami to the laid-back charm of Clearwater, there's something for everyone. Whether you're looking for family-friendly activities, high-end experiences, or unique adventures, this article has got you covered. So, pack your bags and get ready to soak up the sun and fun in the Sunshine State!
15 Virginia Vacation Spots Perfect For Exploring History
Explore the best vacation spots in Virginia with this must-read article! From the historical charm of Williamsburg to the breathtaking beauty of Shenandoah National Park, there's something for everyone. Don't miss out on the top attractions, outdoor adventures, and unique experiences that Virginia has to offer.
Top 15 Ohio Vacation Spots: Vibrant Cities & Aesthetic Parks
Ready to discover the best vacation spots in Ohio? Look no further than this article, which highlights the top destinations in the state, from the vibrant cities of Cleveland, Cincinnati, and Columbus to the scenic Hocking Hills State Park. Explore the great outdoors, enjoy cultural activities, and indulge in local cuisine and attractions. So, pack your bags and get ready to experience the diverse and exciting vacation spots that Ohio has to offer!
Picturesque Lake And Mountain Top Views: 16 Michigan Vacation Spots
Discover the best Michigan vacation spots with this ultimate guide! From the charming university town of Ann Arbor to the breathtaking Pictured Rocks National Lakeshore, there's something for everyone. Whether you're looking for outdoor adventures, cultural experiences, or romantic getaways, Michigan has it all.