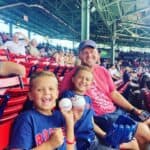 Jake Cain is an entrepreneur and writer from Cincinnati, Ohio. He spends his free time driving around the country in his late 90's conversion van, affectionately known as the "Monster Van" with his wife and 3 boys.
On a recent trip to Key West with my wife and a couple of our closest friends, a realization hit us. Margaritaville had opened a new property here in late 2021.
We're no strangers to wasting away at the Margaritaville in Hollywood, FL, so we thought it would be fun to spend one of our nights at the Key West location and enjoy all the amenities.
If you've never been to a Margaritaville, it's more than just a place to stay. It's the music, the decor, and, yes, even the distinct scents that transport you straight to paradise. With all the positive vibes we associate with the brand, we were excited to spend a day at Margaritaville Beach House.
Our main agenda? To check out what this new property had to offer and, of course, to indulge in some quality pool time. From our one-night experience, the resort lived up to every Margaritaville expectation, and it's safe to say we're already mapping out our next Key West adventure.
Accommodations
The 2-bedroom suite we stayed in was a blend of spaciousness and luxury.
What caught our eye immediately were the massive TVs, perfect for catching a game or winding down with a movie. (After all, the MLB playoffs were on while we were in town)
The beds were another highlight for us. Comfortable doesn't even begin to describe it. After a day out, sinking into those mattresses felt like a reward.
The modern coastal design, combined with Margaritaville's signature touches, made the whole room feel like a deluxe version of home.
Lounging Poolside
The Fins Up Pool was a game-changer.

As afternoon turned to evening, the well-designed pool area gave us some much-needed shade from the relentless Key West sun.
The drinks from the bar? Just right – not too strong, not too light. And there's something about being in a hot tub, talking with friends, and watching the day transition into night that feels… right.
There was no shortage of shaded spots and loungers to relax on, as well as a friendly waitstaff that walked around and let you order food and drinks to enjoy poolside.
We also took advantage of the late opening hours of the pool (11 p.m. when we visited) and hung out at the bar overlooking the pool until late in the evening.
Decor and Ambiance:
Everywhere we looked, from the Tin Cup Chalice Bar & Chill to those inviting hammocks, had that distinct Margaritaville charm. The way they've blended the Key West vibe with their brand is something they've nailed down to an art.
Location & Amenities:
Being close to Smathers Beach and the historic Downtown Seaport Harbor, it felt like everything was at our fingertips.
While we didn't personally take advantage of the free in-town shuttle buses, we did see them on the property, busy ferrying guests. Knowing the challenges of parking in Key West, that's a handy service to have.
As for the beach, we'd spent some time at Smathers with our family on our last trip to Key West and it was our favorite public beach. We loved the calm and shallow waters as well as having plenty of space to spread out compared to some of the smaller beach areas around town.
Key West isn't really known as a "beach town" as the beaches here are not as large and picturesque as some other notable beach destinations in Florida, like Clearwater, Destin, Fort Lauderdale, and others.
However, if you want to get some beach time on your trip to Key West, then staying at Margaritaville is pretty much an ideal location.
Wrap Up
Spending just one night wasn't nearly enough, but we look forward to our next trip to the Margaritaville Beach House in Key West.
If you're interested, you can check out more photos here.