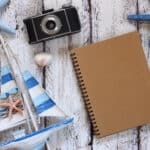 Elizabeth is an experienced traveler and writer with bylines in several popular travel publications. She currently co-owns a small digital travel publication and spends her free time writing, taking photos, and traveling.
Whether you're an adventure seeker, a nature lover, or just looking for a peaceful getaway, Vermont's gorgeous lakes have it all. Here are 13 of the best lakes in Vermont to satiate your adventurous spirit (with most being ideal for a fun fall getaway).
1. Lake Champlain
Spanning across the US states of New York and Vermont and reaching up to Quebec, Lake Champlain offers an immersive escape into a blend of enchanting landscapes, historical echoes, and contemporary charisma. Whether you're traversing the largest islands of Grand Isle County or the picturesque locales of Plattsburgh and Burlington, a delightful array of experiences await—invigorating hikes, culinary delights, and captivating historical landmarks. The best part? With each passing season, the landscape adopts a new persona
2. Lake Bomoseen
Discover the unique allure of Lake Bomoseen, Vermont's largest lake, entirely within the state's confines. This 2,400-acre natural wonder, carved by glaciers eons ago, provides a perfect blend of leisure and excitement. Bomoseen State Park claims a portion of the lake's western shoreline, serving as a gateway to picturesque public beaches, bustling marinas, and inviting boat launches. Complementing the area's natural beauty are the peripheral residences, local restaurants, and commercial facilities, assuring there's always something fun to do here.
3. Lake Willoughby
Discover the natural grandeur of Lake Willoughby, nestled within the heart of Vermont's Northeast Kingdom. This 5-mile-long lake, crowned by the majestic Mount Pisgah and Mount Hor, offers ample activities for travelers of all types, including families. Dive into the crystal clear waters from one of its two public beaches, hike in the surrounding Willoughby State Forest, or unwind in the quaint village of Westmore.
4. Lake Memphremagog
Straddling the line between Vermont and Quebec, Lake Memphremagog presents a fresh perspective on leisurely lakeside activities amid a backdrop of historical conservation efforts. This freshwater glacial lake, where swimming, boating, and fishing are popular pastimes, has seen a significant transformation since the late 1980s due to extensive cleanup efforts to rid it of pollutants. Today, it not only attracts a large number of tourists and locals but also quenches the thirst of 200,000 people with its potable water.
5. Emerald Lake
Glistening with a unique emerald hue, Emerald Lake in Dorset, Vermont, is situated within a 430-acre state park and offers opportunities for swimming, bicycling, or non-motorized boating echo. Winter sports and wildlife watching offer quieter moments of awe during the colder months. Embrace the site's history on night hikes and amphibian explorations offered by park rangers, or simply revel in the tranquility from one of 67 campsites.
6. Caspian Lake
Hidden in Vermont's Northeast Kingdom, Caspian Lake is a nearly 800-acre haven between the northern slopes of the Green Mountains. Here, the harmonious melange of year-round residences, summer cottages, and camps along its shoreline have been captivating summer visitors for generations. With a town beach and public boat launch, it's a lively, welcoming slice of paradise.
7. Griffith Lake
Venture off the beaten path to discover Griffith Lake—a secluded refuge tucked away in Peru and Mount Tabor, Vermont, where man's footprint is minimal. Hikers and snowmobilers marvel at the lake's beauty throughout the year, attracted by the promise of freshly stocked brook trout and an invigorating journey through the intertwined trails of Peru Peak and Big Branch Wilderness areas. Despite its remoteness, all areas are well-maintained, from the walking paths to rustic campsites.
8. Lake Elmore
Take a step back in time to 1936 in Lake Elmore, Vermont, where the humble beginnings of Elmore State Park can still be felt amidst its now sprawling 700 acres of beauty. Dive into the azure waters of this 219-acre lake, all the while contributing to the vital conservation efforts against milfoil. Here, history, natural beauty, and conscious traveling intertwine seamlessly.
9. Maidstone Lake
Located in Vermont's rustic Northeast Kingdom, Maidstone State Park, one of the state's most remote parks, offers travelers an immersive retreat into nature. Providing public access to the stunning 796-acre glacial Maidstone Lake, the park draws visitors with not only its natural beauty but also an array of activities that include boating, fishing, camping, and wildlife watching.
10. Lake Whitingham
Discover Lake Whitingham, Vermont's largest and prettiest reservoir located entirely within the state. Rediscover peaceful solitude on its pebbly yet inviting shoreline, and dip your oars in brilliantly blue waters that teem with smallmouth bass. Beyond the water, wander through uncommercialized woods, set up a sizzling barbecue, or simply savor the quietude.
11. Green River Reservoir
Immerse yourself in the pristine wilds of Green River Reservoir, a tranquil haven established in 1999. Here, you can embark on a fun yet challenging journey by canoe or kayak toward one of the 27 remote campsites. It's nestled amidst one of the longest stretches of undeveloped shorelines in Vermont, meaning this spot provides a quiet escape no matter where you go.
12. Lake Saint Catherine
Lake St. Catherine is a lovable Vermont gem with over six decades of history. Here, a robust 61-site campground, engaging nature center, and watercraft rentals invite you to soak in the serene setting or plunge into a fun aquatic adventure with the whole family. Traverse the short hiking trail for a glimpse of the park's towering trees and a stunning snapshot of Birdseye Mountain's arresting beauty.
13. Crystal Lake
Located near the quaint village of Barton in Vermont's northeastern reaches, Crystal Lake is easily one of the best lakes in VT. As a glacial marvel extending three miles long, one mile wide, and reaching depths of 100 feet, it offers a chance to explore the vibrant ecosystem abounding with native lake trout and other diverse species. For the best views, wander along Route 5, which trails its scenic western shore.
8 Most Unique Places To Kayak In The US — Stunning Beauty
Looking for a unique and thrilling way to explore the natural beauty of the United States? Look no further! From the bioluminescent bays of Puerto Rico to the rugged beauty of the Apostle Islands in Wisconsin, there's something for every adventure seeker.
The 10 Most Beautiful Hikes In The US — Discovering America
This article highlights the most beautiful hikes in the US from California to Maine. Whether you're a seasoned hiker or just starting out, there's a trail on this list that will leave you awe-inspired. So, put on your hiking boots and get ready to explore the diverse and awe-inspiring landscapes of America's most beautiful hiking destinations.
10 National Parks To Skip If You Have Young Children
This article is a must-read if you're planning a national park trip with young children! Don't get stuck in rugged terrain, limited water access, or super-long hiking distances with your kiddos! Learn about the challenges and potential dangers of visiting these parks with young children and plan your trip accordingly for a safe and enjoyable experience.