Daniel is a copywriter who has well and truly been bitten alive by the 'travel bug'. After ticking off several North American National Parks and exploring Europe by train, his sights are now set on South East Asia. Usually with at least one camera locked and loaded, you'll find Daniel wherever there are mountains, lakes or beaches.
Just a stone's throw from Michigan's Grand Rapids, you'll find a host of beautiful lakes perfect for day trips and weekend getaways into nature.
From peaceful picnics and exhilarating water sports to serene fishing spots, there's something for everyone. So, without further ado, here are 12 of the best lakes near Grand Rapids!
Myers Lake
Around 15 miles northeast of Grand Rapids lies Myers Lake, a popular destination for swimming, picnicking, and fishing. The lake, connected to Little Myers Lake, spans 131 acres and hosts an array of fish, including largemouth bass, rock bass, and bluegill. Myers Lake Park is a frequented summer spot, too, with a public beach that attracts locals and visitors alike.
Gun Lake
A short 45-minute drive from Grand Rapids lies Gun Lake, the region's biggest inland lake brimming with fun activities on its shores. Whether you fancy taking a dip, boating, hiking, or camping, you're well looked after at Gun Lake. Nearby, you'll find the almost 10-square-mile Yankee Springs Recreation Area, where you'll find plenty of more outdoor adventures awaiting.
Pickerel Lake
Pickerel Lake, about a 30-minute drive from Grand Rapids, is a 1,080-acre sanctuary for nature enthusiasts. Part of the impressive Inland Waterway's headwaters and on the brink of Gaylord State Forest, the lake offers abundant activities, from walleye and pike fishing to water sports. The sandy bottom makes for perfect swimming conditions, while the wooded shoreline is a wildlife hotspot, with frequent sightings of ducks, deer, and occasional elks.
Wabasis Lake
Wabasis Lake can be found 25 miles northeast of Grand Rapids and is home to some 418 acres of outdoor adventure. The lake is home to a variety of activities, from beach lounging and trail wandering in the summer to soothing sledding in the winter, all with stunning shoreline views. Wabasis Lake Park, complete with a boat launch, picnic spots, and a playground, also offers paddle boats, kayaks, and canoes for rent, ensuring the lake is accessible to all.
Lake Michigan
Just 35 miles from Downtown Grand Rapids, you'll find the shores of Lake Michigan. This Great Lake supplies visitors with endless sandy beaches perfect for beachcombing or building epic sandcastles. Those looking for water-based sports won't be disappointed either. Expect some fun on the water kayaking, paddleboarding, fishing, and plenty more!
Crockery Lake
A 20-mile trip north-northwest from Grand Rapids brings you to Crockery Lake, a 106-acre wonder nestled in Chester Township. Steeped in history, this lake, fed by inlets and underground springs, used to host a Native American village in the early 1800s. Nowadays, you can enjoy the tranquil scenery from a public access site or visit the 40-acre Grose Park, equipped with a fishing dock, trails, sports fields, picnic sites, and a playground.
Morrison Lake
Covering approximately 325 acres, Morrison Lake offers a serene escape for those seeking a less crowded lake experience near Grand Rapids. Its calm waters hold a diversity of fish, including Black Crappie, Bluegill, Largemouth Bass, Northern Pike, and Yellow Perch, making it an ideal spot for anglers. In addition to fishing, the lake is proximal to Walter RC Park, a unique attraction for radio-controlled model airplane enthusiasts.
Lake Macatawa
Lake Macatawa, also known by its Native American name "Ma-Ca-Ta-Wa" or Black Lake, sprawls over 1,700 acres, splitting into Pine Creek Bay and Big Bay as it reaches Lake Michigan. Known for its iconic "Big Red Lighthouse," captivating sunsets, and sandy beaches, the lake is adjacent to Holland State Park. The park features campgrounds on both lakes, a boat launch, and miles of trails, making it a versatile outdoor escape near Grand Rapids.
Muskegon Lake
Muskegon Lake, stretching over 4,150 acres in Muskegon County, is a hub for water and outdoor enthusiasts. The lake teems with activity, offering several marinas and boat launch facilities for sailing and boating, while sport fishing enthusiasts can find a variety of fish, including King Salmon, Coho Salmon, and Lake Trout. Off the water, enjoy camping, hiking, picnicking, ice boating, or enjoy the concerts and festivals that bring life to the lakeside.
Reeds Lake
Positioned in East Grand Rapids, Reeds Lake encompasses 283 acres of recreational space. With a history rooted in early-20th-century amusement and resort life, the lake continues to be a hot spot for water activities. Public access areas equipped with pedestrian pathways and fishing decks cater to all visitors. Additionally, annual events such as the Reeds Lake Triathlon and Reeds Lake Run, along with a 4.2-mile footpath around the lake, offer active pursuits for visitors.
Millennium Park Lakes
Located southwest of downtown Grand Rapids, Millennium Park offers an impressive 1,500 acres of revitalized land, resulting in one of the nation's largest urban parks. The park's centerpiece, a 100-acre artificial lake, invites visitors for swimming and fishing, while a six-acre popular beach and sprawling trails provide a variety of leisure options. With its abundant wildlife and year-round outdoor recreation, including boat rentals and cross-country skiing, Millennium Park even rivals the size and scope of New York's Central Park.
Hardy Dam Pond
Just forty miles north of Grand Rapids, Hardy Dam Pond sits on the Muskegon River, leading to a world of outdoor adventure. With numerous parks, including Sandy Beach Park and Newaygo State Park, approximately 2,000 campsites, several boat launches, and a marina, the surrounding area thrives with activity. The reservoir is a popular place for fishing, while the nearby nature trail, home to all sorts of wildlife, offers one of the best hiking experiences in the area.
The 16 Best National Parks to Visit in June For Summer Fun
Are you looking for the perfect summer adventure? Look no further than these top national parks to visit in June! From the stunning wildflower displays at Lassen Volcanic National Park to the world-class whitewater rafting at New River Gorge National Park, this article provides insider tips and recommendations for an unforgettable outdoor experience. Don't miss out on the chance to explore these breathtaking natural wonders during one of the best months of the year!
6 National Parks To Avoid This Summer (And The Alternatives)
Are you planning a summer trip to a national park but want to avoid the crowds? Look no further than this article, which provides insider tips on which popular national parks to avoid and offers recommendations for six alternative destinations that offer unique experiences and stunning natural beauty. From exploring rugged peaks and pristine lakes at North Cascades National Park to discovering the geological history of Capitol Reef National Park, this article has everything you need to plan an unforgettable outdoor adventure this summer.
Best 16 Utah Vacation Spots
Are you looking for an unforgettable vacation spot with breathtaking natural beauty? Look no further than Utah! With stunning national parks like Zion and Bryce Canyon, as well as unique attractions like the Homestead Crater and Dead Horse Point, Utah has something for everyone. This article provides insider tips and recommendations for the best places to visit in Utah, from hiking to skiing to soaking in natural hot springs. Don't miss out on the chance to explore this incredible outdoor playground!
5 Waterfalls in Zion National Park For A Fabulous Day Out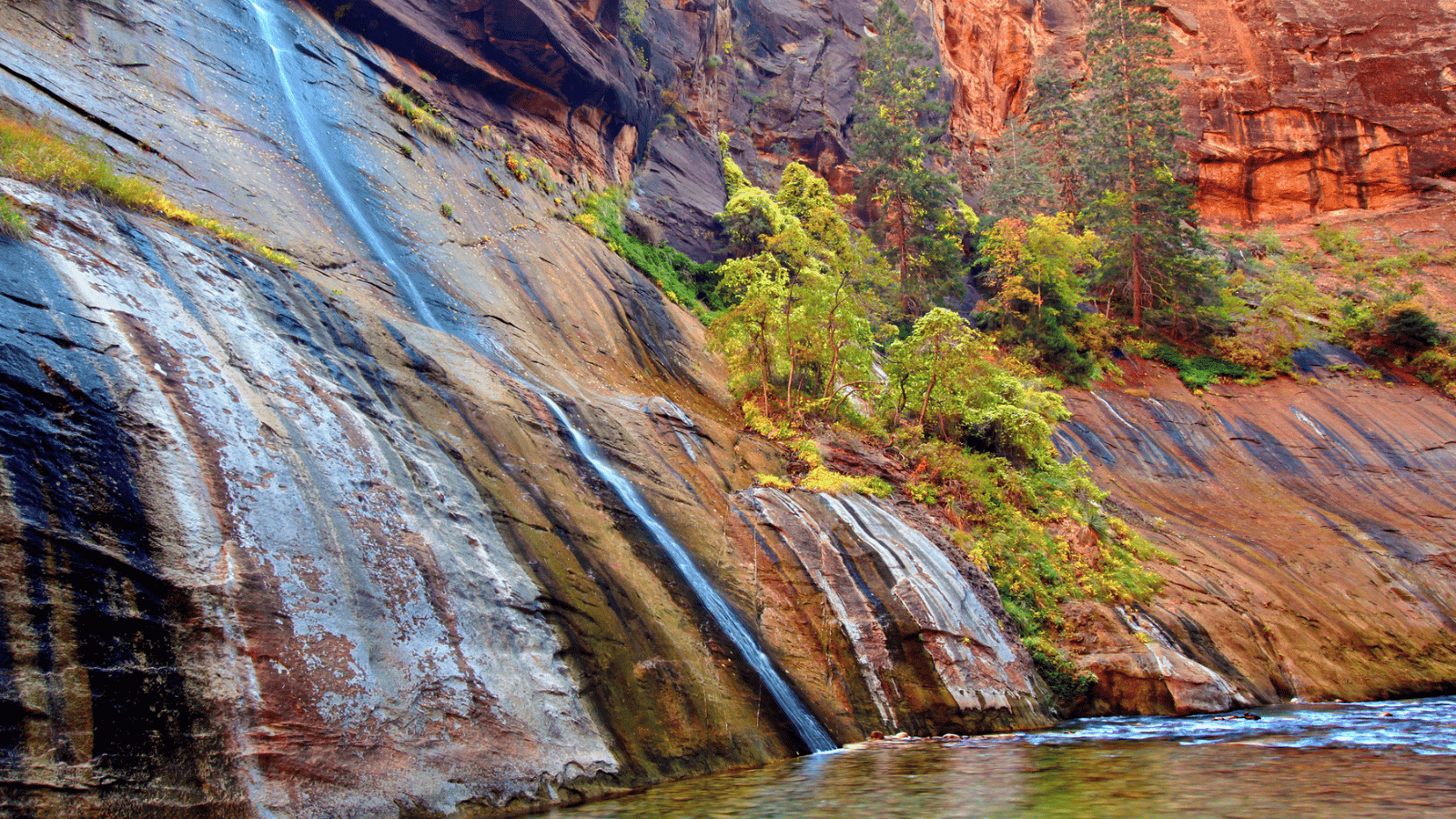 Are you a nature enthusiast looking for an outdoor adventure that will take your breath away? Look no further than Zion National Park in southwestern Utah! This article explores the park's stunning waterfalls, including the moderate hike to Archangel Falls and the more challenging Upper Emerald Pools. But that's not all – the article also highlights other natural attractions in the park, such as The Great White Throne and the Court of the Patriarchs. Don't miss out on the chance to explore this gorgeous landscape and experience the beauty of Utah's unique natural wonders!