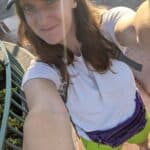 Kelsey is a freelance writer based in Southern Virginia. She enjoys traveling with her family to destinations from national parks to amusement parks and loves sharing tips and stories from along the way.
We've got a bone to pick with influencers! You know the type. You're trying to enjoy the view at a bucket-list destination, and they hog the view trying to take, edit, and post the perfect selfie.
Someone recently asked, "Which destinations are influencers ruining now?" Here are the top answers. Save yourself the frustration and avoid these destinations.
Chiang Mai
"Chiang Mai is literally the worst place I've ever been for tourists," one person says. "We went to this remote waterfall that literally looked like paradise on earth and all people could do was take photos of themselves. Wild."
Another person had the same experience in this notoriously gorgeous Thai city, saying, "We were posted up in this awesome bar, chillin on mats and enjoying the peace. These… tourists with a full-on tripod and mics and everything kept asking us to straight up leave so they could have a photo shoot!" Talk about frustrating.
Kyoto
Some travelers recommended choosing less-busy seasons to visit popular destinations and avoid the rush of influencers. March was a commonly recommended travel month, but that won't work for every destination.
"I was in the background of around 100 live streams simultaneously while walking around in Kyoto in March," said one disillusioned traveler.
Tulum
One person sounds like they've been waiting to share their strong opinion on this topic!
"Tulum is a garbage can of influencer BS," they said. "Used to be a gorgeous outside-the-box location with excellent food and music. Now, they still have 0 infrastructure, run everything off of diesel generators, and have lines to take pictures in front of EVERYTHING. A juice bar with a big rabbit out front? 50 people waiting."
Ok, you convinced me. I won't go.
Disney World
I know, I know. Disney World has always been a tourist trap, but you still expect a certain amount of magic when you visit the mouse's house.
One visitor shared that while waiting for the parade with her children, "some 40ish-year-old woman with a selfie stick bumped my daughter and cut right in front of us as it was starting… to go "live" on whatever social media."
This visitor didn't take that lying down, though. She goes on to say, "I made sure to loudly say 'excuse you! Did that rude lady really just push a five-year-old out of the way?'"
Lisbon
One influencer laments that location security is often complicit in the influencer takeover. "Portugal has gone nuts," they complained. "I was at Belem Tower and they made everyone wait in the hot sun while an Instagram influencer took over the tower for a photo shoot.
It was security at the monument not letting anyone up into the tower until the photo shoot was done."
Schloss Neuschwanstein
This traveler begins with the caveat that, while they didn't consider their trip ruined by influencers, they did encounter some at the iconic Schloss Neuschwanstein.
"We were on the bridge across from the castle admiring the view and getting some pics of our own. 2 girls showed me a picture of 2 women gently clasping hands looking all perfect and dewy and asked if I could take a picture of them just like that. They did their poses, I took a bunch of shots, and they didn't like how they looked. They asked me to take more, but I refused. I'm not spending a visit to one of my bucket list locations to take Insta-worthy pictures of you."
Lake Como
Italy is a bucket-list destination for many travelers, and the influencers of the world have definitely gotten the memo.
"Went last year," one person says, "Varenna was overrun by people trying to pose for the perfect Insta post rather than just taking in the beauty of the place."
Why even travel if you're planning to spend the whole trip looking through your phone? Beats us!
Utah
Utah is absolutely packed with incredible views, but what's the point if you're not going to spend time taking it in? One person says, "We were in Utah once at an overlook at sunset. … this couple shows up with a suitcase, not kidding. It was full of alternative outfits.
The woman proceeded to dress up in flowy dresses and big hats and stand at the edge of a 1000-foot precipice while her man took pictures of her smiling and holding her hat from getting blown off. They never sat down to look at the sunset or enjoy the desert vibe."
Stonehenge
To see Stonehenge, travelers have to commit to a lengthy trip from London or other more populous areas. Once you're there, of course, you'd like to be able to see the sights!
One person said, "We went to Bath/Windsor/Stonehenge on a day tour, and it was absolutely teeming with other tourists. I literally did not get to physically see Stonehenge because the shuttles were overwhelmed and I was afraid of not making it back to the tour bus."
Bali
Several people recommended staying away from Bali. "Japan and Bali. Leave those places alone," one said.
Another included it in their long list of locations to avoid. "Santorini, Lake Cuomo, Costa Rica, Guatemala – Atitlan, Yucatán, Yellowstone, Bali, Morocco, parts of Colombia, San Blas, Himalayas, Yosemite… all loaded with cringfluencers."
"Bali," a third person agreed. "I've traveled a lot and never ever have seen people acting crazier than there."
20 Thrilling Florida Vacation Spots
Ready to plan your next vacation in sunny Florida? Here are the highlights of the 20 best vacation spots in the state! From the vibrant nightlife of Miami to the laid-back charm of Clearwater, there's something for everyone. Whether you're looking for family-friendly activities, high-end experiences, or unique adventures, this article has got you covered. So, pack your bags and get ready to soak up the sun and fun in the Sunshine State!
15 Virginia Vacation Spots Perfect For Exploring History
Explore the best vacation spots in Virginia with this must-read article! From the historical charm of Williamsburg to the breathtaking beauty of Shenandoah National Park, there's something for everyone. Don't miss out on the top attractions, outdoor adventures, and unique experiences that Virginia has to offer.
Top 15 Ohio Vacation Spots: Vibrant Cities & Aesthetic Parks
Ready to discover the best vacation spots in Ohio? Look no further than this article, which highlights the top destinations in the state, from the vibrant cities of Cleveland, Cincinnati, and Columbus to the scenic Hocking Hills State Park. Explore the great outdoors, enjoy cultural activities, and indulge in local cuisine and attractions. So, pack your bags and get ready to experience the diverse and exciting vacation spots that Ohio has to offer!
Picturesque Lake And Mountain Top Views: 16 Michigan Vacation Spots
Discover the best Michigan vacation spots with this ultimate guide! From the charming university town of Ann Arbor to the breathtaking Pictured Rocks National Lakeshore, there's something for everyone. Whether you're looking for outdoor adventures, cultural experiences, or romantic getaways, Michigan has it all.