Stephanie is a cherished member of the Sampling America writing team, dedicated to crafting captivating narratives that transport readers to thrilling adventures across the country and beyond.
New England is known as being one of the best places to get out and explore the great outdoors. For many people, hiking, camping, and fishing are the perfect vacation activities.
Consider visiting Connecticut if you're looking for your next adventure in the autumn to relish in the fall foliage. Explore the wonderful lakes that Connecticut has to offer on your next road trip through the wonderful area of New England.
Highland Lake
The Berkshire Mountains are some of the best places to visit when traveling through New England to enjoy the majestic outdoors. The shores of Highland Lake are filled with luxury homes set against stunning shores and thick forests.
When visiting the lake, guests can expect to enjoy plenty of outdoor activities, such as canoeing, swimming, and hiking, as well as fishing for Atlantic salmon, bass, and trout. The bay has ample space for launching boats, so consider towing your watercraft here.
Quaddick Lake
This small lake is a natural freshwater reservoir that was dammed to create a resource for clean drinking water in the late 1800s.
Today, the lake offers plenty of summertime fun with seasonal homes for rent and people traveling from all over the area to explore the waters. Guests can look forward to kayaking, canoeing, swimming, and more at this fantastic example of Connecticut waters.
Bolton Lakes
Bolton Lakes are made up of three freshwater lakes just outside of the famous Hartford, Connecticut. The tranquil waters offer a quiet respite from busy city life.
In the summertime, this area is packed with people looking to get the most out of their seasonal vacation. Although the lakes offer fishing and swimming, the park also installed a large zip line that draws in plenty of visitors.
Anderson Pond
This stunning lake was formed by glaciers during the last Ice Age. It's also surrounded by wetlands that play host to beavers, mink, and water foul.
Since this lake is technically a pond, visitors are discouraged from swimming in the water due to the possible presence of bacteria. However, guests are still invited to kayak, canoe, and explore the area either by hiking or horseback riding.
Beach Pond Lake
This artificial lake serves as a freshwater reservoir for nearby communities. It also serves as a popular canoe trail that spans multiple states.
The bat ramps here offer access to fishing, boating, kayaking, and more. The lake is filled with large-mouth, small-mouth, and calico bass.
Lake Garda
This lake was created as an artificial body of water by an Italian Immigrant named Harry Battistoni following World War 1.
The lake hosts plenty of lakefront properties that can be rented in the summer to enjoy the 43-acre waterfront. Guests can expect to enjoy plenty of water sports like jet skiing, water skiing, and canoeing.
Lake Waramaug
Anyone looking for one of the best lakes in Connecticut should absolutely stop at Lake Waramaug. The lake is situated in one of the biggest state parks in the area and offers a picturesque surrounding forest.
To keep the waters tranquil and calm, motorized boats are restricted for non-residents; although guests can pay a fee to launch their boats, the lake imposes a strict speed limit. Anyone looking for rest should certainly turn their sights towards this lake.
Mashapaug Lake
While this lake can get crowded during the summer and on holiday weekends, locals know to come early and stay late to enjoy the area all to themselves.
If you're lucky enough to get one of the nearby camping spots, stopping in for an early morning dip in the lake should be a breeze. The water here is incredibly inviting, with crystal clear waters and warm temperatures. Don't miss out on this stunning attraction.
Squantz Pond
This quaint pond is well-known for having one of the best mountain views in the state. Water skiing, jet skiing, and swimming are absolutely fantastic in this stunning location.
The massive hills surrounding this lake allow for a quiet space in the mountains for anyone to enjoy. This lake can get very busy in the summer months, so be sure to show up early in the morning to secure a spot.
Hop Brook Lake
This lake is one of the most popular spots in the state to enjoy a sandy beach and excellent water sports. The recreation area at this lake is only open on Memorial Day through Labor Day, so you'll have to show up during one of these months to enjoy the lake to the fullest.
In the fall, the hiking trails surrounding the lake are full of visitors looking to enjoy the colors of the New England foliage.
Lake Lillinonah
Lake Lillinonah is the second-largest lake in the state, with 1,900 acres of water. Close to New Haven, this lake is a popular spot for those taking a driving tour through Connecticut.
Tourists and locals alike enjoy the splendor that this lake has to offer. The nearby hiking trails also draw in plenty of outdoor enthusiasts.
Crystal Lake
This stunning lake is busy all year round. Although the shores are full of fabulous vacation homes, visitors get to enjoy this lake no matter the weather.
The beach can get pretty busy in the summer months, and the hiking trails are fairly populated all throughout the cooler seasons, so be sure to show up early to enjoy this majestic area.
The 16 Best National Parks to Visit in June For Summer Fun
Are you looking for the perfect summer adventure? Look no further than these top national parks to visit in June! From the stunning wildflower displays at Lassen Volcanic National Park to the world-class whitewater rafting at New River Gorge National Park, this article provides insider tips and recommendations for an unforgettable outdoor experience. Don't miss out on the chance to explore these breathtaking natural wonders during one of the best months of the year!
6 National Parks To Avoid This Summer (And The Alternatives)
Are you planning a summer trip to a national park but want to avoid the crowds? Look no further than this article, which provides insider tips on which popular national parks to avoid and offers recommendations for six alternative destinations that offer unique experiences and stunning natural beauty. From exploring rugged peaks and pristine lakes at North Cascades National Park to discovering the geological history of Capitol Reef National Park, this article has everything you need to plan an unforgettable outdoor adventure this summer.
Best 16 Utah Vacation Spots
Are you looking for an unforgettable vacation spot with breathtaking natural beauty? Look no further than Utah! With stunning national parks like Zion and Bryce Canyon, as well as unique attractions like the Homestead Crater and Dead Horse Point, Utah has something for everyone. This article provides insider tips and recommendations for the best places to visit in Utah, from hiking to skiing to soaking in natural hot springs. Don't miss out on the chance to explore this incredible outdoor playground!
5 Waterfalls in Zion National Park For A Fabulous Day Out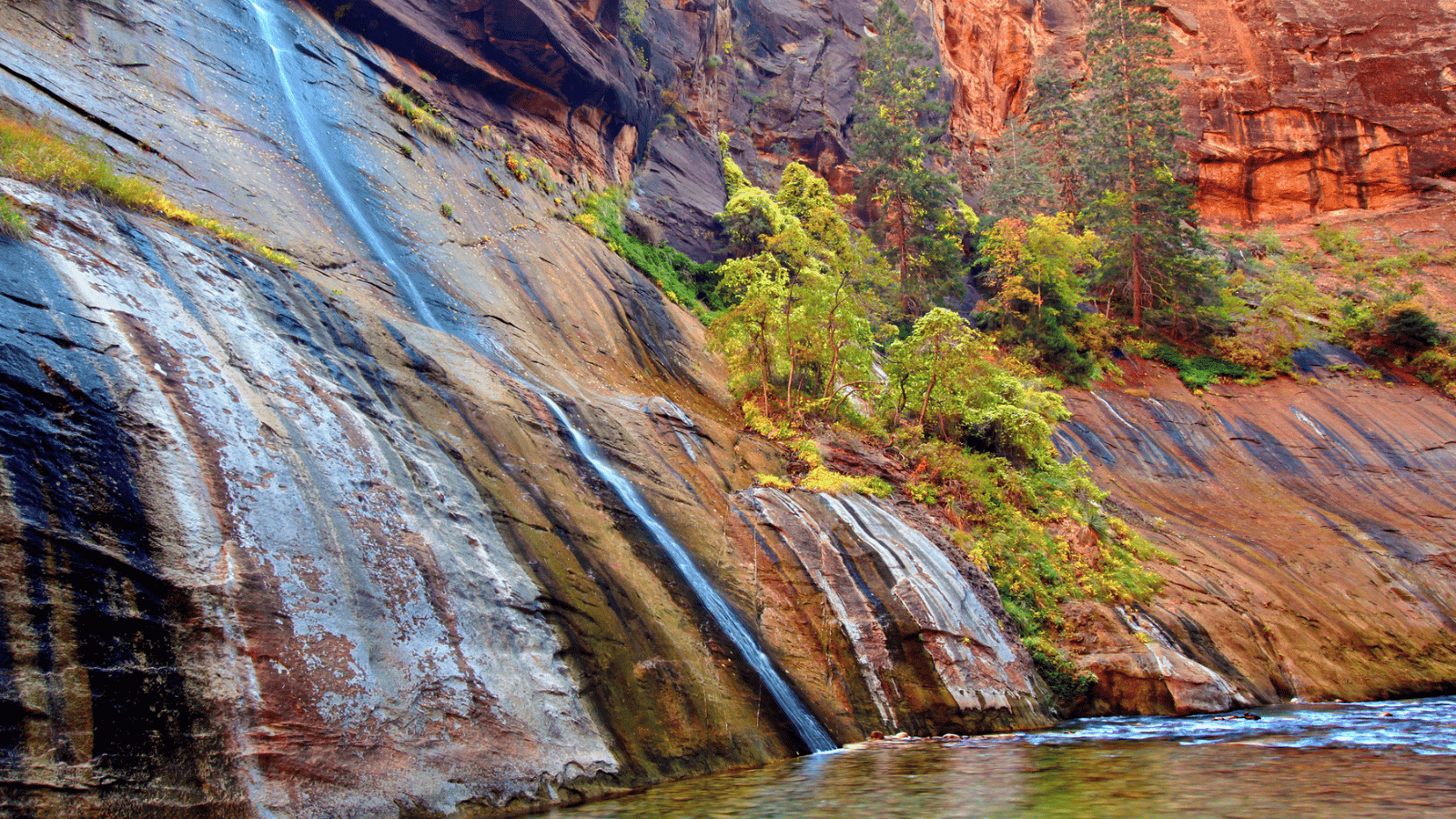 Are you a nature enthusiast looking for an outdoor adventure that will take your breath away? Look no further than Zion National Park in southwestern Utah! This article explores the park's stunning waterfalls, including the moderate hike to Archangel Falls and the more challenging Upper Emerald Pools. But that's not all – the article also highlights other natural attractions in the park, such as The Great White Throne and the Court of the Patriarchs. Don't miss out on the chance to explore this gorgeous landscape and experience the beauty of Utah's unique natural wonders!