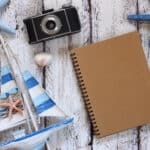 Elizabeth is an experienced traveler and writer with bylines in several popular travel publications. She currently co-owns a small digital travel publication and spends her free time writing, taking photos, and traveling.
Boomers and Gen Z, with their contrasting preferences and outlooks, are about to clash head-on in the ultimate battle of travel styles.
From luxury resorts to backpacking adventures, how different are these two generations' travel styles, and how much of it is media hype? Let the comparisons begin in this epic clash of wanderlust.
Technology
It's no surprise that technology plays a massive role in how different generations travel. Travelers who are part of the Boomer generation (those born between about 1946 to 1964) still rely on travel agents and physical travel guides, while Gen Z is all about the latest travel apps and social media. Gen Zers can't imagine traveling without WiFi and GPS, which is something boomers excel at because they had to learn to navigate travel without them.
Travel Style
Boomers often opt for organized tours or cruises, while Gen Z wants to explore new, hidden destinations and immerse themselves in different cultures in a way that feels local and authentic. Additionally, while boomers enjoy the company of their significant other or another couple, Gen Z travelers often travel solo or with a group of friends.
Accommodation
Boomers seem to still prefer traditional hotels, while Gen Z prefers Airbnb and other home rentals. For boomers, it's all about comfort and convenience, while Gen Z wants a more authentic experience that homestays, Airbnbs, and even pet sitting can offer them.
Transportation
Boomers often rely on rental cars or organized tours, while Gen Z prefers ride-sharing and public transportation. While boomers don't mind paying for convenience, Gen Z prefers to save money on transportation to afford more experiences.
Budget
Boomers tend to splurge on luxury travel, while Gen Z prioritizes experiences over accommodations and activities. Moreover, boomers often spend more on food and accommodations, while Gen Z is more frugal in these areas. Perhaps this is due to Gen Z's current earning power, and they'll seek out luxury experiences as they age, too. Or perhaps it's a travel trend they'll continue to enjoy as they get older.
Travel Research
As mentioned, it's not rare for boomers to hire the services of a travel agent or purchase a print travel guide to find unique spots to visit. Gen Z, on the other hand, turns to social media platforms like TikTok and online reviews for recommendations.
Sustainable Travel
Gen Z is more environmentally conscious and often chooses eco-friendly accommodations and modes of transportation, while boomers prioritize comfort and convenience. Boomers don't mind indulging in luxury travel, while Gen Z travelers prefer to travel more sustainably. They have, after all, grown up entirely under the threat of near-constant climate disasters.
Foodie Culture
Gen Z is more adventurous with food and seeks out local cuisine, while boomers tend to stick with familiar dishes. Boomers also seem to prefer the comfort and familiarity of chain restaurants, while Gen Z has been exposed to various multicultural cuisines on social media for years and seems to have no problem sampling local fare and venturing outside the norm.
Travel Souvenirs
Boomers collect physical souvenirs, like mugs and postcards, while Gen Z prefers to document their travels on social media and take photos and videos. This makes sense, as Gen Z grew up creating and storing digital memories, whereas boomers didn't have that luxury.
Social Media
Finally, in the age of social media, it's not surprising that Gen Z likes to document their travels. TikTok and Snapchat are popular with the younger generation, while boomers, if they do upload photos of their travels, are more likely to post them on Facebook.
8 Most Unique Places To Kayak In The US — Stunning Beauty
Looking for a unique and thrilling way to explore the natural beauty of the United States? Look no further! From the bioluminescent bays of Puerto Rico to the rugged beauty of the Apostle Islands in Wisconsin, there's something for every adventure seeker.
The 10 Most Beautiful Hikes In The US — Discovering America
This article highlights the most beautiful hikes in the US from California to Maine. Whether you're a seasoned hiker or just starting out, there's a trail on this list that will leave you awe-inspired. So, put on your hiking boots and get ready to explore the diverse and awe-inspiring landscapes of America's most beautiful hiking destinations.
10 National Parks To Skip If You Have Young Children
This article is a must-read if you're planning a national park trip with young children! Don't get stuck in rugged terrain, limited water access, or super-long hiking distances with your kiddos! Learn about the challenges and potential dangers of visiting these parks with young children and plan your trip accordingly for a safe and enjoyable experience.