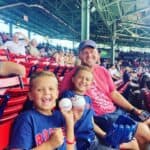 Jake Cain is an entrepreneur and writer from Cincinnati, Ohio. He spends his free time driving around the country in his late 90's conversion van, affectionately known as the "Monster Van" with his wife and 3 boys.
It's no secret our kids are borderline obsessed with playing football right now. On a typical summer day, they spent probably 4 hours playing football games and running practice drills with their friends in our backyard.
So as we headed out on the road, I knew we'd have to get creative at times to find them a space for a game.
What's a school without recess, right?
In no particular order, here are 10 of the best impromptu football field locations from our trip:
1. Boothbay Harbor High School
We spent the first week of our trip in the small coastal town of Boothbay Harbor, Maine. We had a few hours to kill, and I remembered driving past a nice looking sports complex with a legit football field.
So me and my buddy Jonny packed up our boys and headed to the field.
The kids wanted to play 100 yard, 3 on 3 football, but we opted to just play a game inside the Red Zone and then took some time practicing with the tackling dummies they left outside the shed (see video above.)
2. Old Orchard Beach
On our way from Maine down to Boston, we were able to get a hotel in Boston for the night and decided to spend the afternoon at nearby Old Orchard Beach.
Most of the pier was closed for Covid, but the sand/football field was open.
3. The Esplanade
The Esplanade is a 17 mile stretch of parkland along the Charles River, which was walking distance from our house in Back Bay.
With people laying around, running, walking, biking, fishing, panhandling, and more on this beautiful Saturday afternoon, it was tough to find enough grass for a game.
So we settled for this awkward strip of grass that was dangerously close to the water.
This meant a wayward throw on a corner route could end up in the river and abruptly end the game. We actually had one ball bounce into the river, but our cousin Matt was able to quickly grab a stick and get the ball back to shore.
The kids loved all the compliments from the passersby on the adjacent bike path, and they especially loved getting to play with Matt.
4. Boston "Hahbah"
I sat out for game 2 in Boston, but cousin Matt wasn't so lucky.
The kids sucked him into a little 2 on 2 game at the Friends of Christopher Columbus Park near the Boston Harbor, while the ladies did some shopping.
I was happy to soak up a little sunshine and water views from the bench on this one.
5. Bryant Park
While Sarah got lost in the Macy's on 34th Street, the boys and I wandered up a few blocks to the small but quaint Bryant Park.
For a while they played a little one on one with Jackson as QB, then I got in the action and we did a little 2 on 2 game. After that, they'd caught the attention of a few other kids in the park and ended up playing with a couple of new football buddies:
6. Stead Park, Washington D.C.
We had a sweet location in the Logan Circle neighborhood of Washington D.C.
We were about a 10-minute walk from the White House and right around the corner from Whole Foods and a variety of restaurants. Unfortunately, kids don't appreciate a cute row house as much as the parents do.
They wanted to know where the green space was.
Fortunately, there was an amazing artificial turf field at Stead Park about a block away from our house that had plenty of room to run.
There were some intense adult pick-up soccer games happening at the same time, which meant some wayward shots on goal almost decapitated our kids a couple of times. Overall it was one of their favorite fields and a daily stop for us.
7. National Constitution Center

In Philadelphia we went on a guided walking tour of the historic sites with a fun and informative guide.
While we were waiting for the tour to start, the kids took advantage of the front yard of the National Constitution Center and got in a quick game of 1 on 1 in the shadows of the large "We The People" sign on the facade of the building.
8. Liberty State Park

Since we were staying in Jersey, we decided to take the Liberty State Park ferry to Ellis Island and Liberty Island.
A pleasant surprise was that you got to buy your tickets inside of the historic Jersey City train station. This was the first stop for many immigrants after leaving Ellis Island as they boarded trains headed to various locations.
The boys got in a little game with the train station on the visiting sideline, lower Manhattan's skyline behind the home team's endzone, and Lady Liberty behind the home team's sideline.
Not bad.
9. Central Park

In a completely out-of-character move, Sarah forgot to get a picture of the football game that took place at Central Park in New York City.
It was a particularly sunny and beautiful day, so they had to carve out some space in a cluster of baseball fields.
Fortunately, Sarah did get a picture of Gray using his resistance bands to get juiced before the game.
#SunsOutGunsOut
10. Brooklyn Bridge Pier 6
We did a guided walking tour of the Brooklyn Bridge which started in Manhattan and then dropped off in Brooklyn.
We'd never been to Brooklyn, but we walked around and eventually had some delicious pizza and ice cream (read more here.)
But before that, we burned some calories at the only pier where we could find a little bit of grass that wasn't occupied by picnicking locals.
Again, the skyline views of Manhattan from each pier in Brooklyn were hard to beat and made for a small, but special football field.
11. Bonus – Home Field
Finding random patches of grass across the Northeastern United States was a lot of fun, but nothing beats the backyard game with friends when you return home.