Daniel is a copywriter who has well and truly been bitten alive by the 'travel bug'. After ticking off several North American National Parks and exploring Europe by train, his sights are now set on South East Asia. Usually with at least one camera locked and loaded, you'll find Daniel wherever there are mountains, lakes or beaches.
Indiana, often overshadowed by coastal destinations, holds its own charm in the form of picturesque lakes. These hidden gems offer nature enthusiasts an unparalleled blend of serene beauty, adventurous recreational activities, and diverse wildlife. Let's take a look at the top 15 lakes found in the Hoosier State!
Lake Wawasee
Amidst the gentle hills of Amish country lies Lake Wawasee, Indiana's largest natural lake. Across its 3000 acres of glistening water surface, you can enjoy high-speed boating and water skiing without any daytime speed limit. Lake Wawasee's yacht clubs provide a contrasting, tranquil experience for those interested in leisurely sailing.
Lake James
Set inside Pokagon State Park, Indiana, Lake James is a hub for enthusiasts of boating, water skiing, and fishing. Highlights include boat gatherings at the First Basin sandbar, weekly sailboat races, and the annual events of a 4th of July boat parade and a Seaplane Splash-In.
Lake Maxinkuckee
Lake Maxinkuckee, one of the largest lakes in the state, offers year-round fun. The beautiful 1,850-acre glacial lake captivates with summer activities like boating, swimming, and even scuba diving, thanks to its maximum depth of 88 feet. As seasons shift, ice fishing takes center stage, while the surrounding areas provide opportunities for golfing and bike rides.
Tippecanoe Lake
In northern Indiana, the deepest lake in the state, Tippecanoe Lake, offers a wealth of recreational options. Known as "Lake Tippy," this gem promises many activities, including kayaking, jet skiing, and water skiing. With over 25 species of fish, including bluegill and largemouth bass, the scenic lake is also an angler's paradise.
Lake Shafer
Situated just outside Monticello, Indiana, Lake Shafer is a bustling destination for both thrill-seekers and anglers. The lake, born from the Norway Hydroelectric Dam, is home to Indiana's largest amusement park, Indiana Beach Amusement Park and Camp Resort, adding an extra dash of fun with over 30 rides. For fishing enthusiasts, Lake Shafer hosts annual tournaments and offers an impressive variation of fish species.
Brookville Lake
Nestled in Indiana's Whitewater River Valley, Brookville Lake offers a year-round escape for outdoor enthusiasts. The 5,260-acre lake plays host to a range of recreational activities, including fishing, boating, and water skiing. The area is equally rich in history, with traces of prehistorical Indian mounds, adding an educational twist to your outdoor adventure.
Barbee Lake
Encircled by Kosciusko County's scenic beauty, the Barbee Lakes chain features seven interconnected natural lakes teeming with recreational pursuits. These angler's paradises reward with hefty catches of bluegills, largemouth bass, and muskies. If you prefer dry land, the surrounding county tempts with its outdoor activities like biking and hiking.
Lake Michigan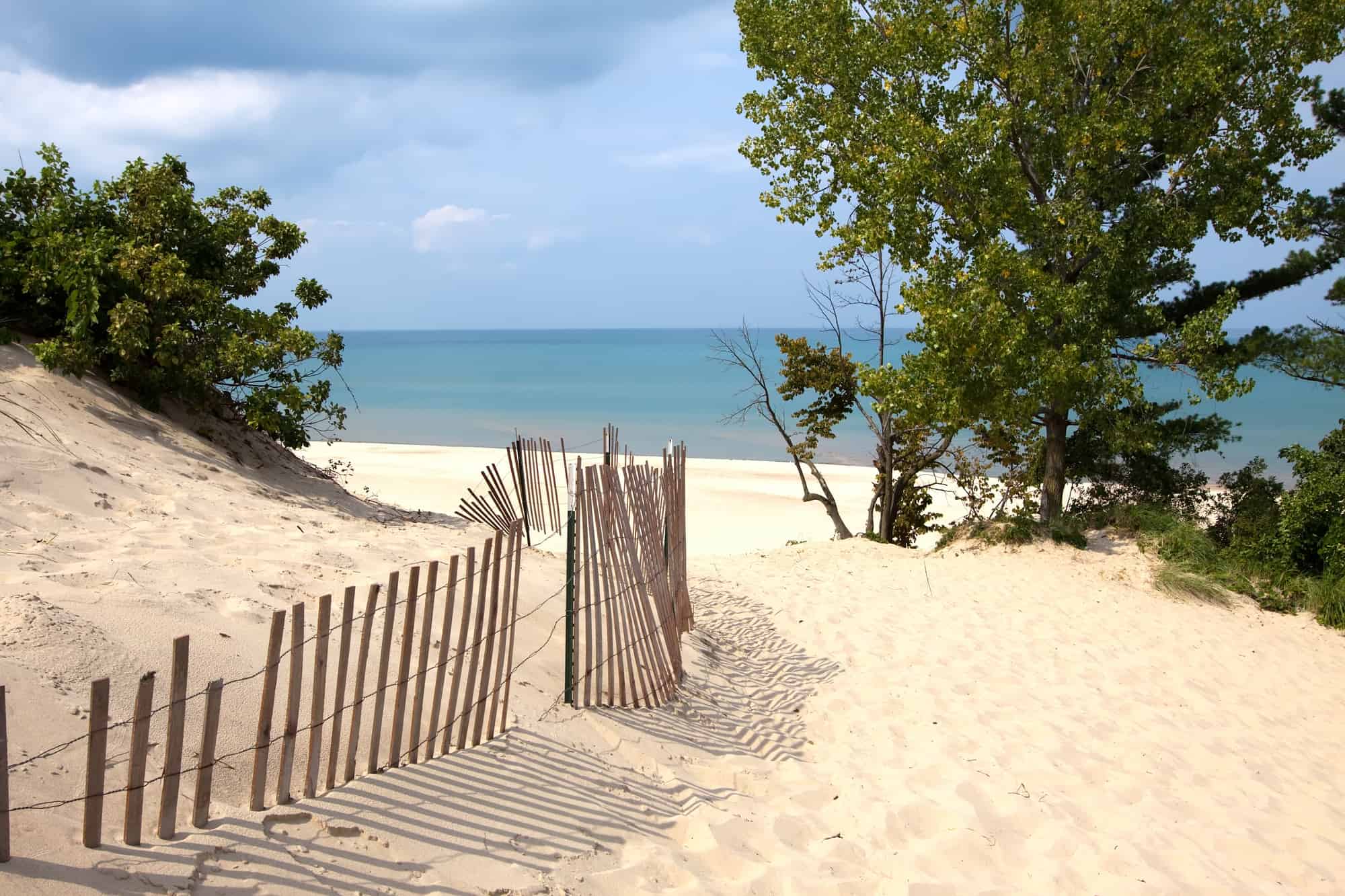 When it comes to Michigan's lakes, Lake Michigan steals the show. This Great Lake supplies visitors with endless sandy beaches perfect for beachcombing or building epic sandcastles. Those looking for water-based sports will be satisfied, too. Kayaking, paddleboarding, fishing, and more are all common here.
Patoka Lake
Stretching across three counties in southern Indiana, Patoka Lake, the state's second-largest reservoir, offers an abundance of recreational activities. The lake's varied fish species and migratory birds make it a hot spot for both fishing enthusiasts and photographers. Beyond water activities, the surrounding area offers scenic trails, picnic spots, and a golf course, with over 500 campsites dotting the shoreline for those looking to extend their stay.
Cagles Mill Lake
Cagles Mill Lake, also known as Cataract Lake, is an enchanting destination for water lovers. The 1,400-acre lake is renowned for outdoor activities and its nearby majestic waterfalls. Whether you're reveling in the sight of the cascading Cataract Falls or engaging in water-based fun, Cagles Mill Lake offers an unforgettable experience.
Lake Manitou
Just 60 miles west of Fort Wayne, Lake Manitou emerges as a scenic oasis in the city of Rochester. Originating as a water power source for an 1827 grist mill, this 775-acre spring-fed lake now invites visitors for boating, jet skiing, and fishing. Its surroundings, rich in golf courses, hiking trails, and birdwatching spots, make Lake Manitou the perfect outdoor vacation.
Lake Lemon
Just 10 miles northeast of Bloomington, Lake Lemon calls to water sports enthusiasts with its 1,650 acres of surface area. Serving as a base for the Indiana University Women's Rowing Team and Sailing Club, the lake also boasts the only marina. Amid its 24 miles of shoreline, visitors can engage in a variety of exciting activities, from sailing and rowing to water skiing.
Monroe Lake
Monroe Lake, set within Monroe County, offers an array of outdoor adventures. Enjoy the sun-soaked public beaches—Fairfax, Paynetown, and Hardin Ridge—ideal for swimming, picnicking, or engaging in friendly beach games from Memorial Day to Labor Day. The lake, home to an impressive variety of fish, is a year-round haven for anglers. Off the water, the surrounding trails invite hikers and trail runners to explore the lush forests at their own pace.
Brookville Lake
Brookville Lake, part of the Brookville Lake-Whitewater Memorial State Park Complex, prides itself on being one of Indiana's clearest, quietest, and most picturesque lakes. Originating as a flood control reservoir, it now sprawls across over 11,000 acres, welcoming two million visitors annually to enjoy its shoreline. If fishing is your passion, the lake's abundant species—particularly the large walleye—promise a fruitful trip.
Salamonie Lake
A family-friendly destination, Salamonie Lake has plenty of things to do both on land and in the water. Since its formation in 1966, the lake, adjacent to the Salamonie River State Forest, has evolved into a hotspot for boating, swimming, and fishing. The surrounding area offers an inviting mix of playgrounds, campsites, and hiking trails, with an educational center providing insights into the local wildlife.
20 Thrilling Florida Vacation Spots
Ready to plan your next vacation in sunny Florida? Here are the highlights of the 20 best vacation spots in the state! From the vibrant nightlife of Miami to the laid-back charm of Clearwater, there's something for everyone. Whether you're looking for family-friendly activities, high-end experiences, or unique adventures, this article has got you covered. So, pack your bags and get ready to soak up the sun and fun in the Sunshine State!
15 Virginia Vacation Spots Perfect For Exploring History
Explore the best vacation spots in Virginia with this must-read article! From the historical charm of Williamsburg to the breathtaking beauty of Shenandoah National Park, there's something for everyone. Don't miss out on the top attractions, outdoor adventures, and unique experiences that Virginia has to offer.
Top 15 Ohio Vacation Spots: Vibrant Cities & Aesthetic Parks
Ready to discover the best vacation spots in Ohio? Look no further than this article, which highlights the top destinations in the state, from the vibrant cities of Cleveland, Cincinnati, and Columbus to the scenic Hocking Hills State Park. Explore the great outdoors, enjoy cultural activities, and indulge in local cuisine and attractions. So, pack your bags and get ready to experience the diverse and exciting vacation spots that Ohio has to offer!
Picturesque Lake And Mountain Top Views: 16 Michigan Vacation Spots
Discover the best Michigan vacation spots with this ultimate guide! From the charming university town of Ann Arbor to the breathtaking Pictured Rocks National Lakeshore, there's something for everyone. Whether you're looking for outdoor adventures, cultural experiences, or romantic getaways, Michigan has it all.