Indiana's state capital, Indianapolis is Indiana's most populous city. There are many museums, art spaces and restaurants to explore in the city.
Indianapolis boasts of great recreational opportunities and there are many iconic attractions to explore that will keep its residents and tourists occupied. That doesn't mean that there is not much to explore outside the city.
Sandy dunes and magical caves, all await you in the city of Indiana. So, let us explore some of the best day trips from Indianapolis.
Indiana Dunes State Park, Indiana
One of the most impressive phenomena found in Indiana is the Indiana Dunes. Home to 2000 acres of sand dunes, you can do many activities in the park.
Hiking, camping, swimming are popular things to do in the Indiana Dunes State Park. You can also just walk around and explore the phenomenal sand dunes and when the heat and dust get too much just head over to gorgeous Lake Michigan to take a dip to cool down.
Needless to say, Indiana Dunes State Park makes for a great day trip from Indianapolis.
Distance: 2 hours and 34 minutes
Ideal for: Outdoor fun
Marengo Cave, Indiana
If you want to get adventurous, then there is nothing more exhilarating than walking around in caves. This cave system was formed over one million years ago and is a recognized U.S. National Landmark.
Marengo Caves was discovered by Orris and Blanche Hiestand in 1883. is one of only four caves in Indiana that remains open for public adventure.
Roughly five miles long, there are two cavern tours here. You can choose between the Dripstone Trail Tour (1 mile/60 minutes long) and the Crystal Palace Tour (.33 mile/40 minutes long).
You will get to see amazing stalagmites and formation deposits that look like something from another planet. Visitors can even try mining for gemstones.
You can also try visiting the Cave Country Canoes down the road for a canoeing adventure on Blue River.
Distance: 2 hours and 17 minutes
Ideal for: Adventure
Whitewater Valley Railroad, Indiana
A train enthusiast will love the Whitewater Valley Railroad. This historic track makes for a great visit and Whitewater Valley Railroad makes for a great getaway if you are looking for an authentic getaway.
The iconic sound and dedication to historical accuracy make this place a must-visit. Part-railroad and part-museum, the Whitewater Valley Railroad has regular and special train rides available everywhere.
Visitors can choose from their Fall Foliage Flyer, Wild West Train, Santa Claus Limited, or Metamora Canal Days Limited excursion.
Distance: 1 hour and 14 minutes
Ideal for: Train enthusiasts
Holiday World and Splashing Safari, Ohio
A popular place for families, Holiday World, and Splashing Safari will surely be a hit with the kids. Part-theme park and part-waterpark, this is only a short distance from Indianapolis.
It has four different sections, each dedicated to a public holiday. You can choose from Christmas, Halloween, Thanksgiving, and the Fourth of July!
There are live entertainment, water rides, and many roller coasters – there will surely not be a dull moment during this day trip from Indianapolis.
Distance: 2 hours and 46 minutes
Ideal for: Family fun
Patoka Lake, Indiana
This land-locked state leaves its residents longing for some refreshment in the summer, which is when people come flocking to Patoka Lake.
Visitors love to do swimming, boating, fishing, or just relax by the tranquil lake. It is the second-largest reservoir and you can also experience boat tours.
If a day is not enough for you, then you can rent a space in one of the floating cabins for an extraordinary experience.
Distance: 2 hours and 28 minutes
Ideal for: Summer getaways
Brown County State Park, Indiana
Get in touch with your wild side at the Brown County State Park in Indiana. Brown County State Park is located in the quiet town of Nashville.
The park sprawls with an area of nearly 16,000 acres (6,475 hectares), and an additional 70 miles (113 km) of horse trails.
Explore this beautiful place on foot or trek across the many hiking trails. The park is nicknamed "Little Smokies," given their resemblance to the Great Smoky Mountains.
Distance: 1 hour
Ideal for: Nature lovers
Shipshewana, Indiana
The quaint rural town of Shipshewana is located just north of Indianapolis. This little community is the heart of Amish Country and makes for a great day trip from Indianapolis.
Marvel at the Amish horse and buggies trotting around town and have a meal, i.e. Amish cuisine on offer at the Blue Gate Restaurant.
Kids will love the exotic animals at the Dutch Creek Farm Animal Park.
Distance: 3 hours
Ideal for: Family fun
New Harmony, Indiana
This intriguing small town south of Indy has the most incredible history which makes for a great day trip from Indianapolis.
Originally the town was founded as a utopian commune and relics of the failed community can still be visited. Visitors can visit the Roofless Church, designed for all religions to worship under.
You can also shop at local antique stores in this quaint town.
Distance: 2 hours and 55 minutes
Ideal for: Unique getaway
Wolf Park, Indiana
As the name suggests, Wolf Park is an educational facility that opened in 1972 to study wolves and coyotes.
Families love this destination as visitors not only get to have an encounter with wolves but also learn more about the calls of wolves and their behavior.
Visitors can also spot wildlife such as foxes, bison, coyotes. Take a tour and learn more about these wild beasts.
Wolf Park opened in 1972, intended as an education center, where the behavior of wolves and coyotes were studied.
Wolf Park is definitely a great place for a day trip from Indianapolis, Indiana.
Distance: 1 hour and 12 minutes
Ideal for: Wildlife enthusiasts
Santa Claus, Indiana
Christmas is an all-year-round affair at this cute little town called Santa Claus in Indiana. Every year, thousands of children write letters to Santa Claus and it is all answered from this town in Indiana.
This amazing town clings to its wintery theme with Santa Claus-themed shops and the Lake Rudolph Campground. If you want to feel some Christmas cheer, then head to Santa Claus.
Also, visit Santa's Candy Castle or Frosty's Fun Center which are tourist favorites.
Distance: 2 hours and 43 minutes
Ideal for: Christmas cheer
Indiana Beach, Indiana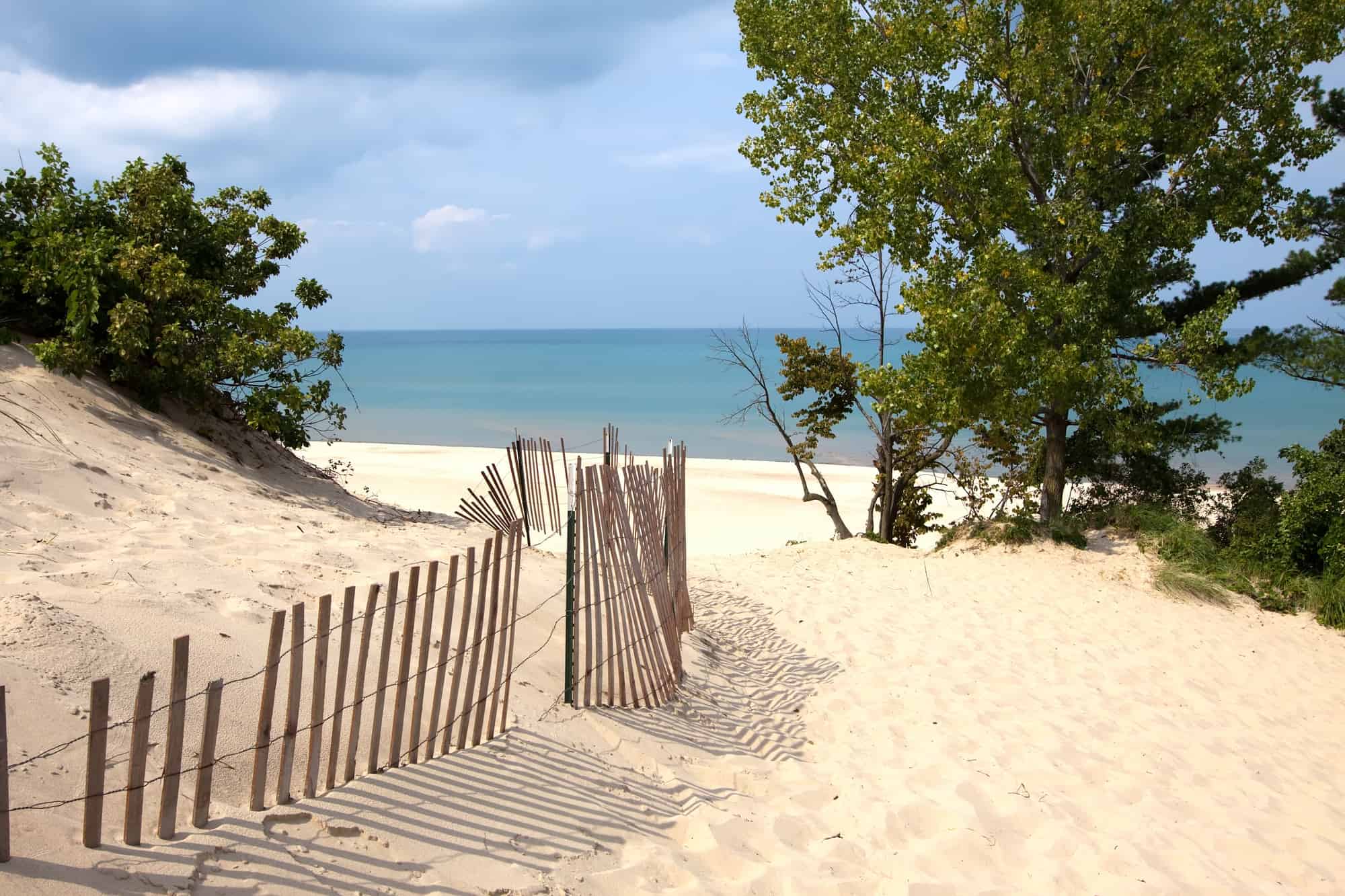 Though Indiana is a land-locked state, that does not mean that there are no beaches here to enjoy.
This relaxed resort and the amusement park have a fantastic shoreline plus plenty of great thrilling rides. Explore the carnival games and thrill rides like the Double Shot and the Den of Lost Thieves.
Kiddy Land is also a great attraction for small children, plus they also have the Ideal Beach Water Park with many thrilling water rides. Of course, there are hotel accommodations and two campsites so that families can stay here and enjoy a few days at a lovely destination.
Distance: 1 hour and 36 minutes
Ideal for: Family fun
Indiana Zip Line, Indiana
For all the adrenaline seekers, rush to Indiana Zip Line for an unforgettable getaway from Indianapolis.
Located in Crawfordsville, Indiana Zip Line provides a great experience as you soar over the best of Indiana's natural landscapes. Enjoy some spectacular views from the Indiana Zip Line tours and have an unforgettable experience.
There is also a rock wall and a gyroscope for those who want an extra adventure before doing zip lining.
Distance: 1 hour and 10 minutes
Ideal for: Adventure seekers
Paoli Peaks, Indiana
Many many not know, but Indiana has a great skiing and snowboarding destination right in the state. You do not need to travel outside to experience the full throes of skiing, snowboarding, and mountain life.
Paoli Peaks is a great getaway that provides local events like the Big Air Special and tubing discounts. They even have ski and snowboard rentals, multiple runs, a terrain park and of course lots of places to grab a hot drink and a snack.
There are lots of discounts going on like the military, second day, college, group, and corporate discounts, which make the Paoli Peaks the best destination for your next getaway from Indianapolis, Indiana.
Distance: 1 hour and 57 minutes
Ideal for: Skiers
Fort Wayne Children's Zoo, Indiana
Only a short distance away from Indianapolis, the Fort Wayne Children's Zoo offers a family-friendly atmosphere that allows you to catch a glimpse of the rarest animals.
Offering entry at affordable prices, the Fort Wayne Children's Zoo makes for a great day trip.
They even have seasonal events throughout the year which makes the visit to this zoo even more memorable.
Kids and adults can enjoy via their interaction with orangutans penguins, leopards, turtles, and various exotic birds.
Distance: 2 hours and 5 minutes
Ideal for: Family getaway
Indiana State Museum, Indiana
This educative, innovative museum is one of a kind and provides constantly changing exhibits and is the perfect venue to experience everything from the area's fossil collection to its stunning IMAX presentations.
Choose from the many art galleries, exhibits, family-friendly learning opportunities, and available presentations on anything from Indiana's climate to its decorated athletics past.
The Indiana State Museum is perfect for an educational yet fun getaway from the city.
Distance: 5 minutes
Ideal for: Family getaway
Bloomington, Indiana
This small college town makes for a great day trip from Indianapolis, Indiana. Known for its great art scene, visitors can spend their time browsing through art galleries, museums and art exhibitions.
Visit the Eskenazi Museum of Art, and families with children will appreciate the interactive exhibits at the WonderLab science museum.
You can also choose from some great dining options. Also take note of the amazing Taste of Bloomington festival, which features some great food and drinks. A treat for everyone!
Distance: 1 hour and 5 minutes
Ideal for: Art enthusiasts
Conclusion
Indianapolis has many treasures in the city itself, but as we saw there are plenty of day trips that you can make during the weekends to keep yourself occupied.
Choose from the cute college town of Bloomington or the dunes at Indiana Dunes State Park. Plan your getaway now.