Megan Bryant is a passionate writer and traveler who has combined her two loves to help others fulfill their traveling dreams. When she isn't writing, she's usually curled up with her 3 Dachshunds and a good book or planning her next adventure—wherever that may be.
Amidst the hustle and bustle of the Dallas-Fort Worth cityscape, there's a world of tranquil beauty waiting for you to discover. They are secret pockets of nature where you can find a variety of charming lakes and reservoirs. Each of these natural gems offers a unique escape from the fast-paced life of the city.
Whether you're craving a quiet day of fishing and boating or eager to explore scenic trails, these spots are like hidden treasures, loved by locals and visitors.
So, if you're someone who loves a thrill or simply wants to soak in the beauty of nature, these 15 lakes and reservoirs in Dallas-Fort Worth have something special for everyone.
White Rock Lake
White Rock Lake, just 5.5 miles northwest of downtown Dallas, is a cherished oasis for locals and tourists alike. The serene lake offers an escape from city life, inviting visitors year-round for tranquil nature walks.
A prominent feature is its 9.3-mile paved trail winding around its expansive 1,000-acre landscape. You'll find treasures like the renowned Dallas Arboretum on the southeast shore and a convenient boathouse on the opposite side. Piers, picnic areas, and a lively dog park further enhance the lake's appeal. The lake also supports diverse wildlife, from unique birds to mammals and insects. Adding intrigue is the eerie legend of the Lady of White Rock Lake, tied to a tragic drowning incident from its past, which only deepens the lake's captivating charm.
Lake Ray Hubbard
The 22,000-acre Lake Ray Hubbard, just east of Dallas, offers a wide range of outdoor activities and is known as a prime fishing spot with catfish, bass, and crappie in abundance. Thrill-seekers can rent jet skis for an adrenaline rush, while waterfront dining at the Harbor Rockwall provides a picturesque culinary experience.
Easily accessible from downtown Dallas via Interstate 30, the lake is surrounded by public parks like Windsurf Bay Park and John Paul Jones Park. So whether you explore Rockwall Harbor, golf at Heath Golf and Yacht Club, or enjoy Sapphire Bay Marina and the Rowlett Wet Zone water park, you're guaranteed to have an excellent time down at Lake Ray Hubbard.
Joe Pool Lake
Joe Pool Lake, sprawling over 6,500 acres across three southwest Dallas cities, was created in 1986 from the Trinity River's Mountain Creek. It's now a premier recreation spot with Cedar Hill State Park on the east, offering fishing, swimming, and mountain biking, along with a campground for tents and RVs. The lake as a whole, however, features camping, vast beaches, boat ramps, a volleyball court, picnic spots, and lakeside restaurants, so you'll never be stuck for something to do.
Lake Lewisville
In northwest Dallas, Lake Lewisville boasts over 230 miles of shoreline, making it a premier Texas destination for boating and lakeside recreation. In summer, the lake lures visitors with marinas, lakeside dining, boating, jet skiing, fishing tournaments, and waterside camping.
Surrounding Lake Lewisville attractions include Willow Grove Park, Westlake Park, Lake Park Swimming Beach, Wynnwood Park with the Tribute Shoreline Nature Trail, Cottonwood Park, and Hidden Cove Park. Lake Lewisville is home to some resident alligators, so although swimming is allowed, you may want to leave your swimming costume at home.
Grapevine Lake
Grapevine Lake, just 20 miles northwest of Dallas near DFW International Airport, spans 8,000 acres and is a hub for water activities like jet skiing, powerboating, fishing, kayaking, and paddleboarding.
Three marinas provide services and dining options, while hiking trails and camping grounds, like the popular North Shore Trail and Meadowmere Park, cater to land-based adventures. Formed in 1952 for flood control, Grapevine Lake is surrounded by parks like Rockledge Park, with stunning sunset views, Trophy Club Park, McPherson Slough Park, and Murrell Park, known for its hiking trails.
Lake Tawakoni
Initially built for flood control, Lake Tawakoni is now a serene getaway and top fishing spot. Its State Park, surrounded by an oak forest, boasts five miles of shoreline, a four-lane boat ramp, and camping facilities. This 40,000-acre lake in Northeastern Texas, around 60 miles from Dallas, is perfect for boating, fishing, swimming, paddling, hiking, and bird-watching.
Nearby, you can find Deer Run Golf Club, Tawakoni Marina, camping grounds, Sky Point RV Park, and more. Whether you camp or explore self-guided trails, Lake Tawakoni offers an ideal day trip or weekend escape from Dallas.
Burgers Lake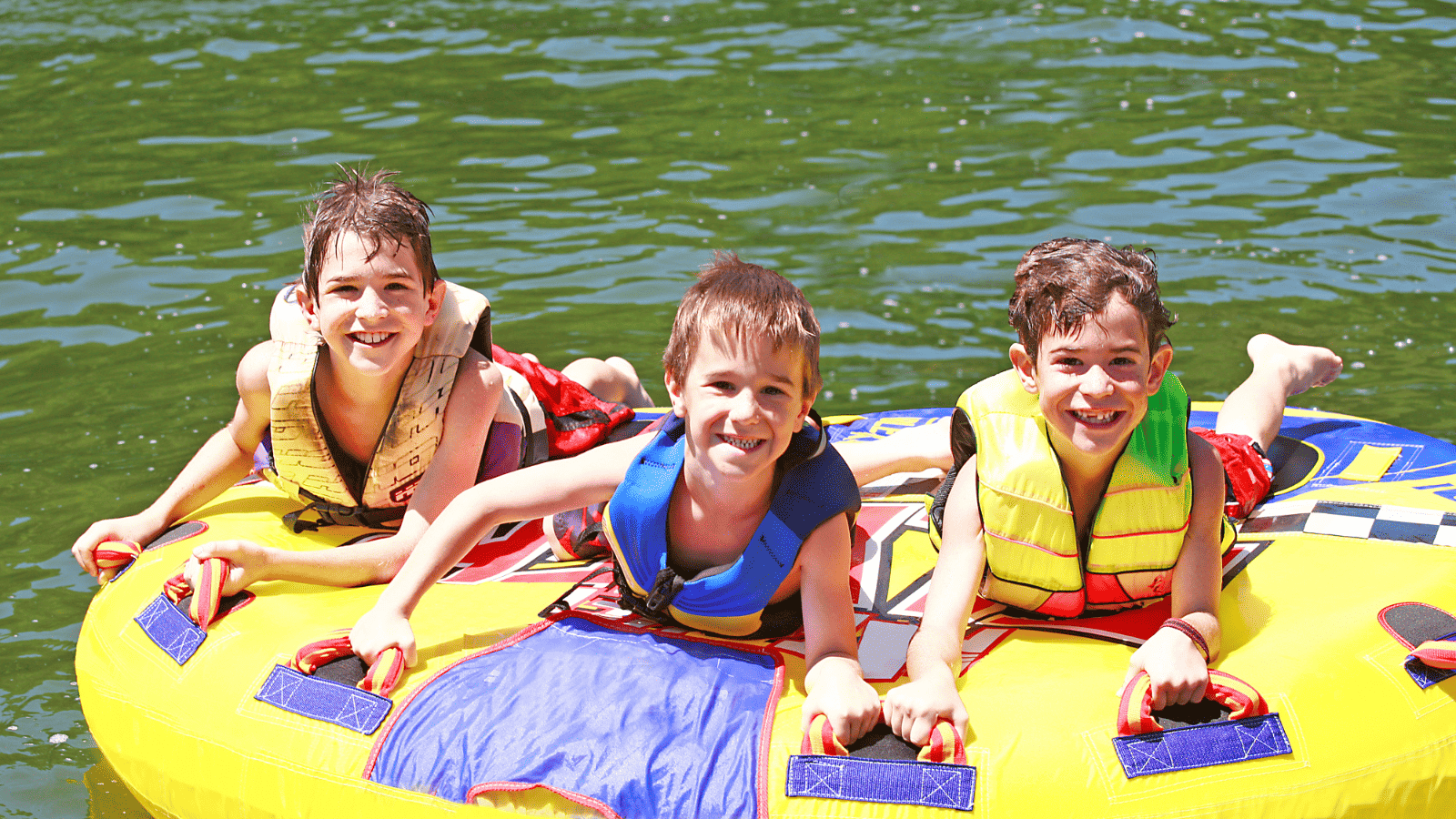 Burgers Lake is a unique 30-acre park on the northwest side of Fort Worth. The central attraction here is a spring-fed swimming lake supervised by lifeguards and adorned with fountains. The park also offers various summer activities along its shore, with hundreds of picnic tables and charcoal grills for visitors to make use of.
Burgers Lake's two sandy beaches are ideal for sunbathing, while diving boards, small waterslides, and a 25-foot trapeze provide exciting ways to plunge into the water.
Lavon Lake
Lake Lavon, also known as Lavon Lake, is a picturesque reservoir in southeast Collin County, just north of Dallas, Texas. Managed by the Army Corps of Engineers, it offers diverse recreational activities, including hiking, picnicking, horseback riding at Brockdale Park, and boating, with Lavonia Park being a popular launch spot. Don't miss out on Fantasy Island, an island park with stunning views!
A short drive from downtown Dallas, Lavon Lake, formed by the Lavon Dam, is a prime destination for fishing, home to species like Largemouth Bass and Blue catfish.
Lake Worth
Just 45 miles from Dallas, you'll find Lake Worth, situated on the West Fork of the Trinity River, which offers fishing, canoeing, and boating opportunities. While swimming isn't advised, the surrounding parks provide excellent hiking and scenic views. You can explore Lake Worth Beach, Marion Sansom Park, Camp Joy Park, or Fort Worth Nature Center & Refuge, all while looking out for the resident alligators, deer, and various bird species)
Notably, Lake Worth has a quirky legend associated with the "Lake Worth Monster," described as part fish, part goat, and part man, adding a touch of mystery to your visit.
Eagle Mountain Lake
Eagle Mountain Lake is renowned for bass fishing, jet skiing, and lakeside dining, with outdoor enthusiasts enjoying boating and water sports on this picturesque lake. Twin Points Park, 30 minutes from Fort Worth, offers sandy beaches, paddleboard rentals, and picnicking, making Eagle Mountain Lake an ideal spot for families with little ones.
Consider renting a lakefront home for a peaceful weekend retreat to enjoy fishing, skiing, wakeboarding, and hiking in the nearby parks.
Benbrook Lake
Benbrook Lake, less than an hour from Dallas, is a serene escape impounded by the Benbrook Dam. Activities like camping, boating, fishing, hiking, bird watching, and even hunting immerse you in Benbrook Lake's stunning landscape, which is why it's become a popular choice for those who want to reconnect with nature.
Spanning 3,770 acres, Benbrook Lake showcases the region's scenic meadows, valleys, and hills. The lake also has some of the most epic sunsets you'll ever see!
Lake Arlington
Located in Fort Worth near Dallas, you will find Lake Arlington—a prime spot for fishing, with plenty of bass, catfish, and more. You can also enjoy canoeing, kayaking, jet skiing, and boating on this lake, thanks to the popular Lake Arlington Paddling Trail.
Surrounded by parks like Bowman Springs Park (with boat ramps, a pier, and picnic tables), Richard Simpson Park, Eugene McCray Park, and the scenic Lake Arlington Golf Course, the lake provides plenty of recreational opportunities that everyone can get involved with.
Cedar Creek Lake
Cedar Creek Lake, just 60 miles from Dallas in Seven Points, offers a popular weekend getaway. Fishing is a major draw in this reservoir, featuring blue catfish, channel catfish, and white bass, and with 320 miles of shoreline, sunset views from lakeside establishments are some of the best you'll get to see in Dallas.
Explore Tom Finley Park (closed on Tuesdays), the lakeside Whatz-Up Fun Park, Creek Wildlife Management Area, and nearby RV parks like Valentine Shores and Sandy Shores. As Cedar Creek Reservoir spans 32,620 acres, it promises endless adventure amidst its scenic landscape.
Bachman Lake
Bachman Lake, nestled in northwest Dallas near Love Field Airport, was initially a city drinking water reservoir. But over the years, urban growth led to environmental challenges, and recent improvements have transformed it into a delightful recreational spot.
A 3.5-mile paved trail encircles the lake, which is perfect for cyclists, strollers, and joggers. But you can also get involved with nonmotorized boating and picnicking like many other visitors to the lake.
Lake Granbury
Lake Granbury, nestled in the charming town of Granbury, is a serene reservoir on the Brazos River, just over an hour's drive from Dallas. With over 8,000 acres of water to explore, it's a sought-after destination for fishing, boating, and relaxing on sandy beaches.
Granbury City Beach Park, a popular gathering spot, offers a sandy swimming beach, volleyball courts, and picnic pavilions. As Lake Granbury is conveniently located near the city park and the Highway 377 bridge, a boat ramp provides easy access for various watercraft.
20 Thrilling Florida Vacation Spots
Ready to plan your next vacation in sunny Florida? Here are the highlights of the 20 best vacation spots in the state! From the vibrant nightlife of Miami to the laid-back charm of Clearwater, there's something for everyone. Whether you're looking for family-friendly activities, high-end experiences, or unique adventures, this article has got you covered. So, pack your bags and get ready to soak up the sun and fun in the Sunshine State!
15 Virginia Vacation Spots Perfect For Exploring History
Explore the best vacation spots in Virginia with this must-read article! From the historical charm of Williamsburg to the breathtaking beauty of Shenandoah National Park, there's something for everyone. Don't miss out on the top attractions, outdoor adventures, and unique experiences that Virginia has to offer.
Top 15 Ohio Vacation Spots: Vibrant Cities & Aesthetic Parks
Ready to discover the best vacation spots in Ohio? Look no further than this article, which highlights the top destinations in the state, from the vibrant cities of Cleveland, Cincinnati, and Columbus to the scenic Hocking Hills State Park. Explore the great outdoors, enjoy cultural activities, and indulge in local cuisine and attractions. So, pack your bags and get ready to experience the diverse and exciting vacation spots that Ohio has to offer!
Picturesque Lake And Mountain Top Views: 16 Michigan Vacation Spots
Discover the best Michigan vacation spots with this ultimate guide! From the charming university town of Ann Arbor to the breathtaking Pictured Rocks National Lakeshore, there's something for everyone. Whether you're looking for outdoor adventures, cultural experiences, or romantic getaways, Michigan has it all.