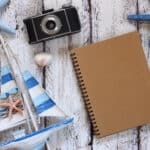 Elizabeth is an experienced traveler and writer with bylines in several popular travel publications. She currently co-owns a small digital travel publication and spends her free time writing, taking photos, and traveling.
Get ready to be blown away by the breathtaking beauty of the best lakes in Delaware!
From serene crystal-clear waters to sandy shores, these natural wonders offer an idyllic retreat from the hustle and bustle of everyday life.
Silver Lake
Escape to the picturesque Silver Lake, where the calm waters of this artificial oasis in Dover call out for a swim, a boat ride, or a thrilling water ski session. From reeling in a healthy population of black crappie to exploring the surrounding wildlife refuges teeming with migratory birds, the experience offers a glorious blend of the serene and the adventurous. And amidst it all, the whispers of history echo from the lighthouses and the Alee House—a great spot to explore for any history or lighthouse enthusiast.
Lake Como
Nestled where Main Street converges with Route 13, Lake Como in Smyrna presents an inviting panorama of leisure activities. Equipped with a playground and picnic spots, the lake, open seasonally from Memorial Day to Labor Day, flawlessly blends summertime fun with the tranquility of beach life. Here, every visitor is welcomed with open arms—no admission fees, only timeless memories of swimming, fishing, and gentle boating under the Delaware sun.
Hoopes Reservoir
Embrace tranquillity and beauty at the Hoopes Reservoir, the largest reservoir in Delaware, which has welcomed visitors since 1971. The reservoir, named after Edgar M. Hoopes and cradling the confluence of the Old Mill Stream and Red Clay Creek, is a sanctuary for those seeking an escape into nature. Explore the well-kept secrets of Valley Garden Park's captivating walking trails and spaces, offering a journey of discovery at the water's edge.
Trap Pond
Delve into the heart of Delaware's nature at Trap Pond State Park, a rare 3,653-acre wetland sanctuary home to an impressive grove of bald cypress trees. Satisfy your adventurous spirit by navigating the 90-acre pond with rented canoes or kayaks, casting your line for a diverse array of panfish, or immersing yourself in a guided nature walk. Don't forget to visit the Bald Cypress Nature Center to uncover the rich tapestry of local flora and fauna.
Newark Reservoir
Immerse yourself in the refreshing ambiance of Newark Reservoir, located just a stone's throw from downtown Newark. Since its establishment in 2006, the reservoir has provided not only a vital water supply but also an array of walking trails, including a scenic 1.1-mile track around the water's edge. Though swimming is typically prohibited, the annual triathlon presents a unique opportunity to dip into the reservoir's waters (if you're up for the challenge).
Bellevue State Park
Nestled in the suburbs of Wilmington, Bellevue State Park is an ideal escape for the sporty history aficionado. This 328-acre park, once home to William Du Pont Jr., now welcomes visitors to its tennis courts, equestrian stables, and scenic walking trails. As you explore, don't miss historic landmarks such as the Mount Pleasant Church and Cauffiel House.
Lums Pond
Step into a world of varying landscapes and activities at Lums Pond State Park, surrounding Delaware's largest freshwater pond. Amidst the dense forests, wander through 17 miles of trails—home to native reptiles, amphibians, and exceptional dragonfly species—then to the Go Ape Treetop Course for an unmatched perspective. This land, once traversed by St. Georges Creek and Native Americans, now invites you to recreate your own history with an assortment of available watercraft to set sail upon the pond's serene waters.
Millsboro Pond
A testament to Delaware's transformative history, Millsboro Pond offers tranquility and adventure in equal measure. Born from the damming of the Indian River by Elisha Dickerson, this impoundment has become a haven for anglers, with abundant populations of largemouth bass, black crappie, and pumpkinseed. The heritage of the Nanticoke Indians and the charm of the town of Millsboro are within easy reach, offering cultural exploration after a day of canoeing, fishing, or bird-watching over the serene waters.
Moores Lake
Experience Moores Lake, a 27-acre oasis in Dover that delights with its rich and diverse fishing population. The underwater world teems with species like bluegill, bass, and pumpkinseed, making it a must-visit spot for passionate anglers. As you navigate your way around beds of spatterdock and bloom-filled planktonic algae, allow yourself to be enchanted by the idyllic landscape of thick woods and quaint homes.
Killens Pond
Anchoring the state park that bears its name, the 66-acre Killens Pond comes alive with an array of activities echoing its rich history. Once an artery for grist and sawmills and a home to the Lenape people, the pond now invites kayakers, wildlife enthusiasts, and hikers to experience its diverse charm. Traverse the contemporary elevated boardwalk that whispers tales of the past and invites you to observe the native wildlife or cast a line to catch the sun as it basks on the shimmering scales of bass and crappie.
Becks Pond
Discover the angling charm of Becks Pond in Delaware, renowned for its plentiful largemouth bass, bluegill, and snakehead, among other species. Utilize the ingeniously placed fish attractors for an enriching fishing expedition and enjoy listening to the windy carry silent tales of the pond's rich history as you soak up some afternoon sun.
Records Pond
Records Pond, a substantial expanse in Delaware's Sussex County, offers invigorating opportunities for outdoor enthusiasts. Whether you're an angler drawn to its diversely populated waters or a kayaking aficionado venturing down the James Branch, Records Pond provides the perfect backdrop for adventure. Just be sure to carve out some time for a stroll through Laurel's Historic District, replete with time-honored buildings.
Lake Gerar
Find respite at Lake Gerar, a secluded oasis brimming with untouched beauty within the lively Rehoboth Beach. This diverse 15-acre park provides a tranquil backdrop for a host of quiet activities, be it leisurely walks through its paths, fishing off the pier, or simply soaking in serene lake views.
20 Thrilling Florida Vacation Spots
Ready to plan your next vacation in sunny Florida? Here are the highlights of the 20 best vacation spots in the state! From the vibrant nightlife of Miami to the laid-back charm of Clearwater, there's something for everyone. Whether you're looking for family-friendly activities, high-end experiences, or unique adventures, this article has got you covered. So, pack your bags and get ready to soak up the sun and fun in the Sunshine State!
15 Virginia Vacation Spots Perfect For Exploring History
Explore the best vacation spots in Virginia with this must-read article! From the historical charm of Williamsburg to the breathtaking beauty of Shenandoah National Park, there's something for everyone. Don't miss out on the top attractions, outdoor adventures, and unique experiences that Virginia has to offer.
Top 15 Ohio Vacation Spots: Vibrant Cities & Aesthetic Parks
Ready to discover the best vacation spots in Ohio? Look no further than this article, which highlights the top destinations in the state, from the vibrant cities of Cleveland, Cincinnati, and Columbus to the scenic Hocking Hills State Park. Explore the great outdoors, enjoy cultural activities, and indulge in local cuisine and attractions. So, pack your bags and get ready to experience the diverse and exciting vacation spots that Ohio has to offer!
Picturesque Lake And Mountain Top Views: 16 Michigan Vacation Spots
Discover the best Michigan vacation spots with this ultimate guide! From the charming university town of Ann Arbor to the breathtaking Pictured Rocks National Lakeshore, there's something for everyone. Whether you're looking for outdoor adventures, cultural experiences, or romantic getaways, Michigan has it all.