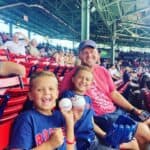 Jake Cain is an entrepreneur and writer from Cincinnati, Ohio. He spends his free time driving around the country in his late 90's conversion van, affectionately known as the "Monster Van" with his wife and 3 boys.
After our 2 days in San Francisco, we got our first glimpse of the famed Pacific Coast Highway drive on the way to Santa Cruz.
We had a no frills stay at a Comfort Inn, then got up early and headed to the Henry Cowell Redwoods State Park. This was the first time any of us had seen coastal redwoods in person, and they didn't disappoint.
There's probably more to it, but the key difference between these trees and the sequoia trees we saw at Yosemite is that coastal redwoods grow a little taller, and not quite as wide (though still very wide).
I've found that state parks tend to have less stringent rules than national parks. So there are more trees you can get right next to, and in this case… inside of.
Here we are coming out of the famous Fremont tree:
There was room for quite a few more people in that tree… like these people who apparently set the "people inside a tree" record by fitting 81 inside of the Fremont Tree:
It's so difficult to capture redwoods with a camera. It's not only that it doesn't fit in a picture, but there's something about the awestruck feeling that simply can't be captured in a picture.
It may sound cliche, but I'm telling you it's true.
One thing I missed on with this day was not knowing about the Roaring Camp Railroad that was right next door.
While we were walking the ~1 mile redwood trail, we kept seeing and hearing a steam train pass nearby. A fellow hiker informed us there was a train ride you could take through the redwoods that was just across the street from the parking lot.
Once we were done, we walked over there but had missed out on the trips for that day. It wasn't too big of a deal – but if I were doing it again it would be super cool to ride on an open air train through some of the tallest trees in the world.
Pebble Beach Drive
When I was just a young man, I owned a Sega game called Pebble Beach Golf Links.
I logged many hours mastering that game, and even with measly 16 bit graphics the oceanfront scenery surrounding that course were jaw-dropping.
So when I discovered that you could pay $10 and take a 17 mile loop drive through the golf course and surrounding community, I was all about it.
Afterall, our plan for this day after the redwoods hike was basically just to drive the scenic PCH route down to Morro Bay.
I Really Wanted To Play Golf
When I drive by normal, public golf courses that are right next to the road – it always makes me want to golf.
When I drove by a legendary course like Pebble Beach, I had to resist urges to hijack clubs from some unsuspecting patron out on the course.
It was absolutely beautiful.
I was the only person in the van who really cared about the golf-specific scenery, but there was plenty of beauty to go around.
We even pulled over and let the kids hop in the Pacific Ocean for a few minutes.
If video is more your thing, here's me scanning the coast with my Osmo Mobile 2:
Once we finished the 17 mile loop, it was back to the Pacific Coast Highway.
Big Fall at Big Sur
The Pacific Coast Highway is one of America's most iconic road trips, and Big Sur is arguably the most famous stretch of that highway.
Not only do you crossover the Bixby Creek Bridge…
But you also get to stop and see the famed McWay falls, which is mostly an overlook of a beach that's not publicly accessible – but features a picturesque waterfall.
Perhaps you've seen a picture of it before?
In our case, we really didn't get a great view of McWay Falls.
The parking areas were packed, with people pulling in and out constantly. So we took a quick look from the road and then pulled in to at least take a quick bathroom break.
Mom is usually the last one out of the bathroom, so I went ahead and pulled up the van up to pick her up.
What happened next made my superlative list of the funniest thing that happened on our trip.
Mom was a little slow stepping up into the van, and I had already been blocking a couple cars from getting out of the parking lot.
Once mom (finally) made it into the van, she noticed that a pair of headphones had fallen out into the parking lot.
So she had to climb back out, and back in. With cars sitting behind me waiting to leave, it felt like that took 7 minutes.
Once she finally got in and shut the door, I said "here we go!" and threw the van into drive. Because we were on a hill, the van jolted quickly forward and mom immediately fell in the floor, crushing Hudson in the process.
Fortunately, she wasn't hurt – but she was laughing hysterically and completely incapable of lifting herself off the ground.
We were all laughing so hard that nobody got a picture of it, but Jackson used his mental picture to draw this:
It's a Whale!
As you're driving down the PCH, you get used to seeing the amazing sunsets and crashing waves.
But, when your eye catches something out of the 'ordinary' like a surfer – you tend to get excited and watch a little more intently.
So when we saw a whale, I couldn't pull over fast enough.
In fact, there were already onlookers pulled over with binoculars out – which is the telltale sign that wildlife has been spotted.
As soon as I walked out of the van, I asked the binocular toting tourists "What is that?"
"It's a whale!" They said.
That's what I thought I saw from the road, so we scurried back to the Monster Van and grabbed several of the 18 pairs of binoculars we brought on the trip.
The more we watched the whale, I noticed he wasn't really moving. He'd occasionally go under water and then you'd see him come to the surface, but it seemed like he was staying put for the most part.
Was the whale dead? 
Are we sure that's a whale? 
I grabbed a pair of binoculars from our kids – who were ecstatic at this point – and after a few seconds I realized what we were so excited about was, in fact, a rock.
At this point, the people who were there soaking it all in when we pulled up were headed to their car. I didn't have the heart to tell them they'd spent however long staring at a rock.
We dubbed it "whale rock" and moved on with our trip down the coast.
Morro Bay Here We Come!
It's funny that with Google Maps, it hardly ever calculates routes that include the PCH.
So estimating how long it's going to take you to get from A to B via the PCH is pretty tough.
The scenery was awesome, but at this point it was starting to get a little dark and because you have to drive fairly slow (to avoid driving over a cliff) you don't exactly make great time on your journey.
But, the slower arrival time is totally worth it:
Eventually, we did make it to our Comfort Inn at Morro Bay – shortly after dark. This was truly a stopover, as we basically went straight to bed and woke up ridiculously early to take Jake's tour of Hollywood & Los Angeles.
Until next time…