Daniel is a copywriter who has well and truly been bitten alive by the 'travel bug'. After ticking off several North American National Parks and exploring Europe by train, his sights are now set on South East Asia. Usually with at least one camera locked and loaded, you'll find Daniel wherever there are mountains, lakes or beaches.
Get ready to immerse yourself in a bygone era as we explore hidden American gems that ooze nostalgia. From picturesque streets to well-preserved architecture, these towns offer the perfect haven for those seeking to escape some of the madness of the 21st century.
Bisbee, Arizona
Looking to step into a history book? Well, Bisbee, Arizona, is the place to head to.
At one point in history, a booming mineral site, Bisbee, is now a quaint town with saloons and businesses repurposed into bars, cafes, galleries, and shops for a modern experience. The town also offers a tour of the old underground mine for a true slice of American history.
St. Augustine, Florida
Claiming the title of "America's oldest city," St. Augustine, Florida, has history hidden around every corner.
With its beautiful cobblestone streets and Spanish-inspired architecture, St. Augustine is a wonderful place to escape the hustle and bustle of 21st-century living. Historical landmarks include the oldest wooden schoolhouse in the country, the Fountain of Youth, and the Old Jail, where violent criminals were housed from 1891 to 1953.
Woodstock, Vermont
Arguably one of the nation's most beautiful places to visit, Woodstock, Vermont, is like stepping into a film from yesteryear.
Home to the final stop on the Woodstock Railway from 1877 to 1933, the town has kept its old-fashioned feeling since. Head down to the town's historic bridges or wander around the many traditional shops selling treats such as delicious Vermont maple syrup.
Holland, Michigan
Established in the 1840s by Dutch settlers, Holland, Michigan, has the only authentic working Dutch windmill in the entire US.
Much like actual Holland, springtime is a breath-taking time of year to visit as the tulips flower and a town-wide festival takes place to celebrate.
Santa Fe, New Mexico
Believed to be America's oldest capital city, Santa Fe, New Mexico, is a world apart from the modern cities we are now used to.
With a 400-year history behind it, Santa Fe offers glimpses into our past with sites such as the Cathedral Basilica of Saint Francis of Assisi, Loretto Chapel, and exhibits at the Historic Santa Fe Foundation.
Luckenbach, Texas
As you enter Luckenbach, Texas, you'll see a sign stating that just three people reside in the small town – how about that for old-fashioned!
Yet, on the weekends, Luckenbach swells with tourists, with its Old Western roots and country music transporting you back in time. Head over to the general store, visit the working saloon, and enjoy the live music held in the local dance hall every weekend.
Helen, Georgia
Helen, Georgia, is a charming Alpine-inspired town that showcases a strong influence of German heritage in its architectural style.
With its picturesque wooden carvings, red thatched roofs, and enchanting waterfalls, it stands out as one of the most beautiful towns in America. Be sure to try out the traditional German food on offer, from authentic pretzels to mouth-watering schnitzel.
Clinton, New Jersey
If you were to dream up an idyllic, old-fashioned town, you'd be hard-pressed to surpass the charm of Clinton, New Jersey.
Home to the renowned Red Mill Museum Village, which proudly displays over 40,000 artifacts and offers a journey through the rich history of Clinton, from its colonial roots to the closure of the mill in 1928.
Charleston, South Carolina
Steeped in history, Charleston, South Carolina, has carefully preserved its past to allow visitors to step back in time.
From the elegant Aiken-Rhett House, a stunning urban townhouse complex dating back to the 1820s, to the grandeur of Drayton Hall plantation, Charleston showcases a remarkable array of architectural treasures.
Salem, Massachusetts
Renowned for the infamous Salem witch trials of 1692, this enchanting New England town fully embraces its eerie past.
As you wander through the town's charming downtown area, you'll be transported to another era, thanks to the purposefully witch-themed architecture that adorns the buildings.
Cody, Wyoming
Founded in 1896 by Colonel William F. Cody, famously known as "Buffalo Bill," Cody, Wyoming, continues to exude the spirit of the Wild West to this day.
Immerse yourself in the rugged charm of the Old West as you live out your wildest cowboy fantasies. For a truly Wild West experience, head over to Old Trail Town, where you'll discover a time capsule of the Frontier West through a rare collection of authentic structures and furnishings.
Williamsburg, Virginia
Immersed in colonial-era history and adorned with remarkable architecture, Williamsburg, Virginia, offers a captivating glimpse into the past.
For a truly historic experience, visitors can explore replica ships and a meticulously recreated Powhatan village at the living history museum of Jamestown Settlement. Those seeking aesthetic pleasure will delight in the breathtaking campus of The College of William & Mary, considered one of the most stunning college campuses in the nation.
Solvang, California
Looking for a taste of Europe without the expensive flights or organizing that come with traveling abroad? Solvang, California, has got you covered.
Established in 1911 by Danish Americans, the town's charming ambiance reflects its Scandinavian heritage. With thatched roofs, horse-drawn carriages, and windmills dotting the landscape, it's easy to forget you're merely 40 miles away from Santa Barbara.
Lowell, Massachusetts
During the Industrial Revolution, Lowell, Massachusetts, played a pivotal role as a prominent center for cotton textile manufacturing.
Today, this historic town's rich industrial heritage is meticulously preserved by the National Park Service. The restored factories, complete with a functional textile factory floor and picturesque waterways adorned with delightful walkways, offer visitors a glimpse into this significant chapter of American history.
The 16 Best National Parks to Visit in June For Summer Fun
Are you looking for the perfect summer adventure? Look no further than these top national parks to visit in June! From the stunning wildflower displays at Lassen Volcanic National Park to the world-class whitewater rafting at New River Gorge National Park, this article provides insider tips and recommendations for an unforgettable outdoor experience. Don't miss out on the chance to explore these breathtaking natural wonders during one of the best months of the year!
6 National Parks To Avoid This Summer (And The Alternatives)
Are you planning a summer trip to a national park but want to avoid the crowds? Look no further than this article, which provides insider tips on which popular national parks to avoid and offers recommendations for six alternative destinations that offer unique experiences and stunning natural beauty. From exploring rugged peaks and pristine lakes at North Cascades National Park to discovering the geological history of Capitol Reef National Park, this article has everything you need to plan an unforgettable outdoor adventure this summer.
Best 16 Utah Vacation Spots
Are you looking for an unforgettable vacation spot with breathtaking natural beauty? Look no further than Utah! With stunning national parks like Zion and Bryce Canyon, as well as unique attractions like the Homestead Crater and Dead Horse Point, Utah has something for everyone. This article provides insider tips and recommendations for the best places to visit in Utah, from hiking to skiing to soaking in natural hot springs. Don't miss out on the chance to explore this incredible outdoor playground!
5 Waterfalls in Zion National Park For A Fabulous Day Out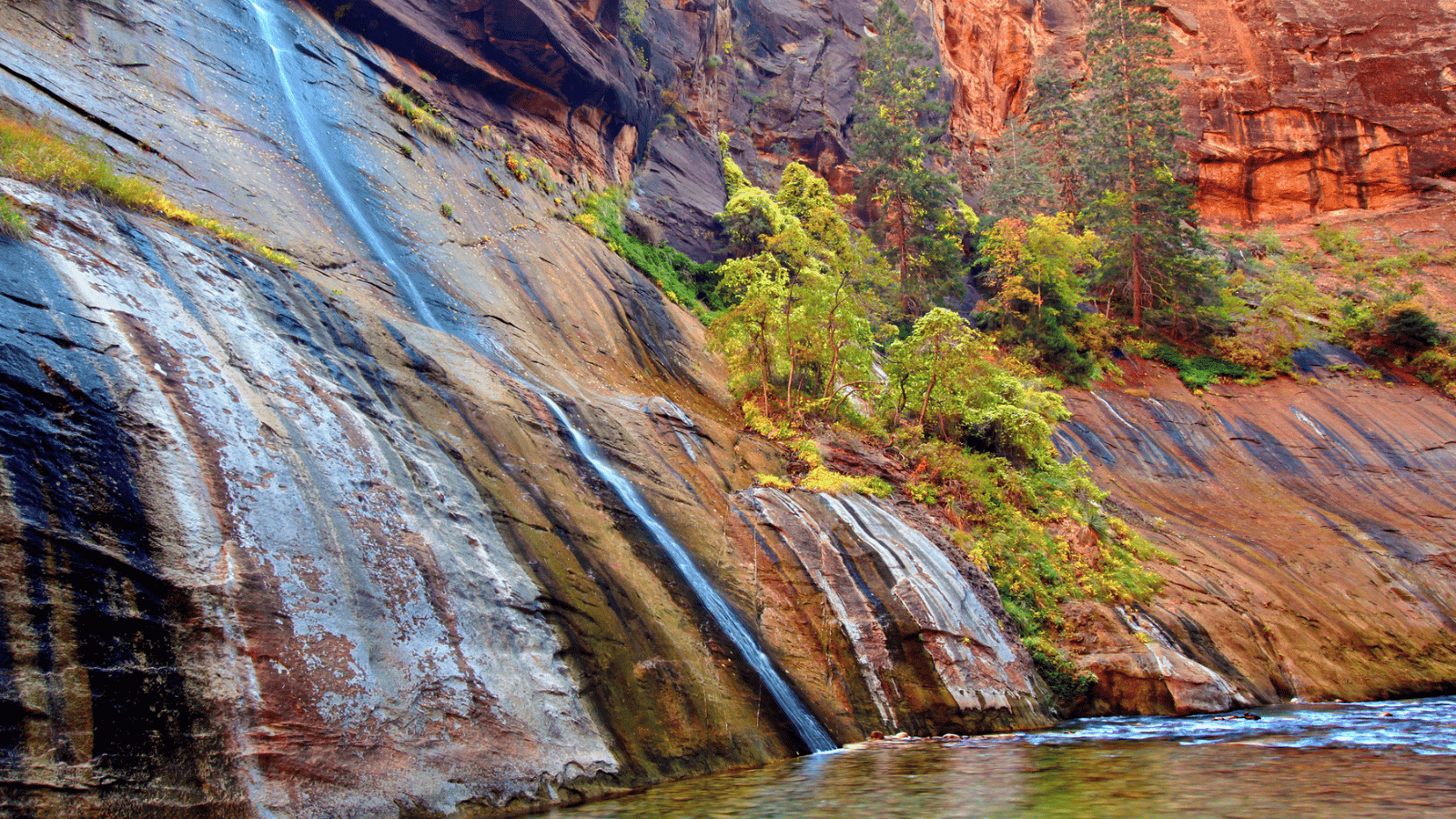 Are you a nature enthusiast looking for an outdoor adventure that will take your breath away? Look no further than Zion National Park in southwestern Utah! This article explores the park's stunning waterfalls, including the moderate hike to Archangel Falls and the more challenging Upper Emerald Pools. But that's not all – the article also highlights other natural attractions in the park, such as The Great White Throne and the Court of the Patriarchs. Don't miss out on the chance to explore this gorgeous landscape and experience the beauty of Utah's unique natural wonders!