Stephanie is a cherished member of the Sampling America writing team, dedicated to crafting captivating narratives that transport readers to thrilling adventures across the country and beyond.
As weekend destinations have become the norm for bachelorette parties, the desire to find a new and exciting location to visit is more important than ever.
Party cities like Scottsdale and Nashville have been the mecca for these girls' weekend away; sometimes, partying and drinking is not the first item on everyone's itinerary.
Consider these surprising locations instead for a more low-key trip where you can bond with your family and friends before your wedding.
Snowboard in Whistler
An hour north of Vancouver, BC, sits the skiing and snowboarding town of Whistler. This stunning mountain hosts several outdoor activities for you to enjoy with your friends for a weekend of bonding activities.
Stay in a chalet on the mountain or in one of the many four- and five-star hotels inside Whistler Village. You can look forward to some of North America's best ski hills, hiking, biking, cross-country skiing, and even swimming in the many lakes in the warmer months.
Take a Guided Tour in Cuba
Cuba has a rich culture, fantastic food, and a varied landscape. Now that Americans are welcome to visit, it makes a beautiful weekend trip with friends.
When booking with a tour guide, you can rent one of the vibrantly painted vintage Fords and a tour guide who can help you find some of the best restaurants, bars, and beaches on the island.
Be sure to partake in rich Cuban coffee, grilled pork sandwiches, and music and dancing. Visiting with your girlfriends as a way to celebrate upcoming nuptials is a perfect vacation.
Snorkel in Belize
For those interested in more outdoor activities like snorkeling, fishing, and guided safaris through the jungle, Belize is the ultimate destination.
Located just below the Yucatan Peninsula in Mexico, Belize is a tiny nation on the coast of the Caribbean Sea. It has a massive coral reef and hundreds of low-lying islands called cayes.
Look forward to group trips like biking through Mayan ruins and bird watching; you can even take an eight-hour guided tour through the cave systems once frequented by pirates.
Hike Through Antelope Canyon in Arizona
Antelope Canyon is located in the Navajo Nation, renowned for its sweeping red rock formations and channels of light.
You can opt for a guided tour or hike with caution by yourselves. This location makes a fantastic place to rent a cabin to share with your friends after hiking and exercising all day.
These unique hiking trails make some of the best Instagram photo backgrounds to snap before you get to crunch time for your wedding planning.
Glamp in Big Sur
California's Big Sur perfectly combines red-wood forests, waterfalls, rocky cliffs, and turquoise water; this area makes a great getaway for a group of friends.
There are many locations here where you can rent a cabin for several people or experimental companies that offer luxury camping for those who want to experience the majesty of the outdoors during the day but would appreciate a private chef-cooked meal and a glass of cold white wine in the evening.
Horseback Ride in Montana
Head to Yellowstone National Park to stay on a ranch and live out your cowgirl fantasy. Take a guided countryside tour with your best friends and bond with these majestic animals.
Tours can last from an afternoon to two or three days, depending on whether you want to experience camping underneath the stars or heading back to the ranch for a hearty meat and potatoes meal.
A horseback riding trip is the perfect way to connect with nature and animals while sharing precious moments with your loved ones.
Hike in Kauai
For any movie buffs, Kauai is the island where the original Jurassic Park movie was filmed; it doesn't get much more tropical than this.
The island of Kauai hosts several trails up the sides of active volcanos. Enjoy the breathtaking scenery of the ocean while basking in the warm tropical rainforest.
Wine Taste in Portugal
Pack your best floral dress and head to Portugal for a relaxing weekend of eating tapas and wine tasting in the countryside.
Portugal is a cultural destination; it's the perfect place to immerse yourself in the local culture and learn everything there is to know about award-winning Portuguese wine.
Hit the Town in Ibiza
If you're looking for more of a party for your last hurrah as a single woman, look no further than Ibiza. Known as one of the best places on Earth to party, this island off the coast of Spain is filled with Gothic-style cathedrals and Renaissance-era fortifications.
Ibiza is a strange mixture of old-world architecture and glow-stick partying. Be sure to pack some Aspirin for the hangover, as the nightlife in this city is sure to help you burn off any pre-wedding anxiety by dancing all night with your girlfriends.
Book a Tequila Tasting in Mexico
The beauty of the agave fields in Mexico will blow you away. They grow primarily along the west coast in Jalisco and Nayarit, so if you stay in a coastal city like Sayulita or Puerto Vallarta, you'll be able to visit the farms during the day and enjoy the beach in the evenings.
Many agave farms and tequila distilleries offer tours of the farms to learn all about this beautiful plant and the many drinks that can be made. Be sure to book a tasting to find some of the best Tequila in the world.
Take a Creole Cooking Class in New Orleans
New Orleans is more than drinking on Bourbon Street. The city has a rich history with Gothic-French architecture and a mix of flavourful cuisines.
Creole, Cajun, and soul food from Haiti come together in the perfect mixture to create the best parts of Louisiana food. Consider taking a cooking class to make the perfect gumbo or étouffeé.
Relax on the Beach in Florida's Keys
The Keys in Florida are a collection of islands on the Southernmost tip of the United States. These tropical islands sit in the Caribbean Sea and offer white sand beaches, crystal clear water, and shade from palm trees.
When searching for the perfect beach vacation, look up the Florida Keys to have a relaxing weekend on the beach with your girlfriends.
The 16 Best National Parks to Visit in June For Summer Fun
Are you looking for the perfect summer adventure? Look no further than these top national parks to visit in June! From the stunning wildflower displays at Lassen Volcanic National Park to the world-class whitewater rafting at New River Gorge National Park, this article provides insider tips and recommendations for an unforgettable outdoor experience. Don't miss out on the chance to explore these breathtaking natural wonders during one of the best months of the year!
6 National Parks To Avoid This Summer (And The Alternatives)
Are you planning a summer trip to a national park but want to avoid the crowds? Look no further than this article, which provides insider tips on which popular national parks to avoid and offers recommendations for six alternative destinations that offer unique experiences and stunning natural beauty. From exploring rugged peaks and pristine lakes at North Cascades National Park to discovering the geological history of Capitol Reef National Park, this article has everything you need to plan an unforgettable outdoor adventure this summer.
Best 16 Utah Vacation Spots
Are you looking for an unforgettable vacation spot with breathtaking natural beauty? Look no further than Utah! With stunning national parks like Zion and Bryce Canyon, as well as unique attractions like the Homestead Crater and Dead Horse Point, Utah has something for everyone. This article provides insider tips and recommendations for the best places to visit in Utah, from hiking to skiing to soaking in natural hot springs. Don't miss out on the chance to explore this incredible outdoor playground!
5 Waterfalls in Zion National Park For A Fabulous Day Out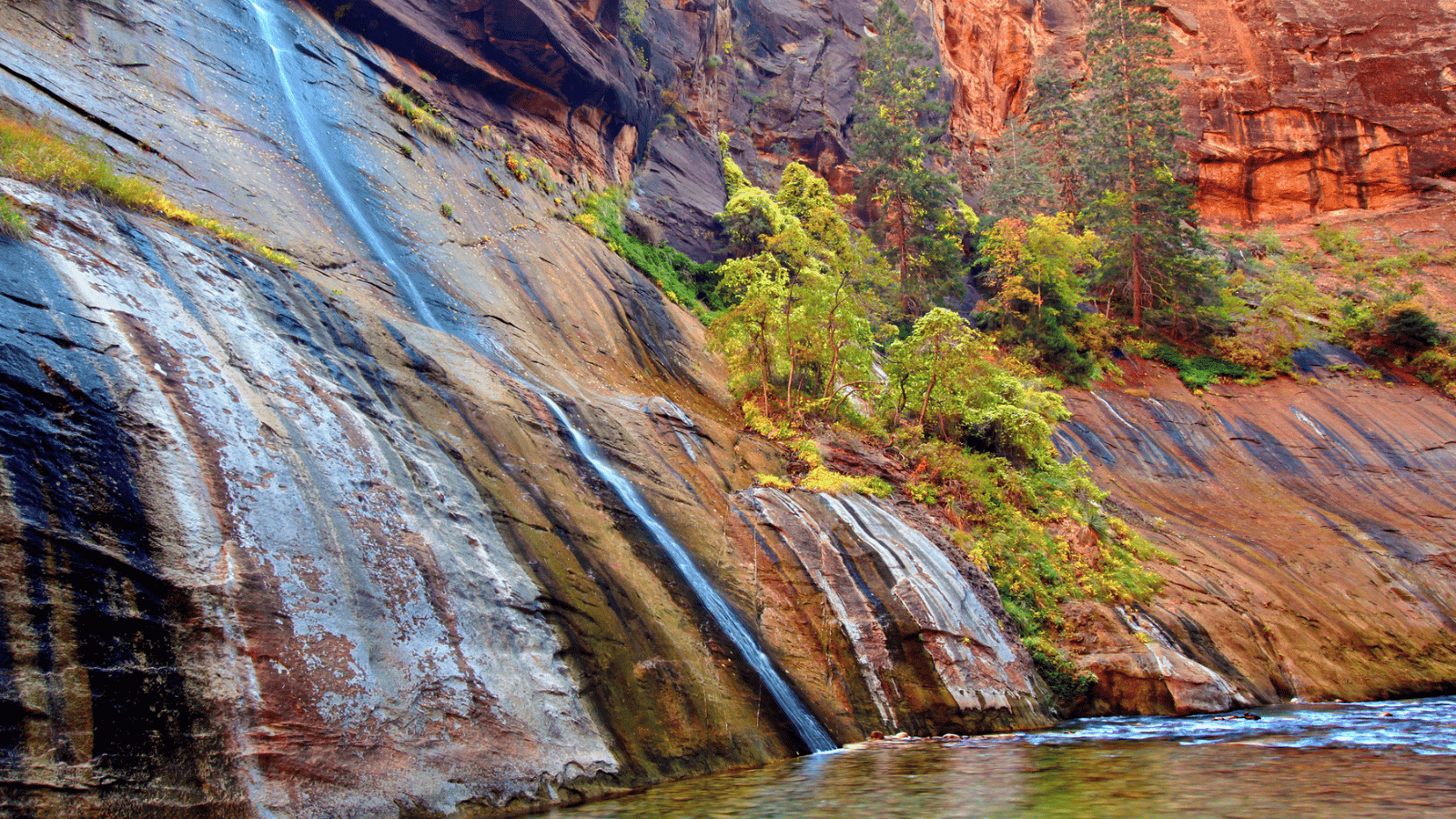 Are you a nature enthusiast looking for an outdoor adventure that will take your breath away? Look no further than Zion National Park in southwestern Utah! This article explores the park's stunning waterfalls, including the moderate hike to Archangel Falls and the more challenging Upper Emerald Pools. But that's not all – the article also highlights other natural attractions in the park, such as The Great White Throne and the Court of the Patriarchs. Don't miss out on the chance to explore this gorgeous landscape and experience the beauty of Utah's unique natural wonders!