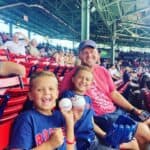 Jake Cain is an entrepreneur and writer from Cincinnati, Ohio. He spends his free time driving around the country in his late 90's conversion van, affectionately known as the "Monster Van" with his wife and 3 boys.
This article comes to you from the land of first-world problems.
We've all been there: stuck on a long plane journey, trying to get comfortable and enjoy an in-flight movie on our phones. But holding your device for hours can be annoying, and arranging it on the tray table is never quite right. What if there was a better way?
Enter the latest TikTok travel hack that has everyone talking: using an onboard barf bag to prop up your phone. Sounds strange? A quick look at the video will convince you otherwise. This ingenious trend is sweeping social media, attracting millions of views and plenty of comments.
The video begins with the TikTok user unfolding the barf bag, then folding it again in a specific way to create a stand for their phone. As user Yongle27 humorously observed: "OMG that took forever." Yes, it may take a bit longer than expected, but as you watch the hack in action, you'll see the payoff. A perfectly propped-up phone that doesn't budge during turbulence? Priceless.
This TikTok travel hack has drawn a variety of reactions. Some users, like Adi, pointed out that some airlines, like American Airlines, now provide phone holders. Other users, like bondgirlll2, suggested, "Get on a newer plane, they have a spot to hold your phone."
Some saw the funny side of things. User Dallas Miles commented laughingly, "🤣🤣🤣🤣🤣🤣 I can't believe I'm watching this🤣🤣🤣🤣," while user 'D' cheekily noted, "This must be for Spirit Airlines.. as long as you pay extra for a seat that comes with a tray table."
Yet others provided alternative solutions like user Angela, who revealed she uses a cheap phone stand from Amazon instead of the barf bag. Donna Blanchard suggested, "no, you hook it on the little magazine rack so it's closer to eye level and you can still use the tray table". Laura Stewart399 chimed in with her method, "I use clear zip lock bag 😏".
However, several users echoed a sentiment best expressed by user gdclocks: "And we have started our descent." Some commenters pointed out that the setup took so long, the plane might already be landing. Mergimlulaj7 quipped, "in the meantime, the plane has landed."
Nevertheless, the video garnered plenty of positive feedback as well. User KIM commented, "Thank you!!! 👌👌👌😀", expressing her gratitude for the unique travel hack.
So, before you dismiss the idea, give it a try on your next flight. This travel hack might just change the way you watch movies on a plane. And who knows, you might even find this quirkier method more enjoyable. Happy viewing and safe travels!