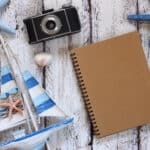 Elizabeth is an experienced traveler and writer with bylines in several popular travel publications. She currently co-owns a small digital travel publication and spends her free time writing, taking photos, and traveling.
Palm Springs isn't just a desert oasis with swanky hotels and world-class golf courses. The California vacation destination is also surrounded by stunning lakes that are just as Instagram-worthy as its backdrop of palm trees and mountains. From fishing and boating to hiking and picnicking, there's no shortage of activities to indulge in when visiting one of the ten best lakes near Palm Springs.
1. Lake Cahuilla
Lake Cahuilla, a discreet jewel 32 miles southeast of Palm Springs, invites visitors to unravel its historic mystery while reveling in its present-day charm. Once a sprawling 2,200 square-mile body of water, the now 135-acre lake offers quaint picnicking sites, inspiring hiking trails, and inviting horseback riding paths — all against a backdrop of the majestic Coachella Valley.
2. Perris Reservoir
As the desert valley heat swells, a cool retreat awaits just 45 miles west of Palm Springs at Perris Reservoir. The reservoir, born in 1973 as part of California's ambitious State Water Project, isn't just a testament to human engineering but also a haven for nature lovers and outdoor enthusiasts. Cast a line for bluegill and bass, or spend time trying to spot kingfishers and coyotes.
3. Lake Fulmor
Lake Fulmor, just 37 miles from Palm Springs, is a testament to human engineering nestled within the San Bernardino National Forest. Journey through an unforgettable drive along the Banning-Idyllwild Panoramic Highway to reach this unique destination formed by an earthen dam across Indian Creek. Enjoy a day of fishing in its waters, known for bluegill, largemouth bass, and rainbow trout, or embrace the simplicity of a lakeside picnic. It's all part of what makes it one of the best lakes in California.
4. Lake Hemet
Just a 19-mile drive south of Lake Fulmor takes you to the enchanting Lake Hemet. Here, within the verdant expanse of the San Bernardino National Forest, anglers can embark on a thrilling adventure with opportunities to catch abundant largemouth bass and trout. From its historic 1895 dam to its 4,330-foot elevation above sea level, every facet of this 470-acre lake adds to the richness of your adventure, accessible with a National Forest Adventure Pass.
5. Diamond Valley Lake
Venture beyond downtown Palm Springs to discover Diamond Valley Lake. From its inception in the late '90s as a critical water reserve, it has since transformed into a recreational hotspot, offering activities like fishing, kayaking, and boating for locals and visitors alike. The marina and the picturesque lake-view trail add a dash of serenity to the dynamic ambiance. So, while you won't be swimming or water skiing here, the natural beauty and recreational options are nice tradeoffs.
7. The Salton Sea
The Salton Sea, a byproduct of an engineering mistake and a testament to nature's resilience provides an unconventional lake experience. Situated a short drive southeast of Palm Springs, the lake's high salinity levels, while inhibiting fishing, create a unique haven for bird species. A visit to the nearby Sonny Bono Salton Sea National Wildlife Refuge is a great chance to indulge in an immersive exploration of this unique ecological balance.
8. Big Bear Lake
Just 90 miles from Palm Springs, you'll find the captivating allure of Big Bear Lake. This high-altitude getaway in the heart of the San Bernardino Mountains promises invigorating days filled with fishing, wakeboarding, or pleasant kayak trips, all set against an enchanting backdrop of serene waters, lush forests, and towering peaks. Explore the man-made wonder, its roots tracing back to the 1880s, and immerse yourself in the rich tapestry of history and natural California beauty.
9. Lake Gregory
Delve into the charming beauty of Lake Gregory, a precious gem nestled within the San Bernardino National Forest. It's just 68 miles northwest of downtown Palm Springs and has origins that date back to a dam project in the 1930s. The artificial reservoir now offers avid anglers the thrill of catching trout and catfish and a chance for swimmers to cool off in the summer heat. Regardless of the season, the boathouse and fishing park remain open, inviting you to experience the unique blend of summer rains and winter snows at 4,550 feet above sea level.
10. Skinner Reservoir
An artificial marvel situated 60 miles from Palm Springs, Skinner Reservoir emerged in 1973 following the construction of the Skinner Clearwell Dam. Despite being a preserved water source, the area offers plentiful recreational opportunities, from hiking and horseback trails snaking through the vast parkland to a nearby splash pad to cool off during the hot days. Looking for a great fishing spot near Palm Springs? This is it! Skinner Reservoir is home to an abundance of largemouth bass, rainbow trout, channel catfish, and stripers.
20 Thrilling Florida Vacation Spots
Ready to plan your next vacation in sunny Florida? Here are the highlights of the 20 best vacation spots in the state! From the vibrant nightlife of Miami to the laid-back charm of Clearwater, there's something for everyone. Whether you're looking for family-friendly activities, high-end experiences, or unique adventures, this article has got you covered. So, pack your bags and get ready to soak up the sun and fun in the Sunshine State!
15 Virginia Vacation Spots Perfect For Exploring History
Explore the best vacation spots in Virginia with this must-read article! From the historical charm of Williamsburg to the breathtaking beauty of Shenandoah National Park, there's something for everyone. Don't miss out on the top attractions, outdoor adventures, and unique experiences that Virginia has to offer.
Top 15 Ohio Vacation Spots: Vibrant Cities & Aesthetic Parks
Ready to discover the best vacation spots in Ohio? Look no further than this article, which highlights the top destinations in the state, from the vibrant cities of Cleveland, Cincinnati, and Columbus to the scenic Hocking Hills State Park. Explore the great outdoors, enjoy cultural activities, and indulge in local cuisine and attractions. So, pack your bags and get ready to experience the diverse and exciting vacation spots that Ohio has to offer!
Picturesque Lake And Mountain Top Views: 16 Michigan Vacation Spots
Discover the best Michigan vacation spots with this ultimate guide! From the charming university town of Ann Arbor to the breathtaking Pictured Rocks National Lakeshore, there's something for everyone. Whether you're looking for outdoor adventures, cultural experiences, or romantic getaways, Michigan has it all.