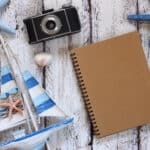 Elizabeth is an experienced traveler and writer with bylines in several popular travel publications. She currently co-owns a small digital travel publication and spends her free time writing, taking photos, and traveling.
Are you tired of being cooped up in your home office all day long? Do you yearn for a change of scenery but still need to get work done?
Consider a workcation — the perfect blend of work and vacation, a chance to work remotely from a new location while still having the opportunity to explore and enjoy your surroundings.
Austin, Texas
There's a reason Austin has been dubbed the "Live Music Capital of the World." This buzzing city is home to hundreds of music venues and festivals, as well as top-notch restaurants, craft breweries, and outdoor spaces.
With its booming tech industry and plenty of coworking spaces, Austin is the perfect destination for digital nomads and tech entrepreneurs alike. Take a break from work to explore Barton Springs Pool, hike in Zilker Park, or sample brisket and margaritas at Franklin Barbecue.
Boulder, Colorado
Nestled against the breathtaking Rocky Mountains, Boulder is an ideal spot for those seeking outdoor adventure and a laid-back lifestyle. Home to the University of Colorado and numerous startups, Boulder is a hub of innovation and creativity.
Work from a coworking space like Expansive 15th & Canyon, then hit the trails for a scenic hike or bike ride. Boulder also boasts an impressive food scene, with farm-to-table restaurants and a thriving craft beer culture that's perfect for an after-work de-stress sesh.
Charleston, South Carolina
A charming historic city with Southern hospitality, Charleston is a perfect balance of work and relaxation. This coastal city is known for its elegant architecture, scenic harbor, and delicious Lowcountry cuisine.
Work from a cozy coffee shop like The Daily or Second State Coffee, then take a break to stroll along the Battery or visit the iconic Rainbow Row. Don't miss a chance to sample fresh seafood dishes and sip sweet tea during your stay in Charleston.
Kansas City, Missouri
Kansas City may not be as well-known as some of the other destinations on this list, but it's a hidden gem for those who love barbecue, jazz, and a quirky arts scene. This Midwestern town is home to startup incubators like Plexpod and plenty of coworking spaces.
Take a break from work to tour the National WWI Museum, catch a jazz show at the Green Lady Lounge, or chow down on ribs at Joe's Kansas City Bar-B-Que.
Miami, Florida
For those who crave sunshine and a lively atmosphere, Miami is the place to be. This cosmopolitan city is a melting pot of cultures, with stunning beaches, world-class restaurants, and vibrant nightlife.
Work from a coworking space like The LAB Miami, then soak up the sun on South Beach or visit the colorful street art in Wynwood. Miami is also known for its art deco architecture and Cuban influences, making it a unique and exciting destination for a workcation if you're foodie-focused and love vibrant scenery.
Nashville, Tennessee
Home to country music, hot chicken, and a thriving tech and healthcare industry, Nashville is a city that offers something for everyone. Work from a hip coworking space like WeWork or Industrious, then tour the Country Music Hall of Fame or catch some live music at the legendary Bluebird Cafe.
Portland, Oregon
Known for its quirky culture, craft beer, and eco-friendliness, Portland is a city that marches to the beat of its own drum. With its mild climate and plentiful green spaces, it's also the perfect place for a workcation.
Work from a coworking space like CENTRL Office or DeskHub, then explore the city's many microbreweries, food carts, and art galleries. Don't miss a chance to hike in Forest Park and take in the stunning views of the Columbia River Gorge.
San Francisco, California
As the tech capital of the country, San Francisco is a natural choice for those in the tech industry. Its high concentration of startups and venture capital makes it a great place for entrepreneurs to network and make business connections.
Work from a coworking space like Galvanize or The Farm Soho, then take a break to ride a cable car, stroll through Golden Gate Park, or visit the iconic Fisherman's Wharf. San Francisco is also renowned for its world-class food scene, with some of the best seafood, Chinese cuisine, and sourdough bread you'll ever taste.
Savannah, Georgia
One of the most picturesque destinations on this list, Savannah is a picturesque Southern city that oozes charm and history. With its Spanish moss-draped oak trees, cobblestone streets, and antebellum architecture, Savannah is a feast for the senses.
Work from a cozy coffee shop like The Coffee Fox, or take your afternoon meetings on the front porch of your Southern-style Airbnb as you enjoy the fresh air.
Tulsa, Oklahoma
While not initially high on most people's travel lists, Tulsa offers a unique blend of comfort and connectivity. It boasts various co-working spaces like The Root Coworking and The Bridge, fostering creativity and growth. The city's Tulsa Remote program even provides a grant to eligible remote workers. In downtime, enjoy Tulsa's vibrant arts scene, outdoor activities, and rich culinary offerings while sampling some seriously superb Southern cuisine.
20 Thrilling Florida Vacation Spots
Ready to plan your next vacation in sunny Florida? Here are the highlights of the 20 best vacation spots in the state! From the vibrant nightlife of Miami to the laid-back charm of Clearwater, there's something for everyone. Whether you're looking for family-friendly activities, high-end experiences, or unique adventures, this article has got you covered. So, pack your bags and get ready to soak up the sun and fun in the Sunshine State!
15 Virginia Vacation Spots Perfect For Exploring History
Explore the best vacation spots in Virginia with this must-read article! From the historical charm of Williamsburg to the breathtaking beauty of Shenandoah National Park, there's something for everyone. Don't miss out on the top attractions, outdoor adventures, and unique experiences that Virginia has to offer.
Top 15 Ohio Vacation Spots: Vibrant Cities & Aesthetic Parks
Ready to discover the best vacation spots in Ohio? Look no further than this article, which highlights the top destinations in the state, from the vibrant cities of Cleveland, Cincinnati, and Columbus to the scenic Hocking Hills State Park. Explore the great outdoors, enjoy cultural activities, and indulge in local cuisine and attractions. So, pack your bags and get ready to experience the diverse and exciting vacation spots that Ohio has to offer!
Picturesque Lake And Mountain Top Views: 16 Michigan Vacation Spots
Discover the best Michigan vacation spots with this ultimate guide! From the charming university town of Ann Arbor to the breathtaking Pictured Rocks National Lakeshore, there's something for everyone. Whether you're looking for outdoor adventures, cultural experiences, or romantic getaways, Michigan has it all.