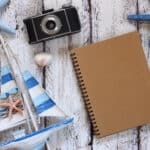 Elizabeth is an experienced traveler and writer with bylines in several popular travel publications. She currently co-owns a small digital travel publication and spends her free time writing, taking photos, and traveling.
Buckle up and prepare for a virtual road trip as we take you to the most beautiful streets in the United States.
This visual feast includes everything from picturesque landscapes filled with beautiful architecture to colorful culture and stunning street art. By the end, you'll be ready to book tickets to experience the stunning streets first-hand.
Lombard Street — San Francisco, California
Lombard Street in San Francisco is known for its crooked turns and steep slopes that offer you a chance to capture breathtaking views of the San Francisco Bay area. Moreover, the street's pretty famous — it's been featured in several Hollywood movies, making it a must-visit destination in San Francisco.
Cherry Blossom Lane — Bonners Ferry, Idaho
Cherry Blossom Lane is a hidden gem in the quaint town of Bonners Ferry, Idaho. The street is home to a beautiful cherry blossom tree tunnel that blooms in spring, creating an enchanting and picture-perfect atmosphere.
Ocean Drive — Miami, Florida
If you're looking for a street that offers you a combination of Art Deco architecture, breathtaking ocean views, and chic restaurants, then Ocean Drive in Miami is your go-to destination. Ocean Drive is located in South Beach and is one of the most photographed streets in Miami (take a look at photos on social media, and you'll see why).
Bourbon Street — New Orleans, Louisiana
If you're looking for a destination to party, then book a trip to visit Bourbon Street in New Orleans. Bourbon Street is filled with jazz bars, street performers, and amazing nightlife that will leave you yearning for more. But more than a mere party destination, the street is unique in its architecture, making it one of the most stunning streets in the Southern US.
The Las Vegas Strip — Las Vegas, Nevada
The Las Vegas Strip is home to some of the most grand and luxurious hotels, casinos, and entertainment venues in the world. Take a stroll down the strip at night to see the city come alive with its bright lights and colorful displays.
The Magnificent Mile — Chicago, Illinois
The Magnificent Mile in Chicago is a shopper's paradise. This area is home to upscale retail stores, restaurants, and hotels; there is never a dull moment on this street. The Magnificent Mile is also home to some of Chicago's iconic landmarks, such as the John Hancock Center and the Chicago Water Tower.
Rodeo Drive — Beverly Hills, California
Rodeo Drive in Beverly Hills is synonymous with luxury shopping and the rich and famous. Take a walk down Rodeo Drive to see the latest in high-end fashion and jewelry, or simply snap photos of the street and spend your money elsewhere.
Park Ave. — Winter Park, Florida
Park Ave in Winter Park, Florida, is a charming and picturesque street lined with cafes, boutiques, and local shops. The street is also home to several art galleries, museums, and beautiful parks.
Commonwealth Ave. — Boston, Massachusetts
Commonwealth Ave in Boston is known for its beautiful architecture and rich history. Stroll down the street to see magnificent Victorian brownstones and grand mansions that will leave you in awe.
10. The Freedom Trail — Boston, Massachusetts
The Freedom Trail in Boston, Massachusetts, is a 2.5-mile-long trail that takes you through historic landmarks such as the Massachusetts State House, Paul Revere's House, and the Old North Church. While photo-worthy, it's mostly a must-visit destination for those who love history and culture.
20 Thrilling Florida Vacation Spots
Ready to plan your next vacation in sunny Florida? Here are the highlights of the 20 best vacation spots in the state! From the vibrant nightlife of Miami to the laid-back charm of Clearwater, there's something for everyone. Whether you're looking for family-friendly activities, high-end experiences, or unique adventures, this article has got you covered. So, pack your bags and get ready to soak up the sun and fun in the Sunshine State!
15 Virginia Vacation Spots Perfect For Exploring History
Explore the best vacation spots in Virginia with this must-read article! From the historical charm of Williamsburg to the breathtaking beauty of Shenandoah National Park, there's something for everyone. Don't miss out on the top attractions, outdoor adventures, and unique experiences that Virginia has to offer.
Top 15 Ohio Vacation Spots: Vibrant Cities & Aesthetic Parks
Ready to discover the best vacation spots in Ohio? Look no further than this article, which highlights the top destinations in the state, from the vibrant cities of Cleveland, Cincinnati, and Columbus to the scenic Hocking Hills State Park. Explore the great outdoors, enjoy cultural activities, and indulge in local cuisine and attractions. So, pack your bags and get ready to experience the diverse and exciting vacation spots that Ohio has to offer!
Picturesque Lake And Mountain Top Views: 16 Michigan Vacation Spots
Discover the best Michigan vacation spots with this ultimate guide! From the charming university town of Ann Arbor to the breathtaking Pictured Rocks National Lakeshore, there's something for everyone. Whether you're looking for outdoor adventures, cultural experiences, or romantic getaways, Michigan has it all.