Known for its Southern hospitality, Knoxville is a gem of a city. It sits by the Tennessee River and is a hidden gem city known for music, arts, and adventure.
Knoxville has lots to offer to its residents and visitors. From street cookouts and revolutionary history to blues music, there is something for everyone here in the city of Knoxville.
The city also holds some amazing annual events like Germanfest, Greek Fest and Hola Fest. Plus, Knoxville is just a stone's throw away from some of the most amazing natural attractions. Explore scenic lakes, national parks and much more from the city of Knoxville.
Let us explore some of the best day trips from Knoxville, Tennessee.
Cumberland Falls State Resort Park, Kentucky
Located approximately over one and a half hours from Knoxville, over the state lines in Kentucky lie the Cumberland Falls State Resort Park.
The park offers some great hiking trails. The park is most famous for its waterfall which is a 125-foot-wide cascade of water, roaring off a 60-foot drop.
Apart from that you can also spend the day in the lake, go golfing, or play various sports in the resort courts.
Hiking here is a delight and if you are lucky you can even get to see the lunar rainbow under the moon! Gem-mining is another famous activity here which kids and adults and enjoy.
Distance: 1 hour and 28 minutes
Ideal for: Outdoor lovers
Chattanooga, Tennessee
The fourth-largest city in Tennesee is a scenic one and is only a two-hour drive from Knoxville. The beautiful mountain landscapes and the lovely riverfront district make this city an amazing day trip from Knoxville.
There are also a few museums that you can check out International Towing and Recovery Hall of Fame Museum and the Tennessee Valley Railroad Museum.
For those who want a relaxed holiday, you can visit the Riverwalk which is a 13-mile paved road meant for pedestrian foot traffic. Here visitors can explore parks, restaurants, riverboat marinas and more.
Apart from that the Chattanooga Zoo and Tennessee Aquarium are also lovely family-friendly attractions.
Distance: 2 hours
Ideal for: Family-friendly holiday
Great Smoky Mountain National Park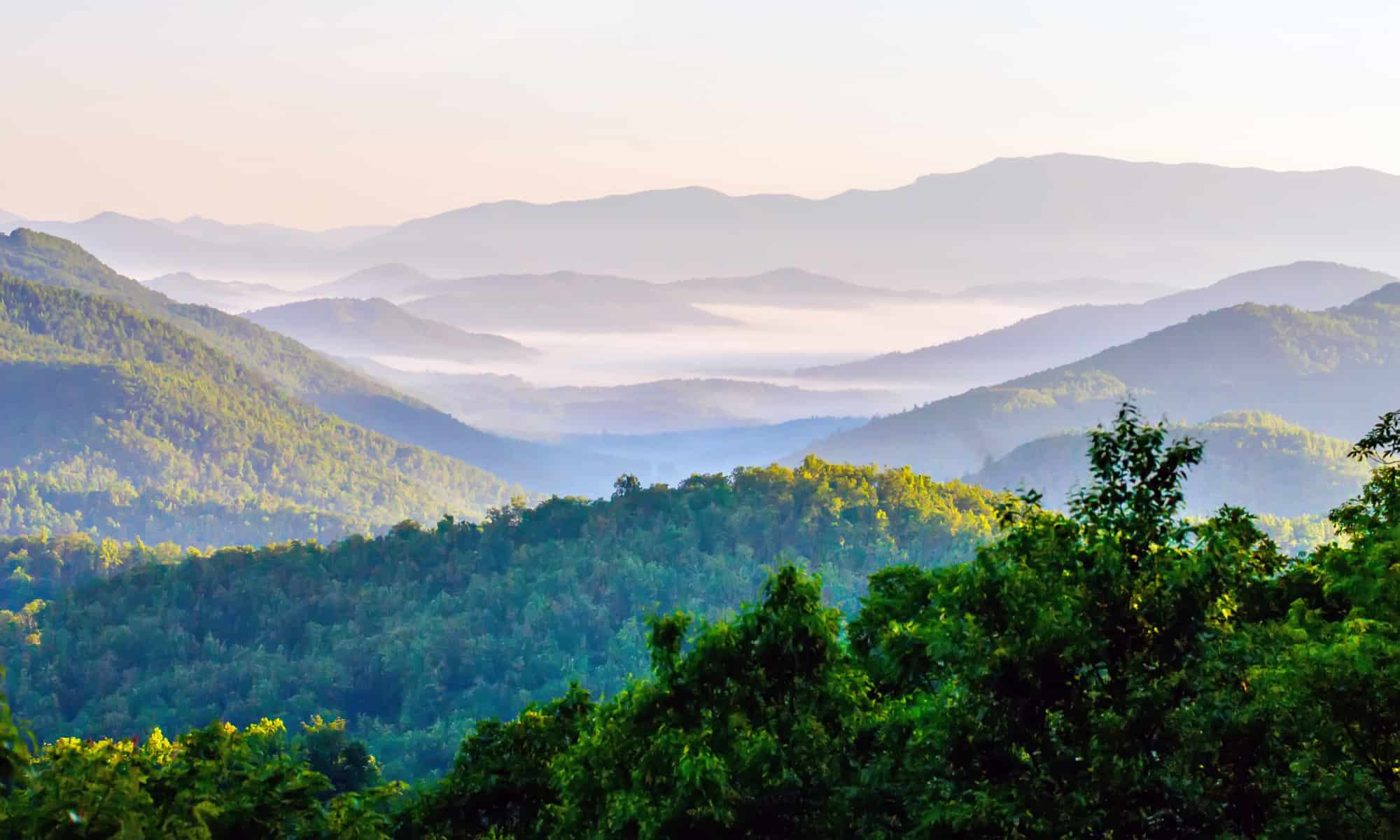 Just around an hour's drive away from Knoxville lies the Great Smoky Mountain National Park. Located along the Tennessee- North Carolina border, this makes for a perfect day trip from Knoxville.
A great place for a nature lover, the mountain ranges here consist of about 187,000 acres of forest and it is one of the most diverse eco-systems in the continent of North America.
You can also have a look at the culture and natural history of southern Appalachia that are preserved at Great Smoky Mountain National Park.
Nature lovers can enjoy hiking the trails to 11 different waterfalls and bicycling. Clingman Dome is the highest point in Tennesee and the adventurous ones can climb on top of it.
Distance: 45 minutes
Ideal for: Outdoor lovers
Pigeon Forge, Tennessee
Located in Sevier County, Tennessee Pigeon Forge started out as a part of North Carolina in 1788. This mountain resort is only an hour's drive from Knoxville.
A popular day trip from Knoxville, Pigeon Forge was the site of an iron forge constructed in 1820 and named after passenger pigeons which are now extinct.
The town is so popular with tourists today that it gets around 10 million tourists annually. A great place to start your tour would be the Hollywood Wax Museum, where you will find wax figures of top celebrities.
Other places of attraction you can visit are Dollywood, Titanic Museum Attraction, Wonderworks, and several museums. There are amusement parks as well like the Alpine Mountain Amusement Park which can be great fun for the whole family.
Distance: 41 minutes
Ideal for: family holiday
Asheville, North Carolina
Located slightly further away from all destinations, Asheville is a great destination for people who love arts. This art colony in North Carolina makes for a perfect day trip from Knoxville.
The entire city has a cool artsy vibe and there are a lot of galleries and boutiques in town. Apart from that, there are many edgy, locally owned boutique retail shops to explore in downtown.
Asheville is also known as the "beer city". You will find a number of breweries in town such as the Wedge Brewing Company and Burial Beer Co.
Distance: 1 hour and 56 minutes
Ideal for: Art lovers
Blue Ridge, Georgia
Located just around two hours away from Knoxville, Tennessee Blue Ridge is a gorgeous mountain town.
Ideal for thrill-seekers to people who want to relax – Blue Ridge has something for everyone. Here you can experience the vibrant art culture and scenic parks.
Excellent trout fishing can be done in the spring while outdoor recreation activities can be done in summers. The area consists of crystal clear waterways like the Toccoa, and carpets of green, gold, and red forest as far as the eye can see.
Distance: 1 hour and 56 minutes
Ideal for: Outdoor lovers
Roanoke, Virginia
Around a four hour drive away from Knoxville, Roanoke is a scenic island set against the Blue Ridge Mountains. This city in Virginia has a bustling art scene and makes for an excellent day trip from Knoxville.
This city boasts of a proud railroad heritage and is bursting with national history. Start with an art-tour in the Taubman Museum of Art. The building itself is a piece of art and the works at the museum are widely acclaimed as well.
The island is famous for the lost colony of Roanoke established by Walter Raleigh in 1585. The area boasts of many opportunities for outdoor recreation such as kayaking and paddling on the Upper James River Water Trail.
Distance: 3 hours and 54 minutes
Ideal for: Outdoor lovers & art enthusiasts
Huntsville, Alabama
Home to the largest space attraction, Huntsville is a vibrant southern city. It makes for a great day trip from Knoxville, Tennessee.
The U.S Space and Rocket Center is located in Huntsville and it attracts thousands of visitors every year. Here you will be able to stand under a "full-stack", otherwise known as two real rocket boosters.
Apart from that, you can explore three historic neighborhoods- Five Pints, Old Town, and Twickenham. Explore these places via guided tours.
Distance: 3 hours and 10 minutes
Ideal for: Space enthusiasts
Atlanta, Georgia
The capital of Georgia is located three hours away from Knoxville, Georgia. The capital is also the largest city in the state and makes for a great day trip destination.
This city offers dozens of attractions for its visitors. From the Olympic Park to countless movie filming destinations, and the thriving art scene – there is no dearth of things to do here in Atlanta.
You can start by exploring the Georgia Aquarium, World of Coca-Cola, The Children's Museum of Atlanta among the attractions.
Distance: 3 hours and 5 minutes
Ideal for: Family fun
Alpine Helen, Georgia
This is the third most-visited destination in Georgia. This settlement of Alpine Helen is a homage to alpine villages found in the Bavarian Alps.
This is a small town and only around 500 people reside here. Bursting with charm, the town is full of red-painted roofs and along with Bavarian-style chateaus lining cobblestone streets.
Alpine Helene is a great getaway for families where you can indulge in shopping, authentic German food, and wine tours.
You can also keep an eye out for several festivals that are held like the Annual Fireside Arts and Crafts Show, Arts Festival, Oktoberfest and Christkindlmarkt.
Distance: 3 hours and 10 minutes
Ideal for: Family fun
Maggie Valley, North Carolina
Hop over the state lines to North Carolina to visit Maggie Valley. This mountain town has a nostalgic ambiance that is perfect for short or long getaways
Maggie Valley is situated in the Great Smoky Mountains and there are plenty of Southern bars and restaurants in town to explore.
Relax, take it easy and just soak in the wonderful ambiance of the city. Some attractions include the Cataloochee Ski Area, Blue Ridge Parkway, Cataloochee Ranch, and the Wheels Through Time Museum.
Visitors can also enjoy hiking, fishing, swimming, golfing and more.
Distance: 1 hour and 32 minutes
Ideal for: Quiet getaway
Gatlinburg, Tennessee
Another lovely little mountain town, Gatlinburg makes for a great family-friendly destination. The town is nestled in the Great Smoky Mountains and has lovely scenic charms.
Ride on the Gatlinburg Aerial Tramway for amazing views of the mountains or get lost at Ripley's Marvelous Mirror Maze and Candy Factory.
If you want some adrenaline-pumping action then you can go whitewater rafting at Smoky Mountain Outdoors.
Apart from all the attractions, there are plenty of restaurants, distilleries and wineries and many live shows that keep on happening throughout the town.
Distance: 1 hour
Ideal for: Family fun
Black Mountain, North Carolina
If you are looking to escape the city of Knoxville for some peace and quiet, then head to Black Mountain.
This beautiful small town is the perfect place to go for relaxing outdoor recreation without stress. Black Mountain features pedestrian streets lined with trees, boutique shopping, and Appalachian style craft stores.
This quiet settlement is great for anyone who is looking to have a relaxing getaway. For golfers, there is also a world-class 18-hole golf course.
Distance: 2 hours and 6 minutes
Ideal for: Quiet retreat
Tugaloo State Park, Georgia
Another serene getaway and day trip from Knoxville, Tugaloo State Park is just across the borderline of Georgia.
Located on the shores of Lake Hartwell in the Appalachian Mountains Foothills, this destination is a favorite among the watersport enthusiasts.
There are many cottages and campsites available on the 55,590 acres Lake Hartwell. People also love heading in the summer to attend fishing tournaments.
Visitors can indulge in camping, hiking, fishing, boating, and water skiing at the Tugaloo State Park, Georgia.
Distance: 3 hours and 40 minutes
Ideal for: Outdoor enthusiasts
Oak Ridge, Tennessee
Oak Ridge is a scenic waterfront town that was built during World War II by the U.S. Government to be an atomic bomb assembly site. Oak ridge is also known as the "secret city" for this reason.
The weapons plan was a part of the Manhattan Project and is part of a 3 site park that includes branches in Los Alamos, NM, and Hanford, WA.
Visitors can explore the American Museum of Science and Energy and Oak Ridge Children's Museums.
Distance: 30 minutes
Ideal for: History buffs
Ocoee River, Tennessee
If you love outdoor adventure, then Ocoee River is the place for you. This is a great place to do white water kayaking and explore the outdoor in Chattanooga.
You can also check out the Chattanooga Whiskey Distillery or eat at one of the local restaurants or breweries.
Distance: 1 hour and 30 minutes
Ideal for: Outdoor enthusiasts
Conclusion
Like we explored, the city of Knoxville has a lot to offer to its visitors and residents. However, it is also a great base point for some exciting day trips in and around the state. So go and plan some wonderful day trips!