Sitting on the shores of Lake Erie, Cleveland is known for its vibrant energy. Summers here are great as you will find locals and tourists enjoying the seaside fun on the lakeside beaches.
Other than that, Cleveland makes for an excellent base for day trips around the state. Charming seaside towns are easy to get to and make for a great break during the weekends.
Let us explore some of the best day trips from Cleveland which you can take.
Cedar Point, Ohio
One of the most popular destinations for a family day out, Cedar Point is fondly known as the roller coaster capital of the world.
This epic amusement park spans a whopping 365-acres and has been open since 1870. You will find dozens of rollercoasters here and thrilling water rides.
Set on n a peninsula in Lake Erie, Cedar Point boasts of more than 70 rides including 18 roller coasters, a supersized swing that carries passengers more than 12 stories high and much more!
Of course, there is a range of diners and eateries throughout Cedar Point.
Needless to say, Cedar Point has to be your number one destination for a day trip from Cleveland Ohio.
Distance: 1 hour and 6 minutes
Ideal For: Family day out
Amish Country, Ohio
Learn about nature and reconnect with the simple life at Ohio's Amish Country. Also home to the largest Amish community in the world, Amish Country makes for a great relaxed day trip from Cleveland, Ohio.
A great place for cheese lovers, you can visit Broad Run Cheesehouse and Heini's Cheese Chalet, they also offer free samples of their cheese!
This is a family-friendly destination where everyone can have some fun. Stop by at the family-run wineries or artisan shops selling handmade candles and you can also explore traditional Amish farmhouses open for tours.
Plus, there are a host of local restaurants serving up hearty roast beef and butter noodles.
Distance: 1 hour and 15 minutes
Ideal For: Family day out
Columbus, Ohio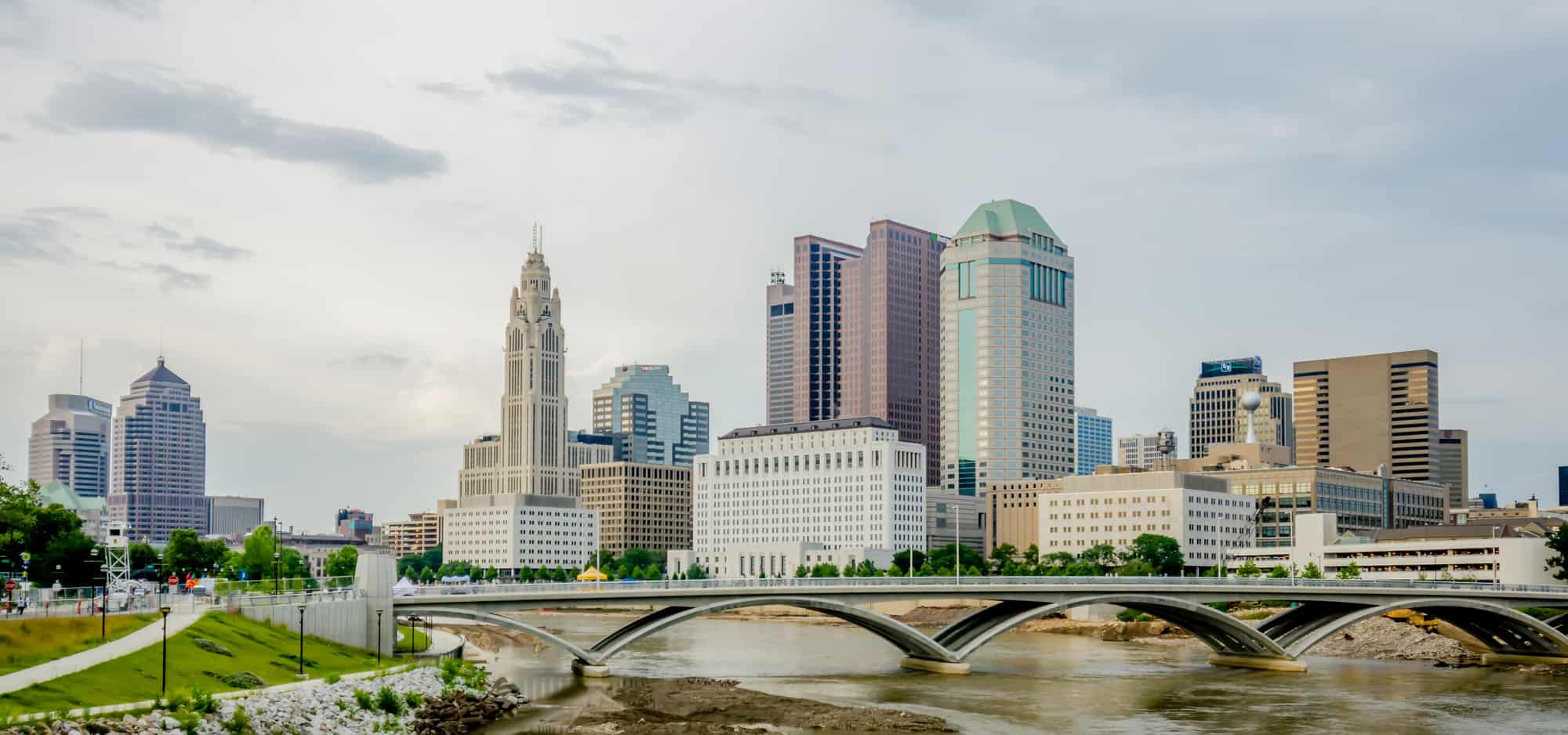 Ohio's state capital, Columbus is a bigger metropolis than Cleveland. There is a lot of history to explore in this city.
You can spend your time strolling in the streets of Columbus or you can walk to parklands which features water fountains, manicured gardens and is located by the Scioto River.
Take a break at one of the city's many farm-to-table restaurants or stop by at one of the cafes selling roasted coffee.
Science lovers can head to the COSI Columbus science museum and art enthusiasts can walk over to the Columbus Museum of Art.
Families can also have fun at the LEGOLAND Discovery Center, and the National Veterans Memorial and Museum downtown.
Distance: 2 hours and 15 minutes
Ideal For: City fun
Pittsburg, Pennsylvania
A great city for art lovers, you can cross the state lines and head over to Pittsburg Pennsylvania for a great day trip from Cleveland, Ohio.
Home to the trendy Andy Warhol Museum attracts art lovers from everywhere. This gallery features fantastic works from Andy Warhol and also offers visitors the opportunity to get hands-on and learn about his innovative creation techniques.
You can also explore the Phipps Conservatory and Botanical Garden where you can take a stroll through the garden and expand your knowledge related to botany.
Distance: 2 hours and 15 minutes
Ideal For: City fun
Cuyahoga Valley National Park, Ohio
The only National Park in Ohio, Cuyahoga Valley National Park is tucked between Cleveland and Akron.
Boasting excellent hiking trails and a marshy land full of wildlife, Cuyahoga National Park is worth the day trip from Cleveland, Ohio.
The national park is popular with bird-watchers as birds from all over the country fly over to this park and migrations in the spring and fall offer the opportunities to see many rare breeds.
There are over 100 waterfalls here as well. But the most popular and spectacular one is 60-foot Brandywine Falls, which is just as breathtaking in the winter as it is in the summer.
Distance: 30 minutes
Ideal For: Outdoor lovers
Detroit, Michigan
One of the most populous cities in the state of Michigan, Detroit has lots to offer and makes for an excellent day trip from Cleveland, Ohio.
Sports lovers will love this city as they can catch the Detroit Lions or Detroit Tigers in action. Renaissance Centre is a great place for shoppers to spend their day.
If you love music, then you must know that Detroit is the birthplace of Motown music and the locals will be quick to remind you. There are dozens of bars and clubs that love to keep the tradition alive.
Distance: 2 hours and 50 minutes
Ideal For: Motown lovers and sports enthusiasts
Geneva State Park, Geneva
Located on the shores on Lake Erie, Geneva State Park has been a popular destination for many. This is an excellent destination for those who want to enjoy recreational water activities.
The main attraction of this park is the sandy 300-foot swimming beach where people go to enjoy the sun and sand.
For those who prefer other activities, there are also miles of multi-use trails and a picnic area with a horseshoe pit.
Distance: 55 minutes
Ideal For: Beachgoers
Geneva on the lake, Geneva
This little town situated on the shores of Lake Erie has been a popular vacation destination for many. It was established in 1869 and provided visitors with great holiday time.
Needless to say, Geneva on the lake makes for a great day trip destination from Cleveland Ohio.
It is almost like a trip back in time, you will find a strip that includes a miniature golf course, parlor games like Fascination, and the town's old Ferris wheel from the amusement park.
There are a lot of other things to do in the town as well like visit the breweries, wineries, and a heritage walking trail.
Distance: 58 minutes
Ideal For: Family fun
Oberlin, Ohio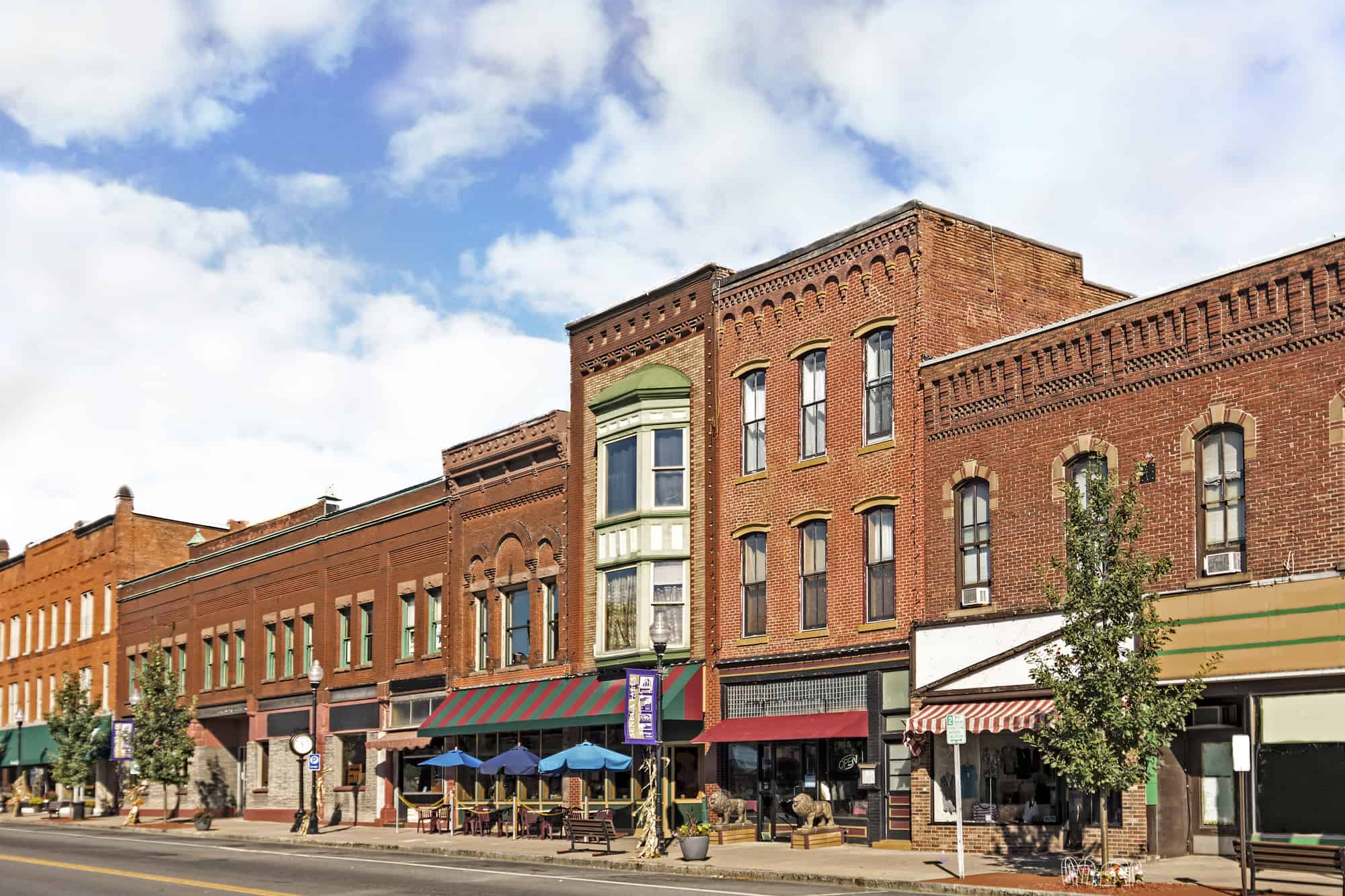 The tiny city of Oberlin makes for a great trip from Cleveland, Ohio. Hidden away in Lorain County in Ohio, the highlight of the trip should be Oberlin Heritage Centre.
There are three main buildings in the Oberlin Heritage Centre called Monroe House, Little Red Schoolhouse, and Jewett House.
You can also take a stroll through Tappan Square, where you will find local relaxing, taking their dogs out for a walk or just exercising.
Oberlin is a friendly college city and a lot can be done here.
Distance: 40 minutes
Ideal For: Family fun
Granville, Ohio
This quaint English-style community is located in Central Ohio. Granville was established in 1805.
If you are looking for a relaxed holiday where you are just walking around in the shady tree-lined streets of downtown and having a coffee in the cute cafes – then Granville is the place for you.
There are also opportunities for shopping in historic Bryn Du Mansion and the Denison Museum.
If you want to burn some calories, head for a swim in Lake Hudson or play a round of golf at the Denison Golf Club.
Distance: 25 minutes
Ideal For: Relaxing holiday
Huntington Reservation, Ohio
Located in Bay Village on the shores of Lake Erie, Huntington Reservation makes for a great place to visit from Cleveland, Ohio.
There are many opportunities for enjoying a picnic. This 103- acre park is home to a wide variety of botanical specimens brought over from Europe.
There are many trails that wind through the park which gives you many opportunities to view these natural beauties.
Huntington Reservation allows many opportunities for recreation and education. There is a beach here as well, which attracts many visitors and offers an abundance of opportunities to swimming, boating, and fishing.
Distance: 25 minutes
Ideal For: Relaxing holiday
The Lake Erie Islands, Ohio
A truly unique day trip destination, Lake Erie Islands are a great spot to spend some time away from the hustle and bustle of Cleveland, Ohio.
South Bass Island is the most popular island and it offers all sorts of restaurants, bars, and souvenir shops.
Kelleys Island and Middle Bass Island are quieter islands and they should be your choice if you are looking for a relaxing getaway from the city of Cleveland.
You can reach these islands by a ferry from the mainland. There are private marinas as well if you prefer to travel by boat.
Distance: 2 hours and 34 minutes
Ideal For: Relaxing getaway
Ohio and Erie Downpath Trail, Ohio
If walking around is your idea of a perfect day trip, then the Ohio and Erie Downpath Trail is a great day trip from Cleveland.
This trail runs for 85 miles through the winding Ohio and Erie Canal Way. You can hike as much as you wish to, but most people cover up to 10 miles.
Bikes and horses are also permitted on this path if you do not wish to walk.
Distance: 33 minutes
Ideal For: Hikers
Niagra Falls
Needing no introduction, Niagra Falls is one of the most iconic landmarks in the United States. The falls drop 51m and span 670m in width.
To really get up close to Niagra Falls, take a trip on the Maid of the Mist. You can also head up to the observation deck for some great views and photo ops as well.
Niagra Falls State Park is also right beside the falls, so you can couple both the destinations and make a day out of it.
Distance: 3 hours and 32 minutes
Ideal For: Hikers
Mohican State Park, Ohio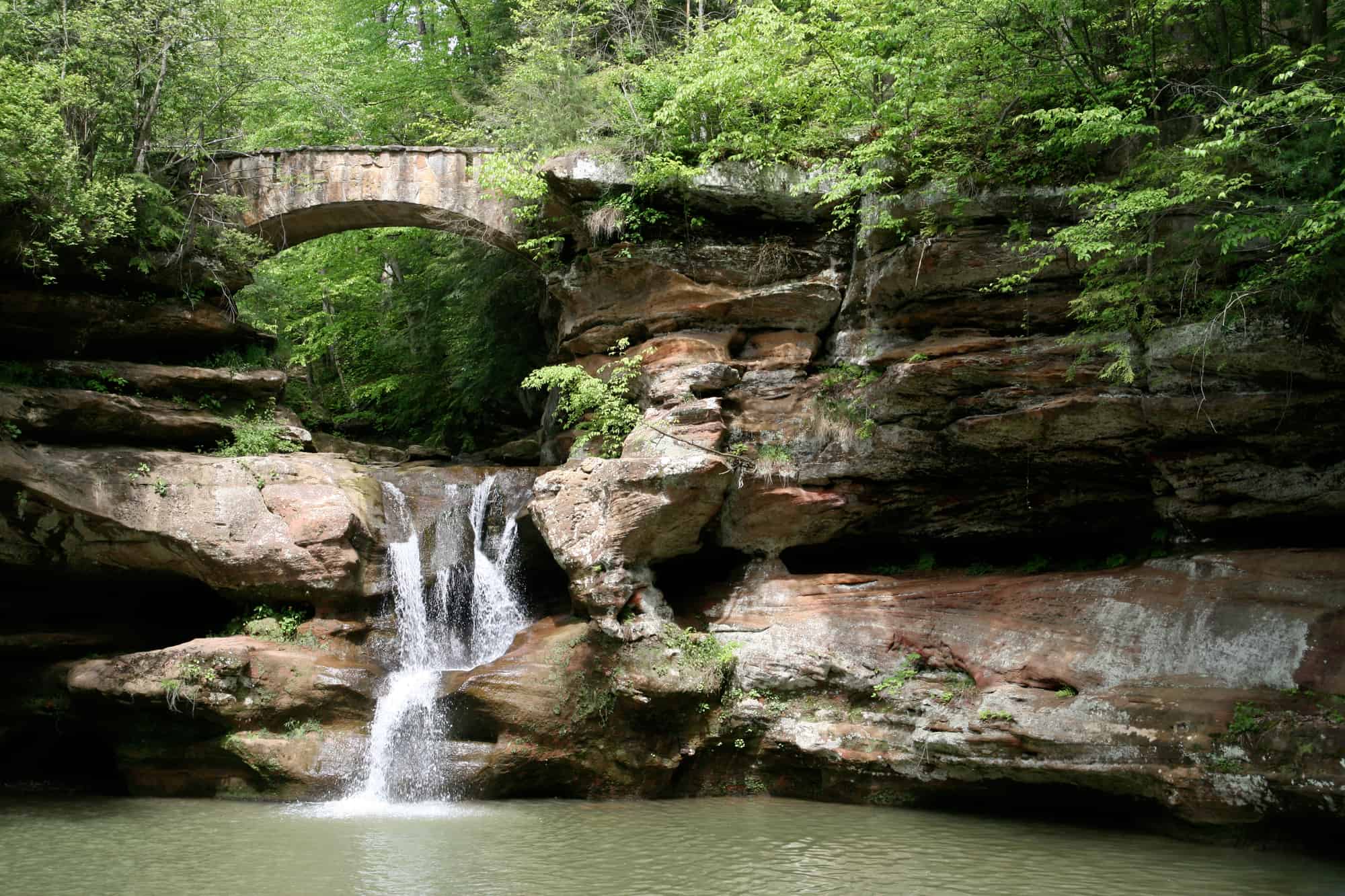 This beautiful state park is nestled in the heart of the 4,500-acre Mohican Memorial State Forest. A great destination for outdoor lovers and hikers, Mohican State Park makes for a great day trip from Cleveland.
There are many hiking trails to explore which also lead to places like Lyons Falls and Clear Fork Gorge.
You can also try your hand at canoeing, kayaking and even tubing down the 27-mile Clear Fork River.
Distance: 1 hour and 28 minutes
Ideal For: Hikers
Conclusion
Cleveland is a great city in itself and there are many opportunities for day trips outside the city. Beautiful nature parks, thrilling adventure parks, and bustling cities – Ohio has it all. So go ahead and explore the state, one weekend at a time.