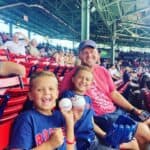 Jake Cain is an entrepreneur and writer from Cincinnati, Ohio. He spends his free time driving around the country in his late 90's conversion van, affectionately known as the "Monster Van" with his wife and 3 boys.
This Southeastern state in Georgia has something to offer to everyone. Georgia offers a unique experience that you won't find anywhere else.
Mountain hiking, whitewater rafting, homegrown music, art festivals, and signature breweries and wineries all co-exist here- Georgia is truly a state worth visiting.
You can also explore the history of the state as well. From the birthplace of Dr. Martin Luther King and the Gone With the Wind Trail from Jonesboro to Marietta – there are a lot of varied vacation spots in Georgia, also known as the Peach State.
In the next few paragraphs, we will explore the best vacation spots in Georgia.
Atlanta, Georgia
Let us start with the capital city of Georgia, Atlanta. This vibrant, buzzing, historic capital offers lots to tourists.
This city has played a major role in the history of the country, so it is best to start your vacation in Atlanta with the Atlanta History Center.
Visit Martin Luther King Jr's home which is now a National Historic Site. After that, you can go to visit the Georgia Aquarium.
If you are here with your family, don't miss out on the fun activities at the Six Flags White Water Waterpark and LEGOLAND Discovery Center.
At the end of the day, check out the vibrant nightlife that this town has to offer. When bar-hopping try out Kimball House, which is known for serving cocktails and oysters in a renovated train depot outside downtown Decatur.
If you are looking for a more laidback setting, explore Eddie's Attic. This is the primary venue for up and coming singers and songwriters looking to make a mark on the international scene.
Savannah, Georgia
This quaint city of Savannah, Georgia, is surrounded by magnificent antebellum Southern mansions and white sand beaches on Tybee Island.
Located around 100 miles to the south, this city has an eccentric streak that tourists find irresistible. The lovely art galleries, Civil-War enactments, and edgy cafes are a treat for all the senses and ages.
You can take an old trolley and explore the City Market for fun during the day as well as night.
Savannah River Street is also an interesting place to explore choc-a-bloc with galleries, cafes and restaurants and not to forget, breathtaking views of the river.
For all you movie enthusiasts, Forrest Gump was famously set in Savannah, Georgia.
No matter when you visit, there is always some kind of festival happening which enthralls locals and visitors alike.
When here have lunch at Mrs. Wilkes Dining Room which is known for its Southern hospitality and home-style Southern cooking.
Golden Isles, Georgia
Another great vacation spot in Georgia is the Golden Isles. It is located on the coast approximately halfway between Savannah and Jacksonville in Florida.
These barrier islands get their name from the golden sand beaches that dot the Georgia coastline. Probably the best vacation spot for Georgians, St. Simons in Golden Isles has all the facilities a family on a vacation would want.
The area includes the city of Brunswick on the mainland and four larger islands: St. Simons Island, Little St. Simons Island, Sea Island and Jekyll Island.
There are many smaller islands as well which offer private resorts.
Visitors can enjoy kayaking, camping, and beautiful beaches.
Callaway Gardens, Georgia
This enormous 14,000 – acre landscape is located in the southern foothills of the Appalachian Mountains in Pine Mountain.
Designed by Cason J. Callaway and his wife Virginia Hand Callaway, these botanical gardens offer an excellent opportunity to be one with nature.
This expansive resort can be a perfect vacation spot in Georgia, as it offers amazing facilities like a spa, lakes, a butterfly habitat, golf courses, and the John Sibley Horticultural Center.
The Callaway gardens also have numerous biking and walking trails that wind through diverse landscapes. Kids will also enjoy the Cecil B. Day Butterfly Center with more than 1,000 butterflies belonging to 50 species.
For golf-enthusiasts, they boast of two golf courses as well. Also take out the time to explore the Robin Lake Beach, the biggest man-made white sand beach in the world.
Tybee Island, Georgia
Savannah's beach playground, Tybee Island is only a short 20 minutes away from the city.
If a sunny beach vacation is what you are looking for, then Tybee Island is your ideal vacation spot.
Five miles of sandy beaches, ancient sand dunes – there is a lot to discover in Tybee Island. It is great for families who want to take part in sunbathing, fishing, boating and hiking.
When at Tybee Island don't miss out on historic Fort Screven area with the scenic Tybee Lighthouse. You can learn about the history of the island at Tybee Museum, while the kids can enjoy their time at Fort Pulaski.
Of course, enjoy the wonderful restaurants, beach bars and cafes for a scintillating evening.
Enjoy a meal at the popular Crab Shack which has outdoor dining with spectacular views.
Don't miss out on the Deck Beach Bar & Kitchen. Pull up a seat on the deck for dinner with a view or cool down indoors with a cocktail.
Chattahoochee National Forest, Georgia
Located in the northern part of Georgia, Chattahoochee National Forest is an ideal vacation spot.
Abundant with thousands of miles of trails for visitors to hike, there are several campsites where visitors can stay for the weekend to explore the forest.
There are many recreational activities that can be done like cycling, fishing, hiking, camping, and horse riding as well.
Macon, Georgia
Macon is an eclectic city located in the center of Georgia, it is also nicknamed the Heart of Georgia.
This city makes for an attractive vacation spot as there are loads of things to do. Explore the Ocmulgee National Monument which is famous for some of the state's biggest earthwork mounds created by Native Americans, including burial mounds, temple mounds, and a spiral-bound.
If you want some outdoor time, visit the lovely 180-acre Amerson River Park.
There are things to do for a die-heart music fan as well. You can check out The Allman Brothers Band Museum at the Big House.
Jekyll Island, Georgia
If you are looking for a beach destination getaway for the weekend, there is no better place than Jekyll Island in Georgia.
Located south of the Golden Isles, this entire island is designated as a Georgia state park.
Visitors can relax on 8 miles of pristine beaches or explore their historic district which is also known as the Millionaire's village to check out homes that have belonged to some of America's richest families.
These include homes of Vanderbilts, the Rockefellers, and the Pulitzers.
Explore the lovely Driftwood Beach or the Oceanfront Promenade.
When here, don't miss out on the Sea Turtle Center, which can be an excellent place for your kids to visit. Here, they rehabilitate sea turtles and help other coastal wildlife.
Athens, Georgia
If you are a history buff, Athens is your place to be.
Just over an hour away from the bustling city of Atlanta, Athen has the charm of a southern town.
The city is the starting point of Georgia's Antebellum Trail of Historic Towns, which highlights Civil War-era homes and period architecture.
Athens has a vibrant music scene and a thriving student culture as well. Do explore the Georgia Museum of Art to enjoy works from local and international artists.
You can also walk through The State Botanical Gardens of Georgia.
The Victorian-era downtown is known for its trendy shops, restaurants and vibrant entertainment venues, so do visit the area.
End your holiday with a meal at The Expat, which is a French-American bistro. If you want to have a coffee and Avocado Toast, there is no better place than Franklin House Cafe.
Augusta, Georgia
Serious sports fans should add Augusta to their list of vacation spots in Georgia.
Best known around the world for its famous Augusta National Golf Club and the annual Masters Tournament that takes place there.
Just across Savannah, Augusta is a bustling city. You can start your vacation by taking a boat tour through the Augusta canal and you can even explore the Black History Tour.
Take a stroll through the Augusta river walk in the evening or a bike ride through the Forks Area Trail System which is a loop of 34 miles of wooded trails.
For something different, stop by at the Morris Museum of Art, which offers free admission on Sundays.
Sea Island, Georgia
Sea Island is a privately owned island located on the Atlantic coast in Southern Georgia and makes for a compelling vacation spot in Georgia.
For a fancy stay, choose The Cloister At Sea Island which has achieved Forbes' five-star rating the past decade, and it's easy to see why.
The sea island has every type of accommodation, from private cottages to hotel-style rooms which makes the Sea Island one of the most popular getaways in Georgia.
You can head to the golf course alongside the ocean or unwind at one of the pools. There are lots of activities to do on the island with your folks like biking, tennis, horseback riding, and more.
Of course, have a meal at one of the many restaurants located at the property for an unforgettable end to an unforgettable holiday.
Dahlonega, Georgia
Attention all of you wine connoisseur and wine drinkers – Dahlonega is your place to be in Georgia.
This northern Georgian city is home to 12 wine tasting rooms and five wineries with picturesque vineyards dotting the landscape. Of course, there are many opportunities to go wine tasting or just walk around through the vineyards.
For a truly unforgettable experience, visit Dahlonega during the area's annual Dahlonega Wine Trail Weekend in August.
Cumberland Island, Georgia
A wonderful island to explore natural wildlife and be one with nature, Cumberland Island makes for an excellent getaway in Georgia.
Cumberland is the largest uninhabited barrier island in Georgia. It features many undeveloped beaches and places of historic interest.
There are 17 miles of untouched beaches to explore, so a couple of days here can never get boring. Visitors can access the shore by taking the Cumberland Queen ferry but reservations are recommended.
You can always also camp on the seashore but should be advised that bathrooms and access to drinking water are available primarily on the south end.
Stone Mountain Park, Georgia
The center of attraction is, of course, the quartz monzonite dome monadnock called Stone Mountain. The bas-relief on the mountain's north face is the biggest in the world.
While the park is the largest attraction, there is still plenty to do when here for a vacation with your family.
You can enjoy miniature golf, laser show and much more. There are even festivals scheduled throughout the year, so you can check the calendar to see which one enthralls you the most.
There is also the Antebellum Plantation and Farmyard which is an open-air museum complete with farm animals that visitors can pet, which is a great attraction for children.
Blue Ridge, Georgia
Only 90 minutes away from Atlanta, Georgia, this beautiful town is also called the "Switzerland of the South,"
Offering a distinct artsy vibe, Blue Ridge has something to offer to everyone. Whether you are looking for some hilly adventures or a casual laid-back vacation – Blue Ridge is the place to be.
For adventure enthusiasts, try the Zipline Canopy Tours through a beautiful 165-acre tract of land in the mountains. You can also try taking a ride on the Blue Ridge Scenic Railway.
This city also boasts of galleries complete with craft breweries that serve excellent brews and feature live music.
For a laid-back vibe, just stroll through the downtown area as you whizz by the many shops and restaurants.
The Apple Festival is a popular carnival here in October where visitors can enjoy good food, music, vendors, and an impressive antique car show.
The eclectic and enthralling Georgia has much to offer to all its visitors. So come and enjoy a hilly escapade at Blue Ridge or the sunny beaches at Tybee Island.
20 Thrilling Florida Vacation Spots
Ready to plan your next vacation in sunny Florida? Here are the highlights of the 20 best vacation spots in the state! From the vibrant nightlife of Miami to the laid-back charm of Clearwater, there's something for everyone. Whether you're looking for family-friendly activities, high-end experiences, or unique adventures, this article has got you covered. So, pack your bags and get ready to soak up the sun and fun in the Sunshine State!
15 Virginia Vacation Spots Perfect For Exploring History
Explore the best vacation spots in Virginia with this must-read article! From the historical charm of Williamsburg to the breathtaking beauty of Shenandoah National Park, there's something for everyone. Don't miss out on the top attractions, outdoor adventures, and unique experiences that Virginia has to offer.
Top 15 Ohio Vacation Spots: Vibrant Cities & Aesthetic Parks
Ready to discover the best vacation spots in Ohio? Look no further than this article, which highlights the top destinations in the state, from the vibrant cities of Cleveland, Cincinnati, and Columbus to the scenic Hocking Hills State Park. Explore the great outdoors, enjoy cultural activities, and indulge in local cuisine and attractions. So, pack your bags and get ready to experience the diverse and exciting vacation spots that Ohio has to offer!
Picturesque Lake And Mountain Top Views: 16 Michigan Vacation Spots
Discover the best Michigan vacation spots with this ultimate guide! From the charming university town of Ann Arbor to the breathtaking Pictured Rocks National Lakeshore, there's something for everyone. Whether you're looking for outdoor adventures, cultural experiences, or romantic getaways, Michigan has it all.