Jacksonville is home to the beautiful St. John's river around which the city is built. This city boasts of the longest coastline of any city in the United States, Jacksonville is one of the most popular cities in the Sunshine State of Florida.
Choose between countless parks, thriving nightlife, and lovely beaches. While Jacksonville itself has a lot to offer, there are a countless number of day trips you can take from the city.
Let us explore the best day trips from Jacksonville FL.
Ginnie Springs, Florida
Popular with divers and snorkelers, Ginnie Springs boasts of cave diving opportunities as well. Making for a great day trip in summer, Ginnie Springs makes for a great day trip from Jacksonville, FL.
Only around two hours from Jacksonville, Ginnie Springs offers extensive underwater caverns beneath the water's surface.
If you want to laze around, you can even bring your own floats or rent one from 5.60 USD a day and drift lazily down the series of springs.
Canoes and kayaks are available for the adventurous as well.
Distance: 90 minutes
Ideal for: Water sports
Blue Spring Date Park, Florida
Around two hours away from Jacksonville, FL, Blue Springs Date Park is one of the most popular stretches of the St John's River.
The park spans an impressive 2600-acres of the pristine, unspoiled, tantalizing landscape. It is also a designated refuge for the wild manatee.
You can spot them during the manatee season and explore it during that time.
Apart from the manatee season, when all water sports are prohibited, you can try swimming, snorkeling, and scuba diving in the spring's crystal clear water.
Distance: 105 minutes
Ideal for: Family fun
Amelia Island, Florida
Located just 30-miles away from Jacksonville, FL, Amelia Island was named after Princess Amelia the daughter of George II of Great Britain.
For everyone looking for a tranquil retreat for a day away from the bustling Jacksonville, this is it.
Offering sweeping white sand beaches undulating sand dune and luxury resorts – Amelia Island is the perfect getaway spot.
Saunter over to the intriguing art galleries and historic saloons. Visitors can also shop at boutique shops in Fernandina Beach's historic town center.
Do stop by at the Palace Saloon which is the oldest and longest-operating saloon in Florida. Also, keep an eye out for the vast array of music festivals that keep on going on- ranging from music to food.
Distance: 41 minutes
Ideal for: Laid-back holiday
Ichetucknee Springs, Florida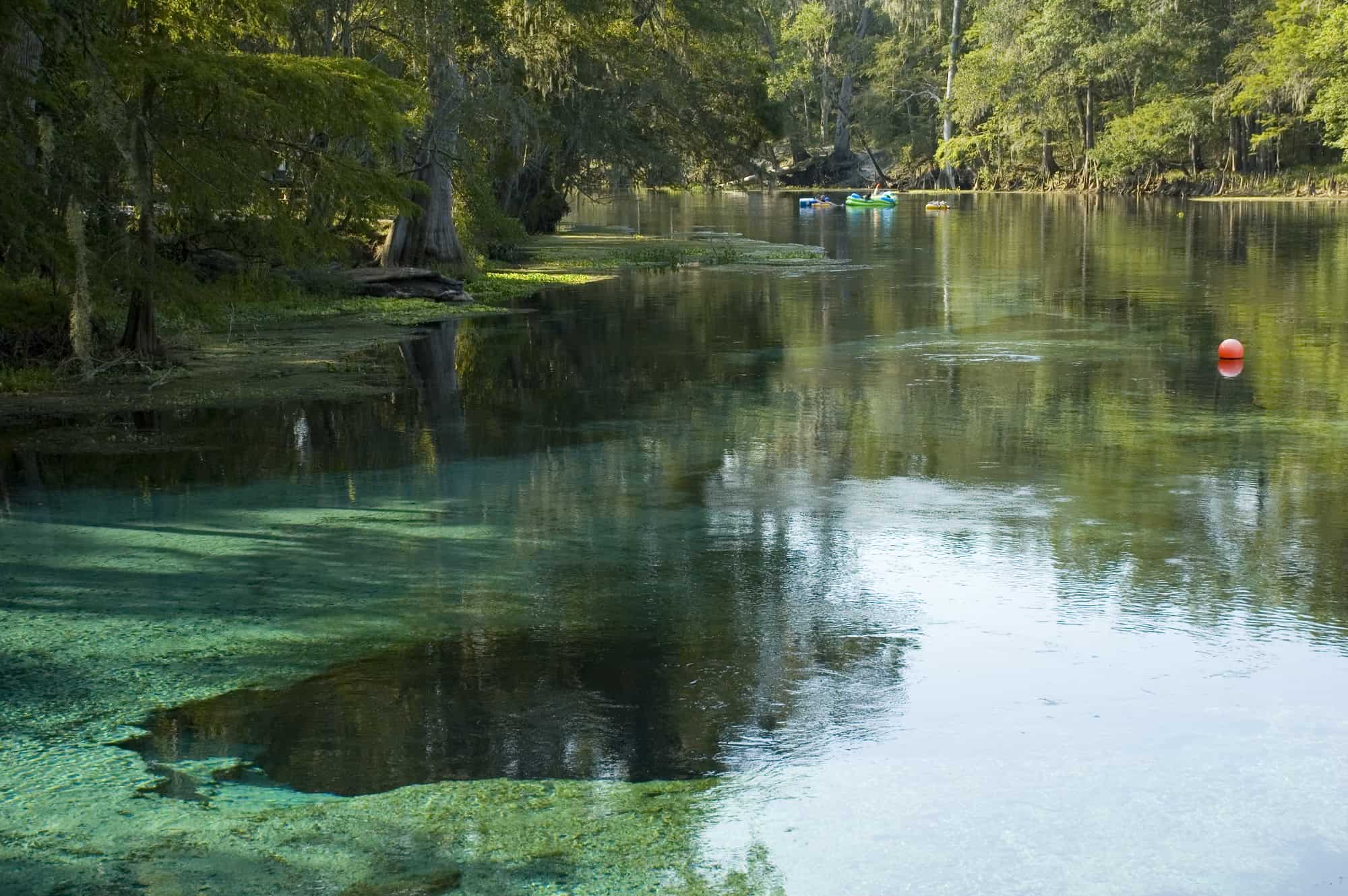 Located only 90 minutes away from Jacksonville, FL. This is one of the most popular natural attractions which doubles up as a superb day trip.
A haven for outdoor exploration, this gorgeous network of sun-dappled springs is a refreshing playground for children and adults alike.
Take advantage of the many recreational activities that Ichetuckee Springs has to offer. Get your whole family along and enjoy a picnic under the tree.
The most favorite way to pass time here is swimming or tubing down the river, which is accessible to everyone. You can even snorkel in the crystal clear waters or just swim around.
Distance: 90 minutes
Ideal for: Family fun
Cumberland Island National Seashore, Florida
This pristine island makes for the perfect getaway from the bustling city of Jacksonville. Depart from the gateway city of St. Marys, Georgia and reach this island by ferry.
See beautiful wild horses roaming free on the island and take pictures to capture the beautiful moments.
Experience pristine wilderness by the undeveloped beaches or explore wildlife by taking a hike through the forest trails.
There are no shops on the island so make sure to pack everything you need from Jacksonville.
Distance: 45 minutes plus 45 minutes on the ferry
Ideal for: Laid-back getaway
St. Augustine, Florida

The oldest city in the country, St. Augustine holds a natural charm that deserves to be explored. This city is a delight for anyone who is interested in history.
There are many pieces of evidence of its native and colonial past, with influences from the Spanish, Greeks, English, and Native Americans. This town has a very European feel to it and is one of the best vacation towns in Florida.
Spend the day just walking the cobblestone roads and exploring the architecture or explore the most prominent landmark in St. Augustine.
Distance: 45 minutes
Ideal for: Everyone – it is a vacationers paradise
Cedar Key, Florida
Located around three miles into the Gulf of Mexico, this quaint town is perfect for those looking for a quiet, old fashioned Florida getaway.
This fishing village has a cheerful atmosphere. Enjoy the Cedar Keys National Wildlife Refuge and Cedar Key Museum State Park.
Do try the local shellfish which are known to be the sweetest and the best in the world.
Distance: 140 minutes
Ideal for: Fishing enthusiasts
Palatka, Florida

This family-friendly town of Palatka makes for a great day trip from Jacksonville. This historian Floridan settlement is an hour away from Jacksonville.
Abundant with old-world charm, this city has a vibrant downtown that has excellent dining and boutique shops, a golf course, and several public parks
Explore the churches and homes that date back to the 1800s or explore the thriving art scene.
Visitors interested in outdoor fun can explore Ravine State Gardens Parks. Also keep an eye out for several festivals that draw visitors from around the state and country including the Bostwick Blueberry Festival, Blue Crab Festival, and Rock N Blues BBQ Bash.
Distance: 60 minutes
Ideal for: Family fun
Big Talbot Island State Park, Florida
Just 20-miles east of Jacksonville, Big Talbot Island is a unique sea island in northeast Florida.
Visitors can access the park every day of the year from 8 am to sunset although the boat ramp is open 24 hours a day.
Visitors can rent a kayak and explore the salt marsh or the wildlife that this island has to offer. To relax you can also have a picnic at The Bluffs in one of the picturesque pavilions at the water's edge.
Distance: 34 minutes
Ideal for: exploring wildlife
Daytona International Speedway, Florida
A favorite with Nascar fans, the Daytona International Speedway is home to the nation's most beloved sports.
A great place to visit any time of the year, this place is also referred to as the "World Center of Racing"
Daytona 500 is one of the most important events that happen here. The stadium features 101,500 states of the art stadium seats and three levels that stretch along the stretch front.
The Speedway is also used to concerts, civic and social events, corporate events.
Distance: 90 minutes
Ideal for: Nascar fans
Gainsville, Florida
This lovely college town is buzzing with a youthful charm that is hard to ignore. The city comprises of outdoor adventure seekers, artists, and craft brewers who appreciate nature.
This city is a hotbed of parks and various natural attractions. Explore the trees dripping in Spanish Moss and refined boutiques and restaurants.
Also surrounded by natural attractions, nature lovers can enjoy the impressively vast, 62-acre Kanapaha Botanical Gardens.
Go visit antique museums, peruse art galleries, or hang out at the hip breweries with live music.
Distance: 70 minutes
Ideal for: Relaxed getaway
Jekyll Island, Florida
Named after Sir. Joseph Jekyll, the island was first used as a hunting club for exclusive guests only in the late 1800s.
Jekyll Island is a part of a preservation project. Visitors can explore the island by foot or trolley on guided tours.
Jekyll Island makes for a fantastic day trip from Jacksonville.
Distance: 70 minutes
Ideal for: Wildlife exploration
White Springs, Florida
Just an hour away from Jacksonville, White Springs is one of Florida's smallest and most picturesque towns.
A welcome escape from city life, where visitors can enjoy adrenaline-pumping whitewater rapids that are the biggest in the state within Big Shoals State Park.
You can also explore the Stephen Foster Folk Culture Center State Park which hosts an annual folk music festival.
After that, you can also explore the history and culture of the town through walking tours.
There are several other annual festivals that draw visitors to the area including the Wild Azalea Festival that happens on the third Saturday of every March.
Distance: 60 minutes
Ideal for: Adventure enthusiasts
Ponce Inlet, Florida
If surf, sun, and sand are what you are looking for, then there is nothing better than Ponce Inlet. Just a few miles south of Daytona Beach, Ponce Inlet is known for having the tallest lighthouse in the state.
Ponce makes for an excellent day trip for families and the crowd-free beaches offer incredible waves to surf and miles of shell-strewn beach to wander along.
Also try the tours are available to take people deep sea fishing, manatee spotting, and more.
Distance: 105 minutes
Ideal for: Surfing lovers
Tampa, Florida
One of the most popular and most-traveled cities Tampa Bay is a hip and trendy city urban center of the Florida Gulf Coast.
The year-round warm climate makes Tampa Bay an excellent beach destination and home to popular spots like Clearwater Beach or the quieter, but even more gorgeous Indian Rocks Beach.
You can also visit the Busch Gardens Theme Park along with The Florida Aquarium, Tampa's Zooquarium, Adventure Island and Dinosaur World which is a lot of fun for kids.
There are also top-notch restaurants here along with many bar and craft beer options making Tampa Bay an excellent day trip option from Jacksonville.
Distance: 180 minutes
Ideal for: A sunny getaway
Ocala, Florida
Known as the horse country, Ocala is a pristine escape from the metropolitan city life of Jacksonville. Ocala has been the backdrop of several Hollywood movies due to its Spanish moss-covered trees, old Southern homes
It also boasts miles of natural reserve the most attractive of which is the Ocala National Forest.
Visitors can also explore the Don Garlits Museum of Drag Racing along with other outdoor activities like paddling or ziplining in the canyon.
Distance: 106 minute
Ideal for: A relaxing getaway
Silver Springs, Florida
Silver Springs has been a favorite Florida attraction for a long time. home to one of the most significant artesian springs, Silver Springs is a pleasure to explore.
Visitors can enjoy glass-bottom boat tours, and guided kayaking and canoeing. Take in the time to experience the lovely natural beauty of Silver Springs where the water is crystal clear.
Silver Springs is open 365 days a year from 8 am to sunset.
Enjoy a meal at Spring Side Café, a counter-service style restaurant, and Paradise Treats, an ice cream, and desserts parlor.
Visitors can even rent a cabin if they choose to stay for a day or two to imbibe the beauty of Silver Springs.
Distance: 109 minute
Ideal for: A relaxing getaway
Conclusion
Jacksonville offers a lot of things to explore and there are numerous fantastic day-trip spots from the city as well. The hip and happening Tampa Bay has a lot to offer and so does the tranquil Amelia Island. Take a pick and enjoy