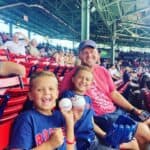 Jake Cain is an entrepreneur and writer from Cincinnati, Ohio. He spends his free time driving around the country in his late 90's conversion van, affectionately known as the "Monster Van" with his wife and 3 boys.
Alabama also called the "Heart of Dixie" has a whole lot to offer from pristine white sand beaches to lush mountain trails.
There are numerous vacation spots all throughout Alabama whether you are interested in sports, beaches or history. Its capital, Montgomery, attracts a lot of tourists and has a lot to offer as well.
In the next few paragraphs, we will talk about some great Alabama vacation spots which you can visit with your friends and family. So, let's get started!
Gulf Coast Beaches, Alabama
If you have been in Alabama for a time, you definitely must have heard about it, if not visited them yourself yet – the Gulf Coast Beaches!
These stunning white sand beaches with its crystal clear waters is a sight to behold.
When visiting the Gulf coast beaches, you can look forward to a few days of sun, sand, and adventure.
All sorts of water sports like boating, sailing and deep-sea fishing can be done here.
There are of course a whole lot of other attractions as well like the Alabama Gulf Coast Zoo, Waterville USA which is a park and they also have two gorgeous golf courses for avid golfers.
After indulging in a few days full of adventure, you might want to relax a little bit. Worry not, the Gulf Shores are known for their nightlife.
You can explore a lot of fun beach bars like Tacky Jacks and Pink Pony. Most of the bars offer live music with stages on the sand as well which can really elevate the experience.
DeSoto State Park, Fort Payne, Alabama
The mountainous DeSoto State Park is nestled atop beautiful Lookout Mountain in scenic Northeast Alabama.
Once you enter the park, the rushing waterfalls and fragrant wildflowers will simply take your breath away.
The 107-foot-high Desoto Falls is the crowning glory of the park. It is the tallest waterfall in the state as well.
Visitors can rent a kayak, take a guided tour over the flat-water section just above DeSoto Falls.
If you are in the mood for some adventure, you can also go climbing, biking, and hiking, with 25 miles of trails.
Since there are lots to do, you can stay the night at the camps for the weekend. They even have chalets, primitive camping and backcountry backpacking sites.
Montgomery, Alabama
The capital city of Alabama has a lot to offer if you want to spend a weekend here.
Also referred to as the "Heart and Soul of the South", Montgomery provides a nice snapshot of the history of the state.
If you are interested in knowing more about the history, the Civil Rights movement trail will provide an insight into the events that changed the world.
Check out many of the city's theatres and museums. The historical sites that you can explore are Alabama State Capital Building, the First White House of the Confederacy, and the Civil Rights Memorial and Center.
U.S. Space & Rocket Center, Huntsville
Another great vacation spot for the weekend in Alabama is the U.S. Space & Rocket Center, Huntsville.
For space history enthusiasts, there can't be a better vacation spot than Huntsville.
The birthplace of America's space program this is where Dr. Wernher von Braun adopted the northern Alabama city as the place to set up the Apollo rocket.
This is now NASA's first visitor center which memorializes the event with a permanent exhibit. Here you can explore rockets and numerous artifacts of the U.S. space program.
The U.S Space and Rocket Center is also known as the "Earth's Largest Space Museum".
It also hosts the highly popular Space Camp, a Robotics Camp, and an Aviation Challenge Camp.
Cathedral Caverns State Park, Alabama
Originally called the "Bat Cave", Cathedral Caverns was opened to the public in the 1950s.
Inside the cavern, you can feast your eyes on some of the most majestic formations created including the famous "Goliath".
These are one of the largest stalagmites in the world, measuring 45 feet tall and 243 feet in circumference.
Cathedral Cavern has many amazing sites like a "caveman" perched atop a flowstone wall, a "frozen" waterfall and also a large stalagmite forest.
Another ingenious feature of the cave is that it remains a comfortable 60 degrees temperature year-round. This makes this cave a perfect getaway for school, church or other groups.
Tours are offered in the Cathedral Caves and there are numerous campsites located within the park so that you can make a weekend out of it.
Noccalula Falls, Gadsden, Alabama
This gorgeous 90-foot fall cascades into the Black Creek ravine.
Surrounded by Noccalula park, it is Huntsville's most popular natural attraction. Of course, making it a great vacation spot in Alabama.
The falls are located in Gadsden which is located an hour and a half away from Huntsville.
For a low admission ticket, you can take advantage of the park's amenities. Visitors can explore the beautiful rocks and garden with many species of flowers.
Noccalula Falls is ideal for a family vacation as there are many activities for kids as well.
Children can get up-close and personal with the animals in the Petting Zoo. They can also learn about life in the past in Pioneer Village.
Visitors can stay over for a couple of days at the campsite which offers over 120 sites from primitive tent camping to pull-through with complete hook-ups.
There is even a swimming pool, laundry facility, rental cabins and many more facilities available.
Battleship Memorial Park, Mobile Bay, Alabama
This military history park and museum located on Mobile Bay, Mobile Alabama makes for a great vacation spot in Alabama.
The memorial park has a notable collection of aircraft and warships.
The most notable warships that are on display include the USS Alabama – a WWII era battleship and Gato-class submarine USS Drum.
If military history interests you or your family, you will love visiting the Battleship Memorial Park. It is also "America's Most Unique Military Attraction."
The Shoals, Alabama
This metropolitan area in Northwest Alabama includes the cities of Florence, Muscle Shoals, Tuscumbia and Sheffield.
The area is known for its scenic beauty and is ideal for scenic hike trails.
The Shoals is a brilliant vacation spot for music lovers and people who want to tour the music studios.
This destination boasts of a lot of attractions like the Ivy Green – the birthplace of Helen Keller (Tuscumbia) and FAME Studios (Muscle Shoals) – where many hit songs were recorded by top musicians such as The Rolling Stones, Percy Sledge and Lynyrd Skynyrd.
In addition, you can also enjoy great live music at places like Bayou Blue in Florence, PJ's in Muscle Shoals.
After checking out these amazing attractions, you can relax and unwind for the day at Marriott Shoals Hotel & Spa in Florence. You can opt to stay here for the weekend and enjoy some delicious dinner at 360 Grille, located atop the Renaissance Tower.
Birmingham, Alabama
The largest city in Alabama can be your easy go-to vacation spot.
Nestled in the foothills of the Appalachian Mountains this city is at the cross-section of two major railroads, Birmingham has much to offer.
There are many tourist attractions here that will keep you occupied all through the weekend.
Saunter over to the Barber Vintage Motorsports Museum or immerse yourself in history at the Birmingham Civil Rights Museum.
There are lots of dining options to keep you entertained as well. You can explore Fleming's Steakhouse or the ever-popular Galley and Garden.
Dauphin Island, Alabama
Also known as the sunset capital of Alabama, Dauphin Island is a great vacation spot.
Famously known for vast stretches of white sand, this family-friendly vacation destination can be an ideal weekend getaway.
Enjoy panoramic vistas of orange hues that reflect off the glistening Gulf Coast waters in the evening.
All the while, also spotting some rare species of migratory birds as well as an occasional alligator among the maritime forest.
You can take your family to visit the Audubon Bird Sanctuary which has picturesque woodlands and walking trails.
Town of Mentone, Alabama
This small town located at the top of Lookout Mountain is a rustic place that has seemed to slow down with time.
It can be an ideal vacation spot for someone who just wants to explore this forgotten town or even relax and unwind. Walk around the town and have a look at some of the buildings which look untouched since their construction.
DeSoto Falls is a major tourist attraction at the Town of Mentone.
Just pack a basket of food and drinks and head to the picnic area with your family. There is a waterfall and you can cool off by swimming in the natural pool as well.
You can rent a cabin here or stay at a bed & breakfast.
Cheaha State Park, Alabama
Cheaha State Park is another great destination for a vacation with your family. Located in the Talladega Mountains in eastern Alabama it is a must-visit for adventure enthusiasts and nature lovers.
Home to Alabama tallest mountain, Mount Cheaha, which has a height of 2,413 feet is known for its stunning scenery and historic sights.
While here, don't miss out on the spectacular sunsets and the beautiful waterfalls as well.
Pass your time hiking the beautiful trails like the Doug Ghee Accessible Trail.
Cheaha State Park offers guests who wish to stay for long a host of facilities. You can opt for hotels, chalets, camping for your stay at the park.
Talladega Superspeedway, Alabama
If you love speed and are a fan of NASCAR, no destination can be better for you than the Talladega Superspeedway in Alabama.
Formerly known as the Alabama International Motor Speedway (AIMS), this racetrack currently hosts many series.
Sprint Cup Series, Xfinity Series, and the Camping World Truck Series are all held here.
Talladega Track is the longest NASCAR oval track.
Lake Guntersville, Alabama
The largest lake in Alabama is a great place for a weekend getaway. Popular for its bald eagle sightings and bass fishing, Lake Guntersville can be a great getaway for nature lovers.
The State Park surrounding the lake is ideal for a weekend stay or even longer. The style of accommodation includes everything from modest cabins to swanky resort-style lodges on the peak of Taylor Mountain.
There are endless recreation offerings which include the 18-hole championship golf course, nature center, miles of hiking and biking trails.
Water sports cannot be ignored. You can enjoy kayaking, boating, bass fishing and much more.
Needless to say, Lake Guntersville has lots to offer which can keep you and your family occupied for days.
Ditto Landing, Alabama
Located on the Tennessee River, Ditto Landing is a popular place during the warmer months of the year.
A perfect family-friendly vacation spot, Ditto Landing in Alabama is also known as the "Gateway to the majestic Tennessee River".
Surrounded by picturesque foothills, and nestled in lush greenery, there are lots to do here.
It is a great place to fish, swim and even water ski in the summer. You can stay here for the weekend at multiple campsites which are spread across 560 acres.
Alabama is a state that has many varied destinations that can make for lovely vacation spots all year round.
From the capital of Montgomery to the town of Mentone, there are lots to do here in the state of Alabama.
20 Thrilling Florida Vacation Spots
Ready to plan your next vacation in sunny Florida? Here are the highlights of the 20 best vacation spots in the state! From the vibrant nightlife of Miami to the laid-back charm of Clearwater, there's something for everyone. Whether you're looking for family-friendly activities, high-end experiences, or unique adventures, this article has got you covered. So, pack your bags and get ready to soak up the sun and fun in the Sunshine State!
15 Virginia Vacation Spots Perfect For Exploring History
Explore the best vacation spots in Virginia with this must-read article! From the historical charm of Williamsburg to the breathtaking beauty of Shenandoah National Park, there's something for everyone. Don't miss out on the top attractions, outdoor adventures, and unique experiences that Virginia has to offer.
Top 15 Ohio Vacation Spots: Vibrant Cities & Aesthetic Parks
Ready to discover the best vacation spots in Ohio? Look no further than this article, which highlights the top destinations in the state, from the vibrant cities of Cleveland, Cincinnati, and Columbus to the scenic Hocking Hills State Park. Explore the great outdoors, enjoy cultural activities, and indulge in local cuisine and attractions. So, pack your bags and get ready to experience the diverse and exciting vacation spots that Ohio has to offer!
Picturesque Lake And Mountain Top Views: 16 Michigan Vacation Spots
Discover the best Michigan vacation spots with this ultimate guide! From the charming university town of Ann Arbor to the breathtaking Pictured Rocks National Lakeshore, there's something for everyone. Whether you're looking for outdoor adventures, cultural experiences, or romantic getaways, Michigan has it all.